Tower Tumble
Tower Tumble is a cluster pays slot released by Relax Gaming in November 2019. For anyone wondering if this is merely a sequel to February's Temple Tumble, I can assure you that it is very much its own game.
Firstly, rather than the usual Aztec or rainforest theme these tumbling rocks type games all seem to follow, Tower Tumble has opted to go down the enchanted, and fantasy land route. Perhaps even more importantly, this game uses a cluster pays rather than a Megaways™ mechanic.
Tower Tumble uses a 6x6 grid and a cluster pays mechanic which sees all horizontal or vertical combinations of 3 or more identical symbols pay. Winning symbols then disappear to be replaced by tumbling symbols from above.
A new game starts with blank stone tiles or 'blockers' filling the board but for a 2-3-3-2 area in the middle of the grid which contains regular symbols. There will also be between 1 and 5 'Elemental' tiles elsewhere on the grid, not directly connected to any of the regular symbols. All blocker tiles directly adjacent, either above, below, to the left, or to the right of any winning symbol is destroyed and replaced with a regular symbol or a wild. As with most tumble or cascading symbols games, if a tumble results in a new win then the cycle continues and will continue until no new wins are made. Clearing the screen of blockers results in activation of the free spins bonus round.
Tower Tumble benefits from reel modifying 'Elemental Tiles' in both the base and bonus games, and it is a multi-level free spins round with win multipliers where the biggest wins are to be found. The free spins round offers three different choices, each with different volatility.
Tower Tumble is of medium/high variance, comes with an RTP of 96.11% and a max win of 5,150x the stake. You can play Tower Tumble from €0.10 to €100 per spin.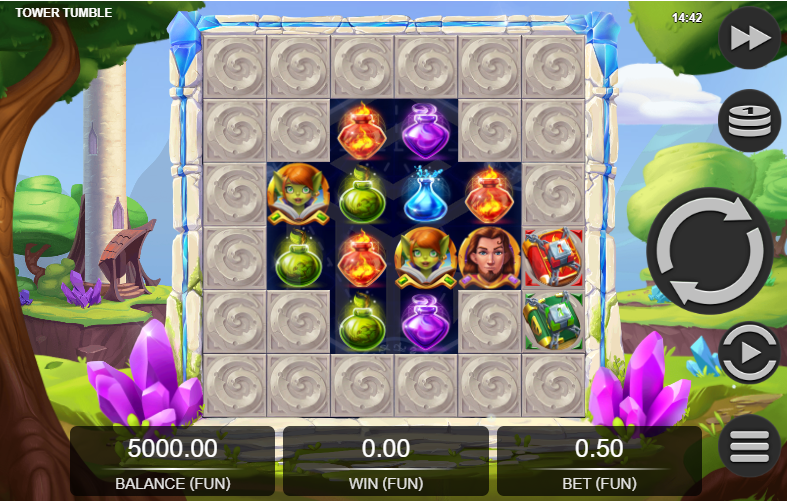 Design & Symbols
I wouldn't say the design is dated, or bad in any way, but I must say I didn't find it terribly inspiring. The action takes place in a fantasy land which is put together with the kind of artwork you'd find in a "Mario world" type game. There are big, cartoonish trees with solid shapes of green for leaves gently bobbing in the wind. There are animated clouds floating across the blue skies, and to the left of the gameboard a tall tower hovers on top of a small floating island. At the foot of the gameboard sprout clusters of purple crystals and pixie dust flutters across the screen with the leaves. The gameboard sits proudly centre stage with the 6x6 grid of stone tiles and symbols framed in white stone on a white stone plinth. The gameplay is accompanied by a pleasant enough piece with plenty of orchestral strings and horns.
Low-value symbols are a blue, green, red, and purple bottle of elemental potions. High-value symbols are a green female pixie and a hippy looking, male. The hippy is the highest paying regular symbol with 6 in a cluster paying 30x the bet size. The wild, a large 'W', comes with 3 different coloured backgrounds but they all share the same function. The wild is also the highest paying symbol of all with a cluster of 6 (all with the same colour background) paying 100x the bet size. There are also four Elemental Tiles (green, purple, red or blue) which represent Earth, Air, Fire, and Water respectively – their purpose is detailed in the features section below.
Special Features
Elemental Tiles
Free Spins
Elemental Tiles
During both, the base and bonus round Elemental Tiles are a vital tool to aid your progress. Elemental Tiles are activated once they appear above, below or either side of a winning symbol. When the winning symbol disappears, the Elemental Tile is ready for action, and will perform its unique reel modifying feature once any reaction wins have completed. The four Elemental Tiles perform the following four functions when activated;
Earth Tile (Green)- destroys 4-6 blocker tiles from the grid
Air Tile (Purple) - creates a diagonal row of wilds starting at the tile.
Fire Tile (Red) - all examples of one random symbol transform into another symbol to create more like symbols
Water Tile (Blue) – Between 2-5 wild symbols are randomly distributed across the grid.
Free Spins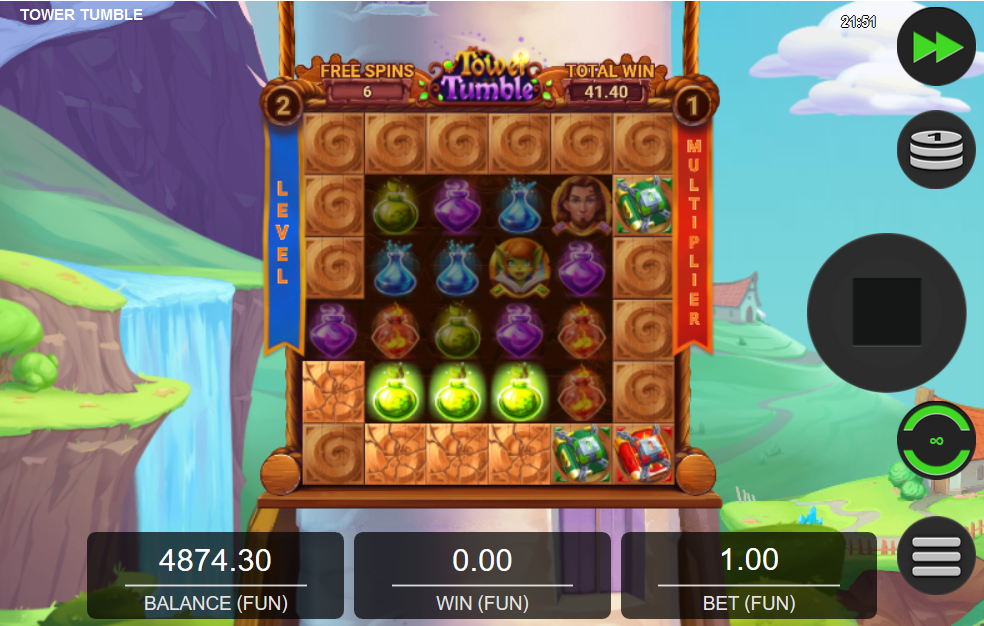 Free Spins take place at the tall tower I mentioned earlier. You get there by clearing the board of tiles in a single chain reaction of tumbles triggers free spins. Once triggered, you are given a choice of three free spins rounds, each with a different number of spins and different volatility. The idea is, once again, to clear the board of blocker tiles, which during the free spins round are wooden rather than stone. The choices are as follows;
Extra Spins (Low volatility)
The least volatile option is the 'Extra Spins' option, denoted by a picture of the green pixie reading a spellbook. This option gives you 10 free spins. Clearing the board progresses you to a new tower level and resets your free spins to 10.
Added Multipliers & Extra Spins (Medium/High volatility)
The medium/high volatility option denoted by the hippy and the pixie reading a spellbook starts with 8 free spins. Every second new tower level increases your win multiplier, and each completed board resets your free spins to 8.
Added Multipliers (High volatility)
Denoted by the hippy symbol reading a spellbook, this option gives the player only 5 free spins. However, each new tower level reached adds a 1x win multiplier.
During the free spins round, only the symbols around the edge of the board are blocker tiles. This makes it considerably easier to clear the board than in the base game.
Our Thoughts on Tower Tumble
This game really grew on me. At first, I was a little non-plussed as there seems to be no coherent narrative running through Tower Tumble. The theme seems like more of an afterthought to differentiate it from Temple Tumble than the inspiration for the game. That being said, the game underneath the cartoonish graphics and questionable theme is a very good one. The cluster mechanic works well, and although it is hard to reach the free spins round, the reel mechanic combined with the Elemental Tiles provide a decent level of entertainment and consistent wins in the meantime. I also enjoyed the bonus round which is a little faster paced and capable of delivering some good wins. Although it is rated m/h for volatility, my experience was very much a solid medium rather than anything too edgy.
I would say this game is suitable for all player with (maybe) the exception of the ultra-high variance fans who might think that in this day and age a 5,000x max win doesn't quite cut the mustard. Other than that, Tower Tumble is a solid effort from Relax.