Sugar Cubes
Sugar Cubes is the newest slot release from the well-known developers at Relax Gaming and this time it looks like we are in for a sugary treat. We can't quite put our finger on exactly what the theme seems to be, but it looks like there is some steam-punk inspiration in place along with all kinds of sweets on the reels. Relax Gaming has in other words certainly gone all out when it comes to offering an original theme that we haven´t seen before, making it a truly unique slot from the very start.
The slot has been put together by a squared reel set with 5 reels and 5 rows while the standard pay lines have been switched out with a cluster pay setup. Winning combinations will be created when a total of four or more matching symbols adjacent to one another are on the reels, they can be formed in any direction or combination. Bets can be placed starting from a minimum of €0.20 per spin and up to a maximum of €100 per spin. Sugar Cubes is a slot of medium to high volatility while having an RTP of 97.06%. Players who prefer their slots to be available on the go will be happy to know Sugar Cubes can be played on both desktop, tablet and mobile.
There are several different features going on in the game, with wild symbols, free spins, scatter symbols, cascading wins, a mystery symbol, multipliers and also a bonus game.
Special Features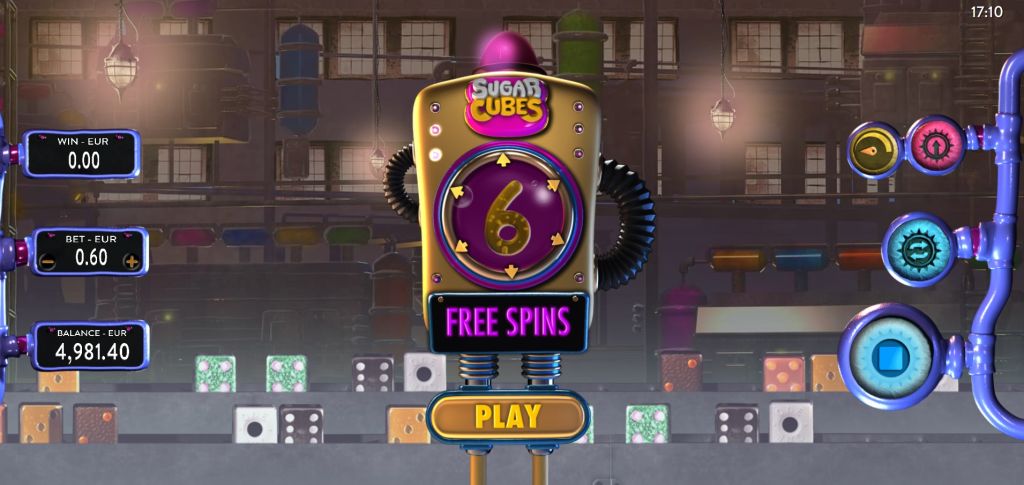 There are a total of four different special symbols in this slot, all in charge of triggering different events and features in the game. A bonus game is also available where there is a progressive multiplier involved, which can result in some pretty great wins.
Wild symbols
The wild symbols in the slot will appear on the reels when a cluster is formed. Should the wild symbol complete a cluster of four or more symbols, this will result in a win. As in most other slots, wild symbols will also replace any other symbol on the reels and will then inherit the value of said symbol when a cluster has been formed.
Bonus Game
The bonus game of Sugar Cubes will be triggered when two adjoining scatter symbols land on the reels. The bonus game will start you off with 6 free spins, however, should you get an additional 3 or more scatters adjacent to one another then an extra 3 free spins will be added for every scatter symbol on the reels.
During this bonus game, a pair of of the dice symbols will randomly be shown on every spin, this will result in some symbols being eliminated from the cascading set of symbols, depending on which dice symbol is shown. This will create bigger winning chances for you by creating more and bigger clusters. The bonus game also includes a progressive multiplier that will increase each time symbols cascade during a single round.
Design and Symbols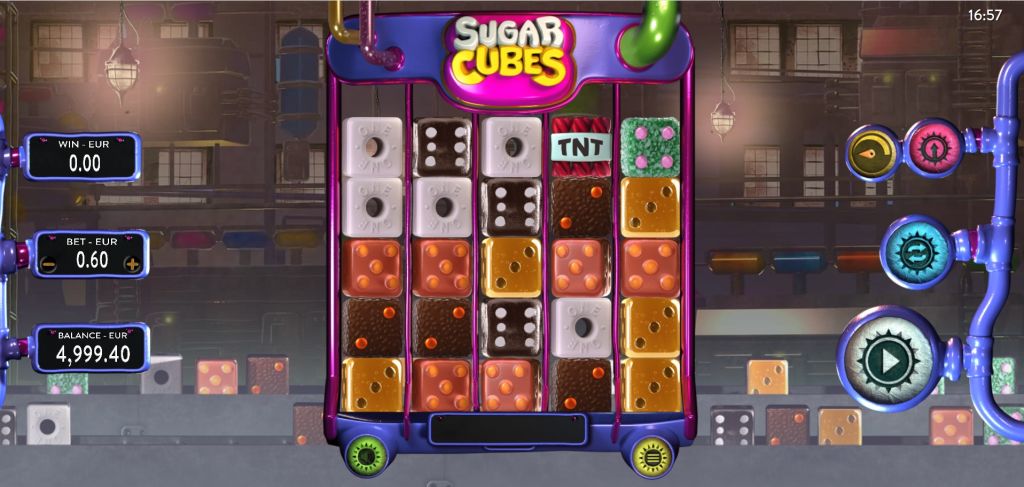 Like we explained above, this is no ordinary slot in terms of the theme. Upon loading the slot, it might look like you find yourself in the creepy basement of a building, surrounded by pipes and brick wall with just a couple of lightbulbs letting you see where you are. At the same time, you will see a conveyor belt at the bottom of the screen, which is where all the sugar cubes are passing by. One part candy factory, one part steam-punk and one part creepy basement is what best explains the looks of the game. The reel set seems to be hanging from the ceiling, held in place by a couple of pipes, with the reels also being divided by what we assume are more pipes.
On the reels you will luckily not be seeing any of the old standard card suits, instead, the reels have been filled by sugar cubes, which is exactly what we should expect from a slot with a name such as Sugar Cubes. The sugar cubes are shown as different sides of a dice, meaning there is a cube showing everything from 1 to 6 dots, all of them in different styles and colours. The dice showing 6 is, of course, the symbol of the highest value.
As well as the main symbols of the game, you will see four special symbols that all have the ability to trigger special features throughout the game. The wild symbol is represented by what seems to be a chocolate wrapper, with the word Wild across it. A magic symbol shows a star wand, a bomb symbol shows the word TNT across some Twizzlers and the scatter symbol shows a pink and white striped candy with the letter S in the centre.
Our Thoughts on Sugar Cubes
We really can´t help but like this new slot release from Relax Gaming. There is after all several of the elements we often feel that new slots are missing. This, of course, includes the completely unique theme going on, so unique we can´t even really put our finger on what exactly the theme is, even so, we like what we see. Aside from the theme itself, the graphics and overall look of the slot is great and everyone (or at least most) players like a slot with cascading reels which you also will find here.
There are a couple of fun features here too, with the bonus round offering a progressive multiplier and a total of four different special symbols in play. If we were to pick out a negative from Sugar Cubes, it would be the RTP which without a doubt could have been better.