Spinal Tap by Blueprint Gaming released in 2019 is a 5-reel & 3-row online slot with 2 187 ways to win and a 97.02% RTP. This is a rock n roll-themed game offering players a max win of up to 10000x their stake. Spinal Tap can be played on all devices from €0.3 to €30 per spin and is considered a medium volatility game.
Design and Symbols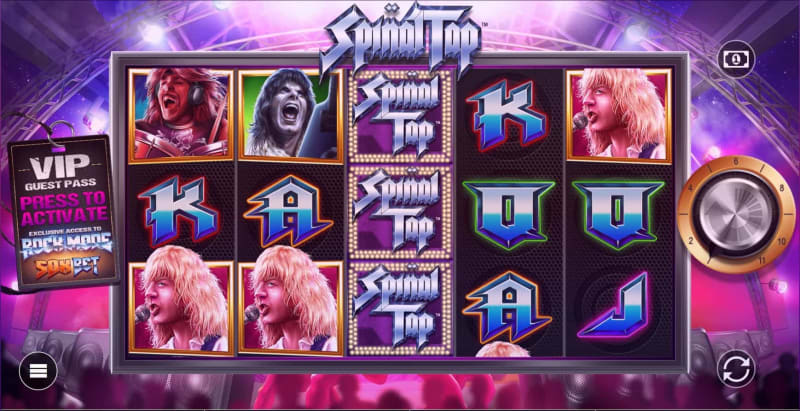 The first thing that grabbed our attention was the logo, so naturally ,we did a quick google search and found that it was identical to a 1970s band with the same name. The band was a parody of hard rock music and quite popular too, but we personally never heard of them prior to this slot game. The highest paying symbol is the spinal tap wild. The higher paying symbols are the members of the band and the lower paying symbols are the A-J. Given that the background music is hard rock style, we gave a few listens to Spinal Tap's music and found one similar to the music behind the slot game. This song also seems to be one of their most popular ones: Big Bottom by Spinal Tap.
Special Features
As already mentioned, Spinal Tap is brimming with special features. The list is so extensive that we would not dare to write them down in one sentence, but here's a break down for you:
Rock Mode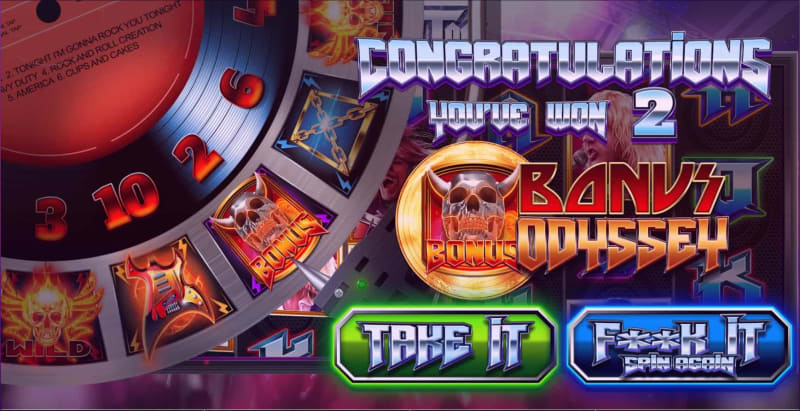 Rock mode is activated whenever the dial on your right randomly turns to 11 during the base game. Alternatively ,you can buy this special feature by clicking on the VIP guest pass on the left side of your reel before any spin. The cost? 50x your bet.
Here, two additional reels are added, allowing for 2187 ways to win during Rock Mode.
A large vinyl record will start spinning on your top left hand side and will stop on one of the following:

Bonus Odyssey: a number of bonus symbols are added on your reel.
Heavy Duty Wilds: a number of reels will transform into wild reels; each wild reel can be retriggered into a multiplier for a maximum of five times.
Rock 'n' Roll Spins: any winning symbols turn into sticky ones and stay on for the duration of spins.
Wild Sparks: a number of reel positions will be turned into wild symbols.

You can reject the outcome of the first vinyl record and choose to respin, however, you have to play out the second result.
Bonus Game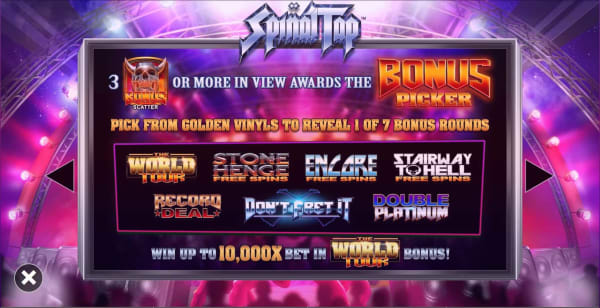 To get to the bonus game you need to first get anywhere between three to six bonus symbols. The bonus game consists of choosing vinyl records to reveal the rest of the special features. Revealing a set of bonus icons will activate that bonus, and a star icon will eliminate lower paying bonuses from the panel.
Three bonus symbols will get you to the bonus game with no features eliminated.
Four bonus symbols will eliminate Double Platinum from the bonus game.
Five bonus symbols will eliminate Double Platinum and Don't Fret It from the bonus game.
Six Bonus symbols will eliminate Double Platinum, Don't Fret It and Record Deal from the bonus game.
Seven Bonus Symbols will take you to the World Tour Bonus immediately.
Bonus Gamble
Whenever a bonus from the bonus game has been rewarded, you can gamble your pick for a better bonus or a mystery win.
If you select one of the golden vinyls, you gamble your winnings.
Land on the up arrow and go to the bonus above your own.
Land on the mystery cash and forfeit your bonus in place of a cash prize.
This gamble continues on until the player collects or reaches the top feature.
Double Platinum Bonus
Here you will go to a fortune wheel with three band members.Your task here is to choose a band member and hope for the best outcome:
Arrow: adds an arrow to the fortune wheel which allows you to progress to the next ring.
Multiplier: increases multipliers on the Fortune Wheel.
Spin: starts the fortune wheel.
If fortune wheel lands on arrow three times in a row, you go to The World Tour Bonus. Here you can also win any of the following free spins: Stairway to Hell, Encore and Stone Henge.
Don't Fret it Bonus
This round will take you to two guitars on each side and three boxes in the middle to choose from.
Blue Arrow: go up blue values.
Red Arrow: go up red values.
Blue-gold arrow: go up to the maximum blue value.
Red-gold arrow: go up to the maximum red value.
Take a prize: no more advances can be made here but you have three options that can be revealed:

Win red: collect current red value.
Win blue: collect current blue value.
Rock them both: collect both the blue and red values.
Record Deal Bonus
Here you have 16 Vinyl Records together with a list of outcomes both on the left and right side of your screen.
The first vinyl record will be held there till the end of the bonus.
Each selected vinyl for the rest of this feature will eliminate outcomes.
After a number of selections that you make, you will be made an offer which you can either accept or refuse. If you refuse, the elimination process will continue.
In the last two vinyls, you will get a final offer. If you reject this, your first vinyl will reveal itself. Here you have the last option to swap the vinyl with the final one and you no choice but to take that prize.
Stairway to Hell Free Spins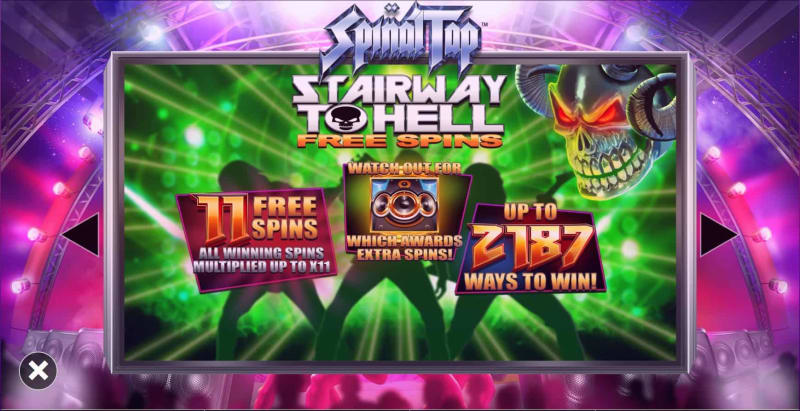 Enjoy 11 free spins with a guitar wild active on your reels. During any spin, the reels can extend to seven, giving you 2187 ways to win.
After any win, the skills can add a 2x to 11x multiplier to your wins.
If the AMP symbol appears anywhere on your reels during the free spins round, you will get an additional spin.
Encore Free Spins
Here you have 11 free spins and any wild symbols appearing here will pay normally but will be added to the Encore Bank.
During your last spin, an Encore Spin will be triggered. Given the name, can you guess what this entails?
During this Encore Spin, the reels will expand to 2187 ways to win and all banked Wild symbols gathered into the Encore Bank will be randomly distributed to your reels.
This should award you bigger and better wins for your last spin.
Stonehenge Free Spins
During these 11 spins, the reels will be fixed at seven, and 2187 ways to win. Here, you will see a wild zone pattern in the form of Stonehenge.
Any wild that lands within this pattern will pay normally and turns into a sticky wild for the duration of free spins.
If the pattern is filled with wild symbols, you go back to 11 free spins, but this time with sticky wilds in place.
World Tour Bonus
In this round, you will be taken to what looks like a map split into three stages: Europe, Japan and USA.
Start With Europe and hope to advance through all three stages in order to obtain prizes and reach the Big Money end game.
Spin the wheel on your left to either get a number between one and six, and move those steps forward, or get an X and end the bonus with the current total bet multiplier.
If you move along the trail and step onto a Stage Show, you get another bonus game with three outcomes:

Heart: removes one of the X on the wheel.
Aeroplane: takes you to the next stage.
Question Mark: awards a mystery win prize.

If you manage to reach the end of the trail, you will gain entry into the Big Money Bonus. Here you choose one of three band members that will award you anything between 2x to 10x the total winnings from the World Tour Bonus.
Reviewers' thoughts on Spinal Tap
Since not all of us are hard core rock fans, this slot game is not exactly everyone's cup of tea. However, if you're into an insane amount of special features, then we would definitely recommend Spinal Tap to you. Due to the infrequent bonus triggers during the base game, buying the special features through the VIP Guest Pass can be quite tempting (more buy feature slots here). Typically speaking, this is something we would expect from Big Time Gaming. For us, a slot game is all about the different special features, so when we did not get any through the base game, things got quite frustrating and we resorted to buying them. Not a bad option, but having to pay 50x our bet in order for special features to trigger at all really tempted us to stop playing the game after a while.