Santa vs Rudolf
As we fast approach the holiday season, we can expect providers to start churning out their Christmas slot releases. In time-honoured fashion, NetEnt has taken a well-worn short-cut and taken the guts from a previous release, re-cast the characters and given it a Christmas theme to cash in on the holiday punters.
This practice is nothing new; some rehashed slots simply add the word Christmas to an otherwise unchanged game (NextGen's Merlin's Magic Respins became Merlin's Magic Christmas Respins). Some opt to change the main character (Push Gaming's Fat Rabbit became Fat Santa). NetEnt has certainly enjoyed earning a Christmas crust from re-skinning past releases. Last year's effort was Jingle Spin, a re-working of Egg-O-Matic. This year NetEnt went back in the archives to Christmas 2014 for the H.G.Wells novel inspired 'The Invisible Man' and have utterly transformed it into a cartoon Christmas comic caper, 'Santa vs Rudolph'.
So the story goes, it is Christmas Eve and Santa and his Reindeer are about to set off from the North Pole to deliver presents across the globe. Unfortunately for Santa, Rudolph is feeling mischievous and has stolen his boss's hat. Without the hat, Santa can't begin his globetrotting delivery service and finds himself in a battle of wills with his red-nosed accomplice as he tries to retrieve his stolen headgear.
The battle takes places across a 5x3 reel set with 20 paylines which pay both ways (so 40 paylines really). It is a medium variance slot with an RTP of 96.35% with a maximum single spin win of 1,000x the bet size and a maximum single feature win of up to 13,500x the bet size.
Santa vs Rudolph is available to play for real money from 28th November from €0.20 to €10 per spin.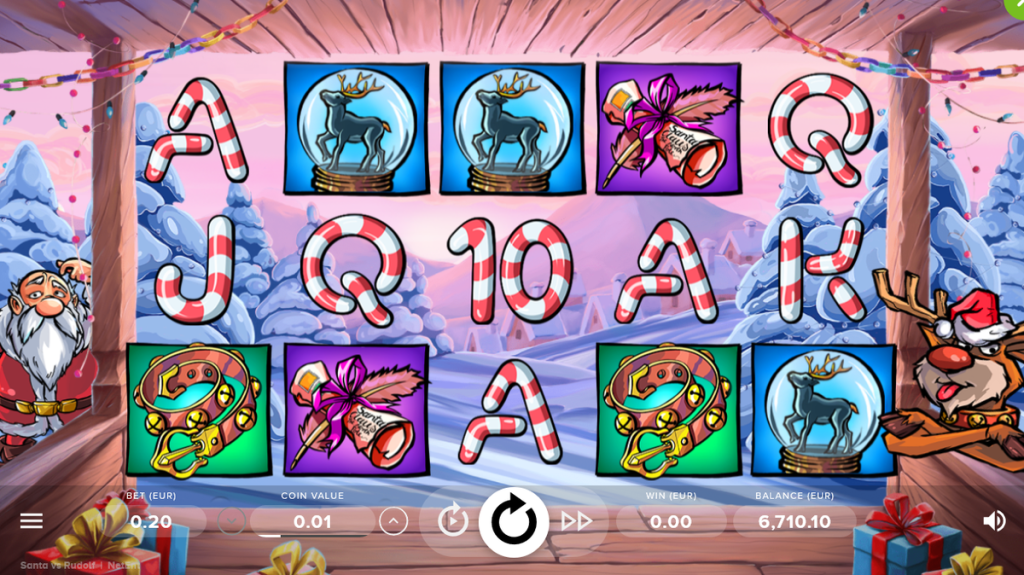 Design & Symbols
This slot has a very fun, very cartoony design which works superbly with its slapstick comic theme. The base game action takes place on the front porch of Santa's log cabin set in a snowy forest at the North Pole. The floating reels are transparent, allowing the player to see from the front porch to the snow-covered Evergreens below the pink, early evening sky. A befuddled and hatless Santa stands to the left of the reels scratching his bald head. Rudolph is leaning over the porch to the rights of the reels with his tongue out and Santa's hat sitting firmly between his antlers. The background music is nice and festive, generally upbeat with sleigh bells chinking.
Low-value symbols are the royal card values 10-A fashioned from red and white striped candy canes. High-value symbols are a Christmas list, a reindeer snow globe, Rudolph's collar, gift-wrapped presents, and Santa's sleigh. The sleigh is the most valuable with 5 on a payline awarding 25x the bet size. There are two walking wilds, Santa and Rudolph which are vital to the game's features; but more of that below.
Special Features
Walking Wilds
Free Spins
Santa's Gifts
Rudolph Spins
Walking Wilds
Santa Wild and Rudolph Wilds are both 'Walking Wilds'. In the base game Santa Wilds always initially land on reel one and Rudolph Wilds always land on reel 5. When a Santa Wild lands, 5 respins are awarded, during which time Santa 'Walks' one reel to the right on each respin. The same happens when a Rudolph Wild lands except that Rudolph 'Walks' one reel to the left on each respin. If another Walking Wild lands during the respins the process starts over. The feature ends when there are no more wilds on the screen. Free Spins are triggered if a Santa Wild and a Rudolph Wild clash anywhere on a reel.
Free Spins
As previously described, 10 free spins are triggered when Santa and Rudolph Walking Wilds clash whilst making their way across the reels. The scene turns to night-time and both Santa and Rudolph have come down off the porch and are facing off against each other from opposite sides of the reels. Santa has realised Rudolph has his hat and is angrily gesturing towards his red-nosed employee. Meanwhile, an unconcerned Rudolph stands with arms folded, deaf to his boss's entreaties.
During free spins, Walking Wilds appear anywhere on the reels. When Santa and Rudolph clash four additional free spins are awarded (to a maximum of 30). After clashing these wilds disappear from the board.
Santa's Gifts & Rudolf Spins
In the free spins round, there are two progress meters, one above the left side of the board and one above the right. The left meter is labelled 'Santa's Gifts', the other, 'Rudolph Spins'. Each meter requires 8 segments to be filled. One segment is awarded each time a Walking Wild completes its journey across the screen. If either meter fills during free spins then the corresponding bonus feature will be awarded at the conclusion of free spins.
Santa's Gifts is a pick-a-prize feature. Three sets of five gifts are brought to the screen. The first set comprises five gift-wrapped boxes. Picks can reveal cash values, win multipliers, or a Santa hat. Picks continue until the Santa hat is picked which ends the bonus game. Once the hat is picked the second set of gifts appear, and the process continues through all three sets. At the conclusion of Santa's Gifts money values picked are multiplied by all win multipliers picked (up to max 4x). The Santa hat is never the first gift picked in round one but thereafter may appear anywhere. The maximum win possible from Santa's Gifts is 1,880x the bet size.
Rudolf Spins award 3 spins during which Rudolph fires five wild symbols randomly onto the game board. The wilds are not Walking Wilds during Rudolf Spins. The maximum possible win from Rudolf spins is 13,500x the bet size
Our Thoughts on Santa vs Rudolph
Although this is essentially just a new skin on an old game, there is a certain charm to the Christmas caper theme which immediately endeared me to Santa vs Rudolph. The narrative is strong enough that you can easily forget it's a game you've played before in a different guise. It is also highly enjoyable; perhaps not for a serious high variance player, but for anyone trawling for a festive flutter, this is a surefire winner. The cartoon design is awesome, the music fitting, and the features in plentiful supply (both in terms of a number of features, and how often they trigger).
There are a couple of points you might want to clarify before playing as the information available at present is somewhat contradictory. On the demo version, the min/max bets range from €0.20 to €10, whereas other sources claim the range is up to €100 a spin. Also, one of the splash screen as the game loads notes 'Win up to 200,000 coins' which equates to 10,000x the bet size which is in keeping with the max win of The Invisible Man. However, NetEnt's own 'HELP' notes claim that the game's 'Rudolf Spins' feature pays up to 270,000 coins (13,500x the bet size). In all honesty, this size of win on a medium variance slot is incredibly unlikely to occur!
This may be based on an old game, but this refresh has it looking brand new all over again.