Rooster Fury by Endorphina released on 08.07.2021 is a 3-reel & 3-row online slot with 5paylines and a 96% RTP. The maximum win potential playing this slot is 5000x the stake. Rooster Fury can be played on all devices from €0.05 to €50 per spin and is considered a high volatility game.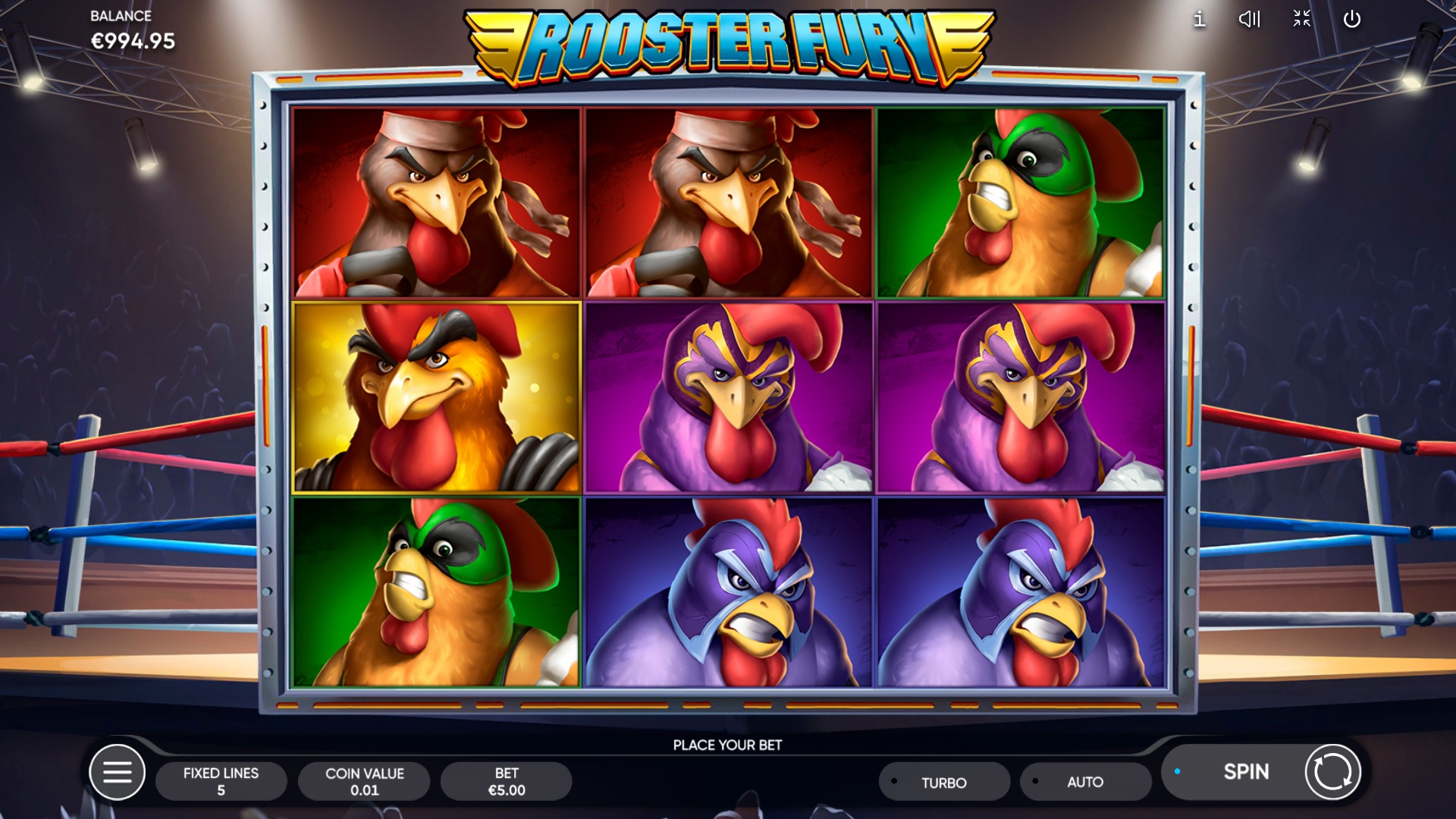 Unique Rooster Wrestling theme
Gamble feature
Free Spins feature with scatters as wilds
Rooster Fury it yet another new slot release from the team over at Endorphina. This time, they have taken their inspiration from the world of entertainment, or more specifically the world of wrestling. Today's wrestling superstars are surrounded by fame, fans and paparazzi everywhere they turn, but what you will be meeting in Rooster Fury is far from your standard wrestling characters. Instead, you will be seeing a bunch of roosters who have been put inside the wrestling arena and they have brought all the strength and agility they have to the fight.
You will be seeing a couple of different special features throughout the gaming, starting off with the best one of them all being the Fights Between Roosters. This happens to be the free spins feature of the game and also involving scatters acting as wilds. In addition to this you have a Risk Game and a Bonus-Pop feature available in the game. So while there aren't heaps and heaps of special features to look forward to, the entertainment of the Fights Between Roosters feature kind of makes up for it.
Where to play
Check out casino bonuses on our casino index.
How to win big in Rooster Fury – Fights Between Roosters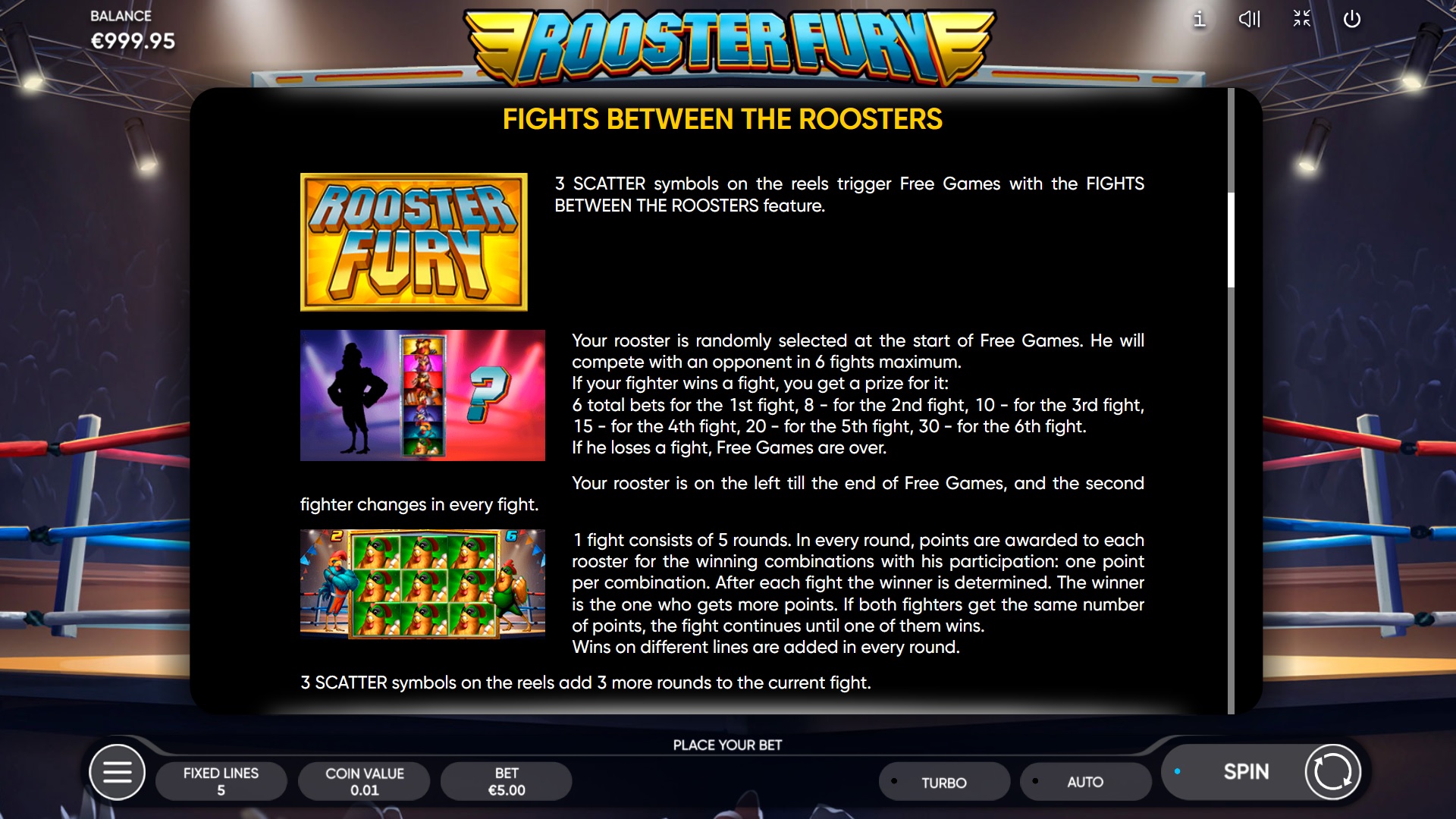 Trigger this feature by landing 3 scatters on the reels. At the start of the feature, you will be given a random rooster who will be competing in up to six fights for you. Then, depending on the amount of fights your selected rooster wins, you will receive a prize.
1 fight – x6 your total bet
2 fights – x8 your total bet
3 fights – x10 your total bet
4 fights – x15 your total bet
5 fights – x20 your total bet
6 fights – x30 your total bet
Should your selected rooster however loose, then the bonus round will be over. Each of the six possible fights will consist of 5 rounds, which pretty much is a free spin. In addition to this, should you get x3 scatters during any of these rounds then an extra three rounds will be added to the fight.
Special Features
In addition to the free spins feature mentioned above, you also have a gamble feature available to you. With this feature, you will be able to take your chance on doubling your winnings up to 10 times. When making use of this feature, you will be asked to choose a card from the four cards facing down. Should you beat the dealers card, then your win will be doubled and you will be able to try again. Should the dealer win, then you will loose your winnings. This feature becomes available anytime you get a win throughout the game.
Look and Feel of Rooster Fury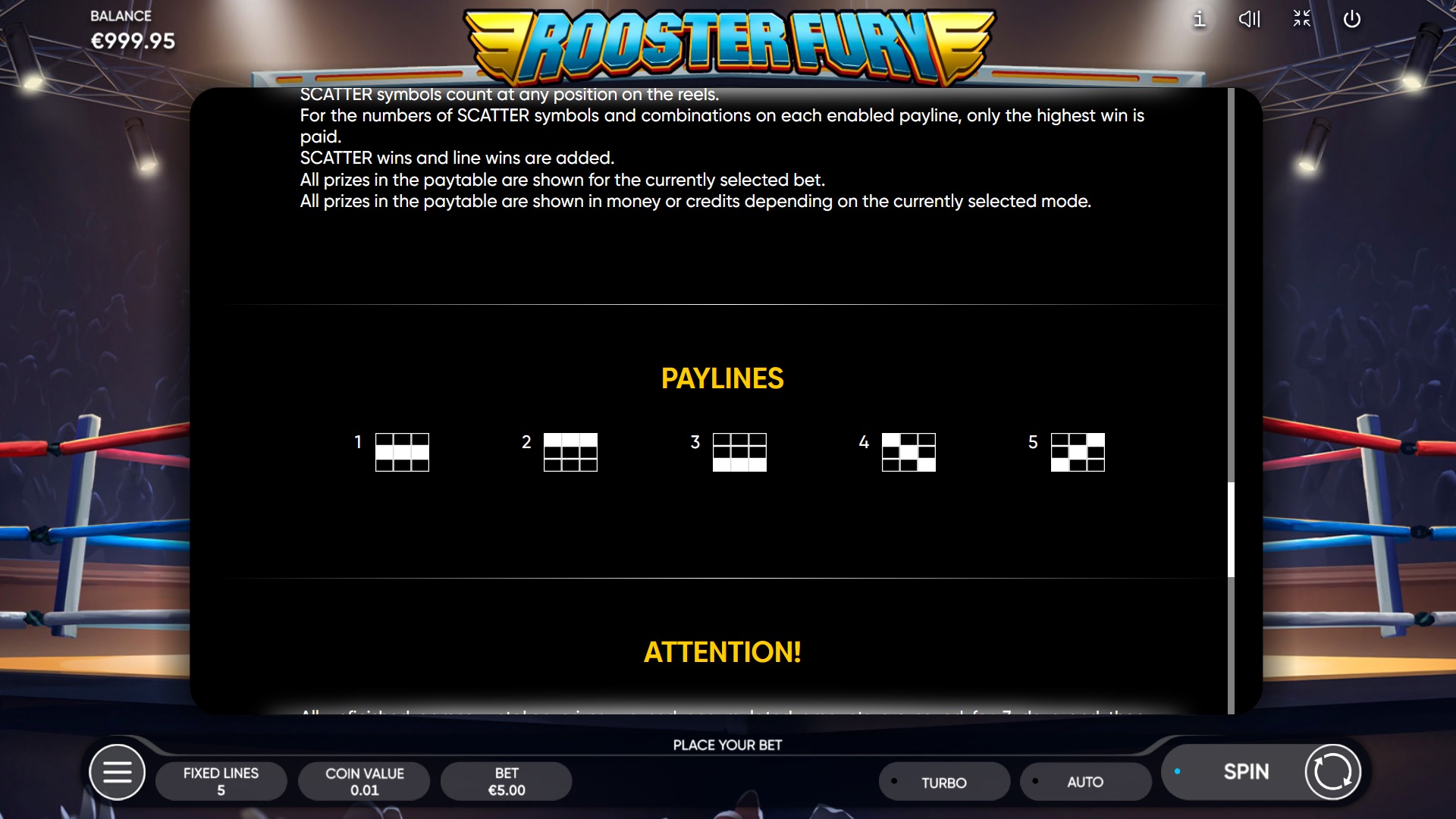 Rooster Fury offers a pretty unique theme to any player checking it out. While wrestling or boxing matches might have been used as themes in other slots, we're pretty sure we have never seen a slot with wrestling roosters in focus. The design has been kept quite simple, yet with great detail to the different characters and lots of bright colours really bringing the game to life. Of course, the background of the game is the wrestling arena, where you will be able to see shadows of the audience standing and cheering, along with spotlights and the wrestling ring itself.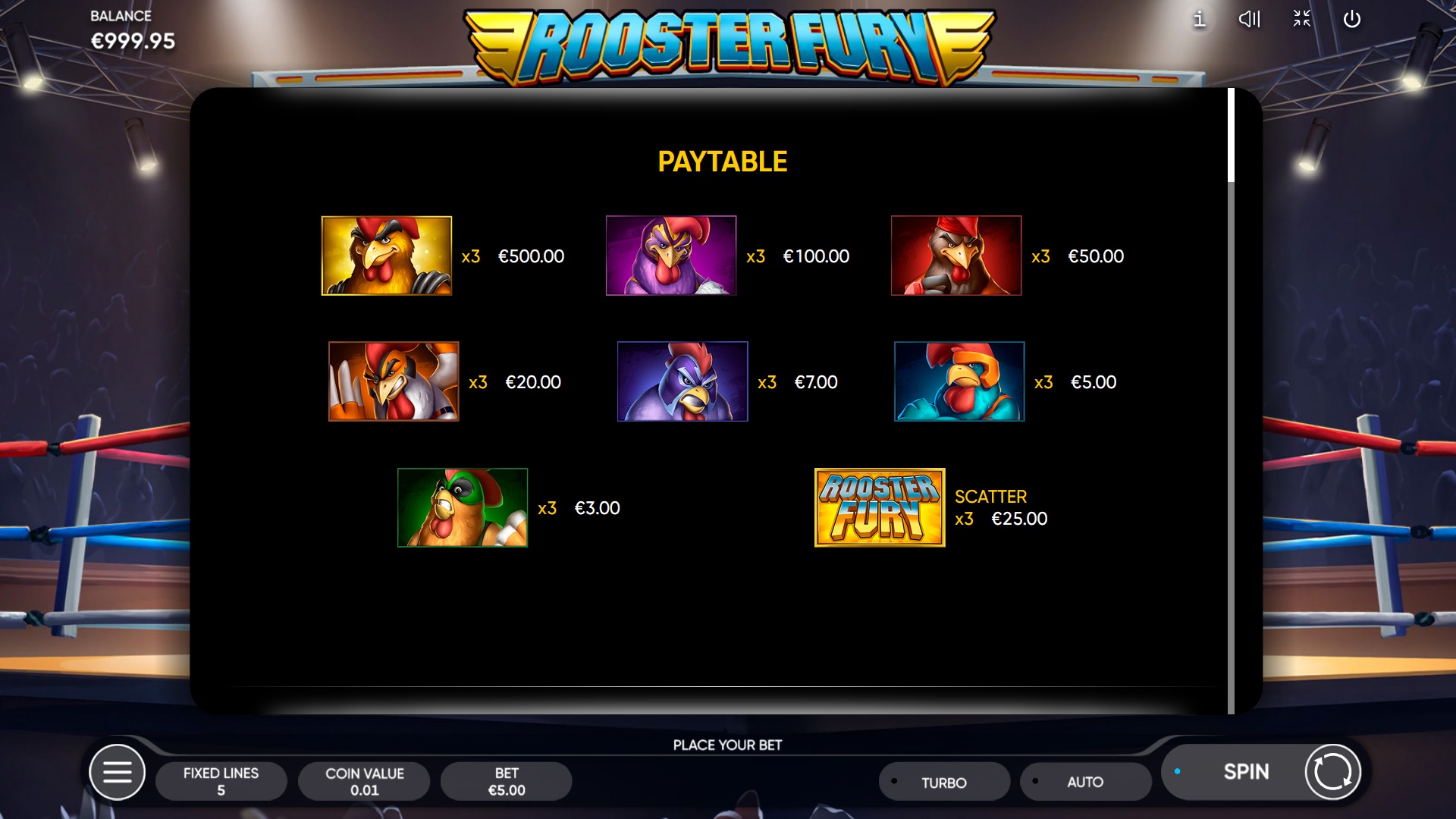 The reel set has simply been framed in steel, adding to the rough and tough look of the wrestling roosters. Then on the reels you will be seeing all the different rooster characters, in a bunch of different colours and complete with different headgear or masks. The blue rooster being of lowest value and the golden rooster with a smirk on his face as the highest valued rooster.
disclaimer: the game's RTP and min/max bet may vary depending on operator and jurisdiction. Use our data as a pointer, but always make sure you check the real RTP by locating the help file directly in the game itself once loaded.