Nitro Circus by Yggdrasil Gaming released on 15.11.2018 is a 5-reel & 4-row online slot with 25 paylines and a 96.20% RTP. This is a sport -themed game offering players a max win of up to 2000x their stake. Nitro Circus can be played on all devices from €0.25 to €125 per spin and is considered a medium volatility game.
Design and Symbols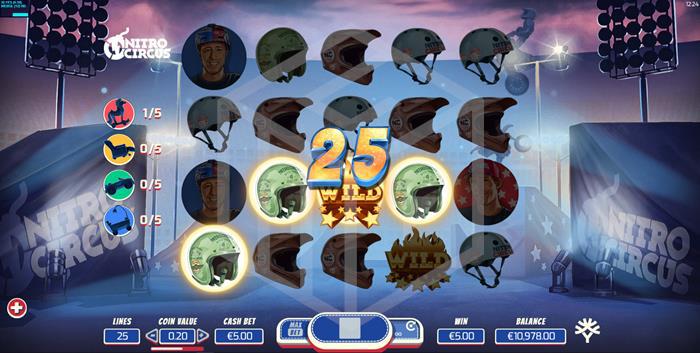 Yggdrasil has become well known for their great design work, and that's clearly in evidence with Nitro Circus. The main screen shows the reels with a transparent background of a floodlit outdoor stadium with motocross riders silhouetted against the night sky jumping across the screen from ramps on either side of the reels. The backing track is primarily an appropriately gnarly rock guitar riff. The low-value symbols are grey, green, and red crash helmets, while all four higher value symbols are headshots of members of Travis's team of daredevils, with Travis himself being the highest value symbols. Five of him on a pay line with earn the player 20x the bet size. Other symbols on the reel set include a wild, a Nitro Bomb (more of which later), and the letters N-I-T-R-O which appear in that order across the reels. There are also vehicle symbols which don't appear on the reel set but which are shown in a column to the left of the game board and which come into play during bonus rounds. They include a rocking Hhorse, an armchair, a bathtub, and a toy car.
Special Features
Nitro Circus is blessed (or cursed, depending on whether you enjoy their rather elaborate nature) with a selection of special features each with numerous unique choices and elements; they include the Nitro Blast Minigame, Nitro Free Spins, and the Nitro Jump Feature.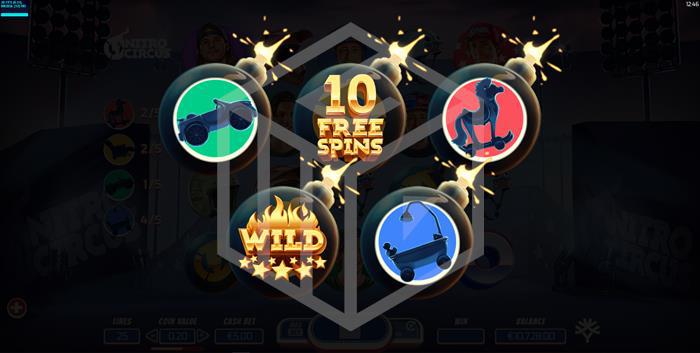 Nitro Blast Minigame
The Nitro Blast Minigame is activated by landing 2 Nitro Bomb symbols in the base game. 5 bombs with prizes will show on the screen of which one will be randomly chosen for you, although in the Minigame only 3 of these are available, the other 2 only being available in Free Spins.
Free Spins – Between 10 and 30
Add 1 Vehicle to your collection – Add an armchair, wheelchair, toy car or a bathtub
Nitro Wild – The Nitro Bomb landed in the base game explode and turn between 2 and 9 of the board's symbols wild.
Free Spin Multiplier – increase the total Free Spin multiplier between 1x – 3x. (only available in Free Spins)
Extra Free Spins – gives you up to 3 more free spins (only available in Free Spins)
Nitro Free Spins
As well getting into the free spin round through the Nitro Blast Minigame feature you can also qualify by landing at least 3 Nitro Bombs on any one spin during the base game. Landing 3 Nitro Bombs you 10 free spins as well as 1 feature pick (similar to the prize bomb picks detailed earlier). If you manage to land 4 or 5 Nitro Bombs then you'll receive 20 free spins plus 2 feature picks or 30 free spins plus 3 feature picks.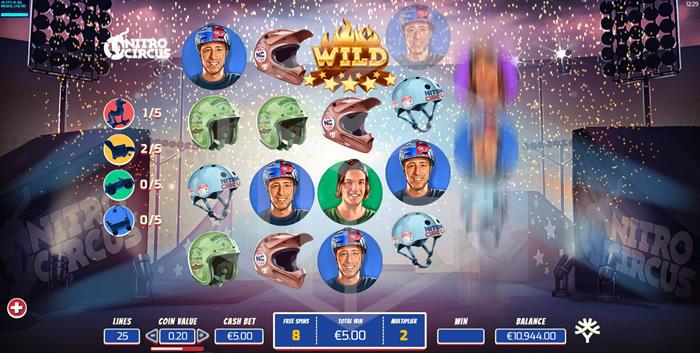 Nitro Jump Feature
This is another Nitro Circus feature which you are able to arrive at via multiple routes. The Nitro Jump is activated either by collecting 5 identical vehicles or simply by landing the letters N-I-T-R-O on a spin directly from the base game. The feature involves sending your chosen vehicle out for 3 stunt jumps and a final boost jump. Each jump is judged by judges and awarded between 5-625 coins depending on tricks performed, and on each jump, prizes can be collected from the air. Each vehicle has its own level of trick skill, size, and boost potential. While extra skill equates to extra coins from the judges, extra size allows the collection of more prizes (including coins, a speed boost, a final jump multiplier, or even 10 free spins) while in the air, and extra boost corresponds with a higher multiplier on your final jump. Confusing? A little, yes. On the final Nitro Boost jump, you get to utilise your vehicle's own speed boost as well as any earned during your 3 stunt jumps without fear of crashing out. There is also a manual speed boost available which you can use at your peril, as although you might boost your final jump multiplier considerably, you may also crash and burn and lose them all.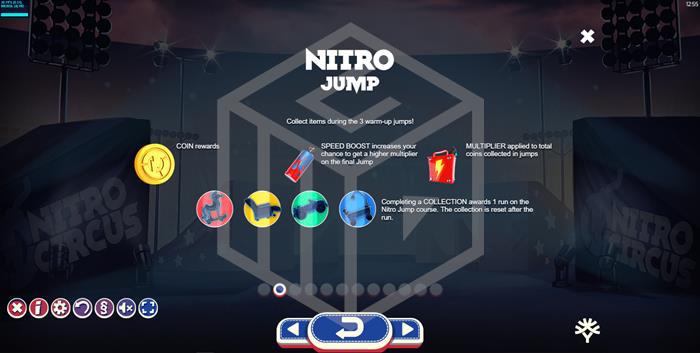 Our Thoughts on Nitro Circus
Nitro Circus is, all things considered, another fine addition to the Yggdrasil armoury, although we have some minor niggles. First off, we had never heard of Nitro Circus, and for a branded slot it would have been nice to see a more familiar brand. However, we are assured that Nitro Circus was an extremely popular show broadcast in over 60 countries, and it is certainly true that the live shows to this day are extremely well attended. So we'll give them a pass here. The design is great, we can't fault Yggdrasil here, and the whole vibe seems to perfectly match the franchise. It will certainly appeal to fans, adrenaline junkies, and petrol heads alike. Whether it will break through to the average punter, however, depends more on the gameplay and the features. When it comes to gameplay, we found the base game a little thin on the ground as far as notable wins and entertainment is concerned, but when there are numerous special features this is to be expected. With regards to the features I am sure that once again true fans will lap them up, and after playing them for a while we also got to kind of enjoy them. What I would say, however, is that if we hadn't needed to review the game and play it for quite some time it is very possible that we could have been put off by the sheer volume and complexity of the bonus rounds. If you are willing to put in the effort you could find yourself a true Nitro Circus fan and the game could be a big success for Yggdrasil. Only time will tell.