NFT Megaways by Red Tiger is a 6-reel & 7-row online slot with 200704 Megaways and a 96.00% RTP. Playable on all devices from €0.1 to €10 per spin, NFT Megaways is a high volatility game with a max win capped at 10000x your stake.
Up to 200,704 Ways to Win
Wild Multipliers up to 30x
Crypto Theme
Considering its popularity over the past few years, its somewhat surprising that there haven't been a glut of Crypto related slots released. Still, the recent release of Red Tiger's NFT Megaways might just speed up that process.
For those who are still unsure as to what an NFT (Non-Fungible Token) actually is, I'll do my best to explain the concept in as few words as I can. In a nutshell an NFT is a unique digital asset stored on the Ethereum blockchain.
To explain a little further, something which is 'fungible' is mutually interchangeable, i.e., it can be replaced by something identical. For example, both bitcoins and dollar bills are fungible as they can be exchanged for other, identical bitcoins or dollars. Digital assets which are non-fungible include pieces of digital art, music, or video. They are all original assets of which there is only one. they are all NFTs.
Of course, it's pretty simple to copy digital files, but the NFT includes within it the actual digital ownership rights. The ownership bragging rights if you will. As such, we've witnessed thousands of seemingly innocuous looking pieces of digital 'art' change hands for thousands, hundreds of thousands, or even millions of dollars this year alone.
Right, does that make sense? No, it doesn't to me either, but you get my general drift…
So, back to the game…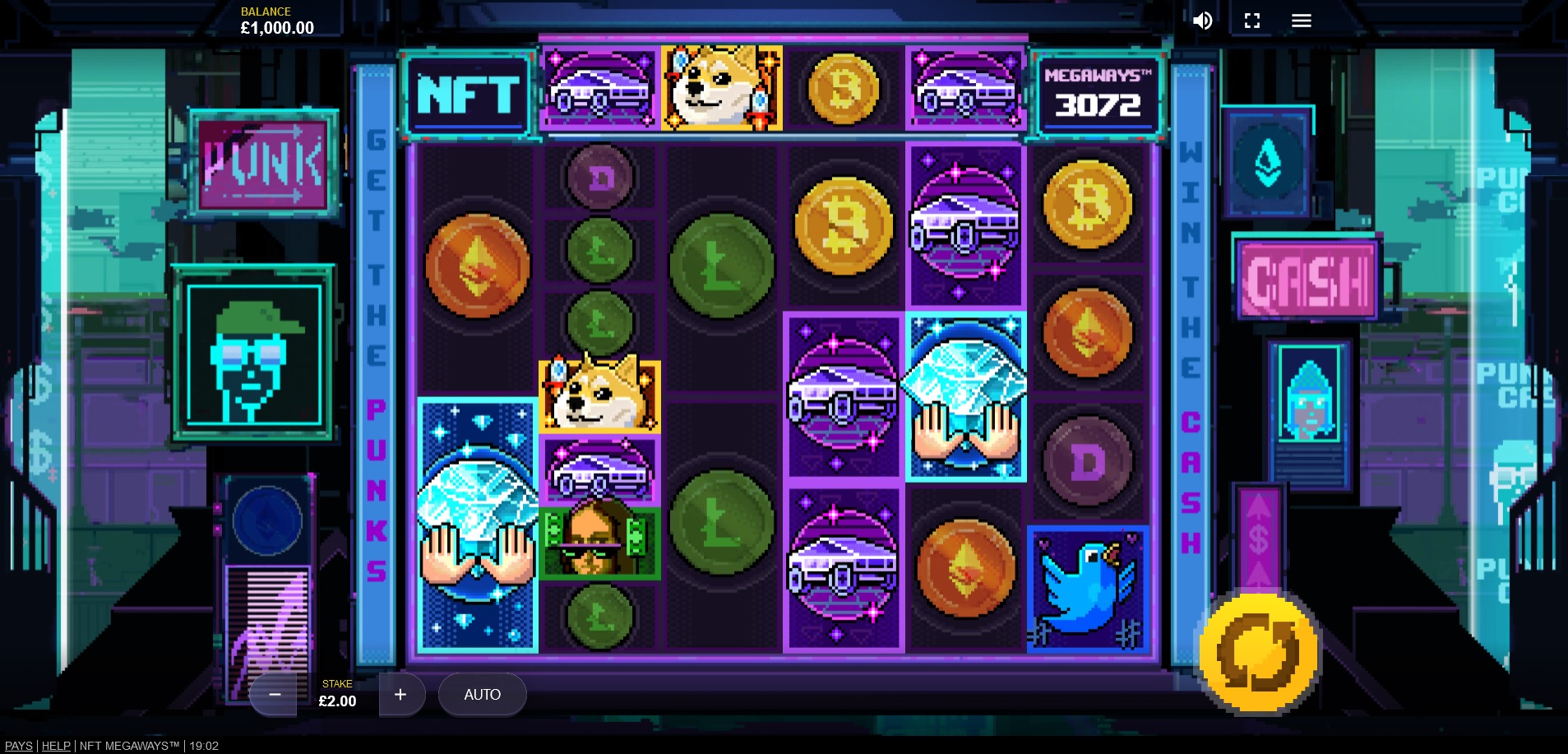 Using retro 8-bit graphics and 80's arcade sounds, Red Tiger have created a world around the original NFT's, Larva Labs Crypto Punk images. The crypto symbols spin in up to 200,704 ways to win with four unique Crypto Punk wild multipliers, each capable of increasing up to 30x in both the base and bonus games.
The reel set used has a standard Megaways 6 reels with one horizontal reel above reels 2-5 set up. Although in this game the horizontal reel is known as the Crypto Punks Bar and is the only place you will find the Crypto Punk wilds.
For the big wins, (up to 10,000x) we need to take a closer look at the Crypto Spins bonus round.
How to win big in NFT Megaways – Crypto Spins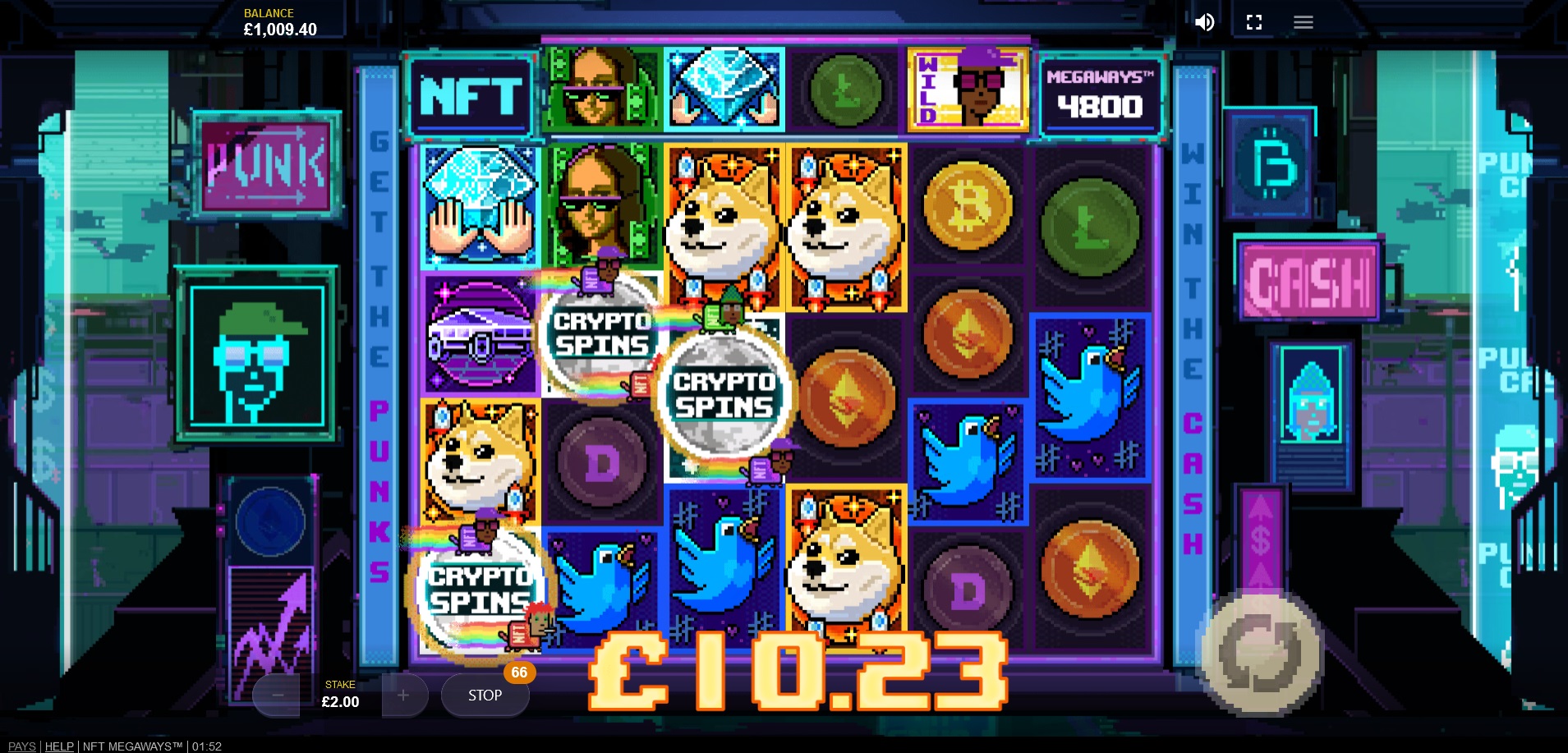 3 or more Crypto Spins coin scatters trigger 10 Crypto Spins (free spins). Any additional scatters in view on the triggering spin each award 5 more Crypto Spins. Scatters are also on the reels during the bonus round and as such, retriggers are possible.
Throughout both the base and bonus game, the four wild Crypto Punk symbols appear only on the horizontal reel (the Crypto Punk Bar). When a wild forms part of a win made of low value symbols, the wild's win multiplier increases by the number of symbols (other than itself) in the win. Each subsequent win including that specific wild character increases its win multiplier further. Up to a maximum of 30x. During Crypto Spins, the wild symbol characters can be seen besides the reel set, each showing its current win multiplier.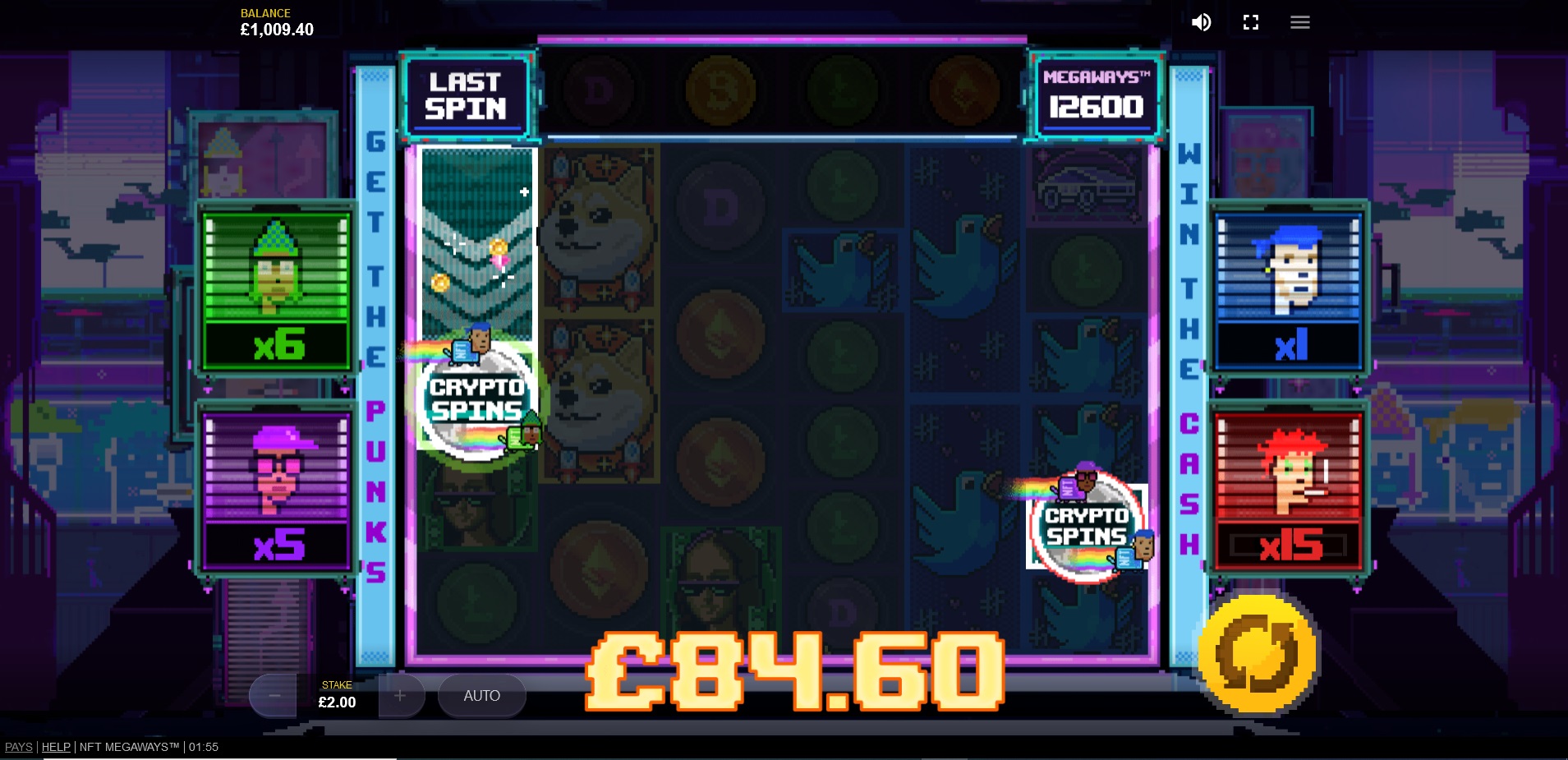 When a wild only forms part of a high value symbol win, it disappears from the board and doesn't feature in the next cascade. However, the wild's win multiplier remains in place.
Special Features
Up to 200,704 Ways to Win
Cascades with Reaction Wins
Wild Multipliers
For those unfamiliar with Megaways slots, the number of paylines, or in this case 'Megaways', changes every spin. During both the base game and the bonus games the 6 reels contain up to 8 symbols on reels 2-5, and up to 7 symbols on reels 1 and 6. The number of symbols on each reel can change on every spin. The maximum number of Megaways in this set up occurs when all 6 reels land maximum symbols on the same spin. 3 or more identical symbols on adjacent reels from the leftmost reel constitute a winning combo. As such the highest number of Megaways on offer here is 7x8x8x8x8x7, or 200,7054.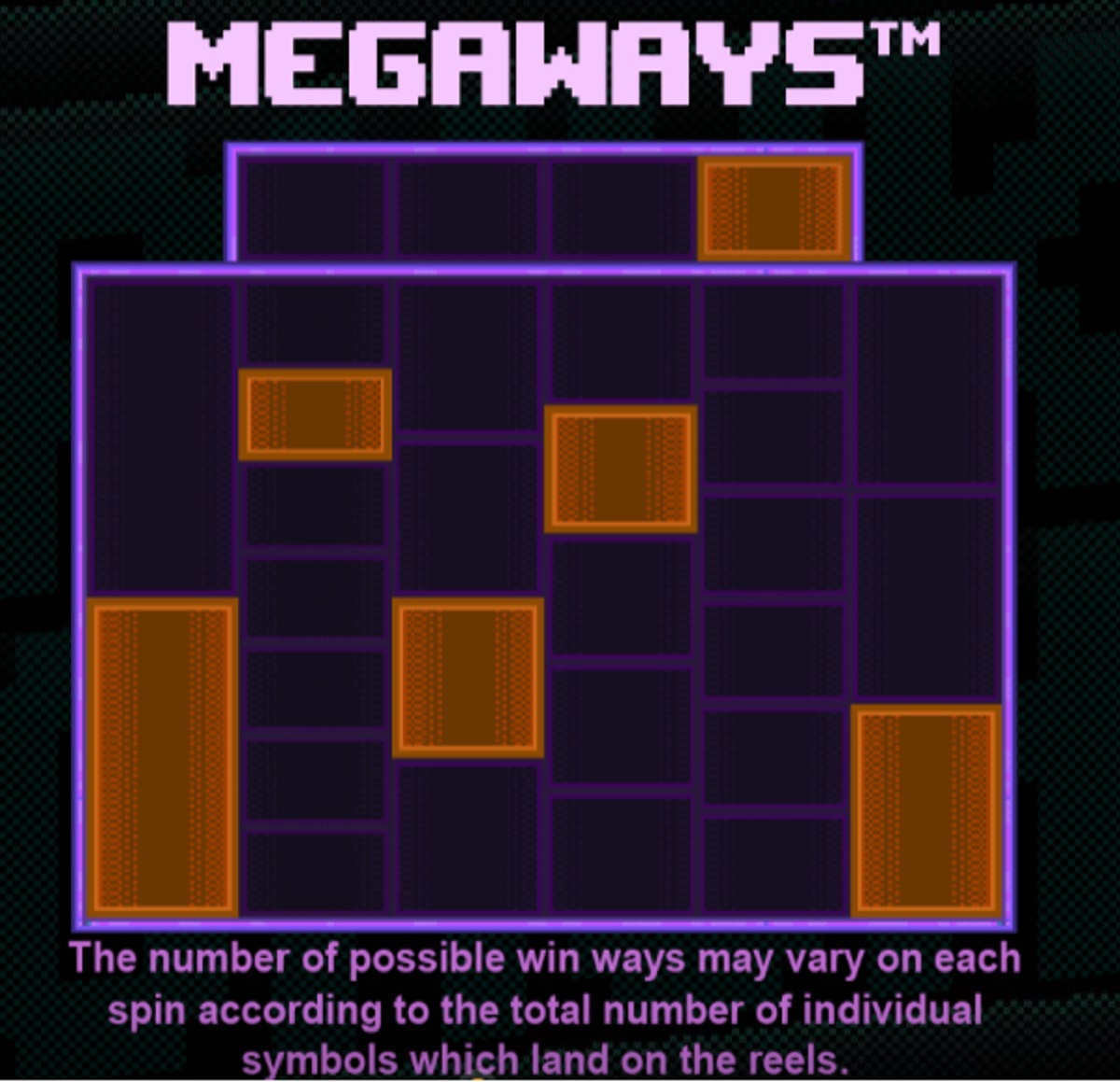 In NFT Megaways, symbols cascade onto the reels rather than spin. After a win is added to your balance, the winning symbols explode to be replaced by symbols cascading from above. A winning combo caused by this cascade is called a reaction win. Reaction wins continue until no new winning combo is formed, after which the spin ends. Cascades occur during the base game and during free spins.
The Wild Multipliers active during Crypto Spins are also active during the base game. However, during the base game, as soon as the reaction wins with low paying symbols come to an end, the wild multiplier is reset to x1.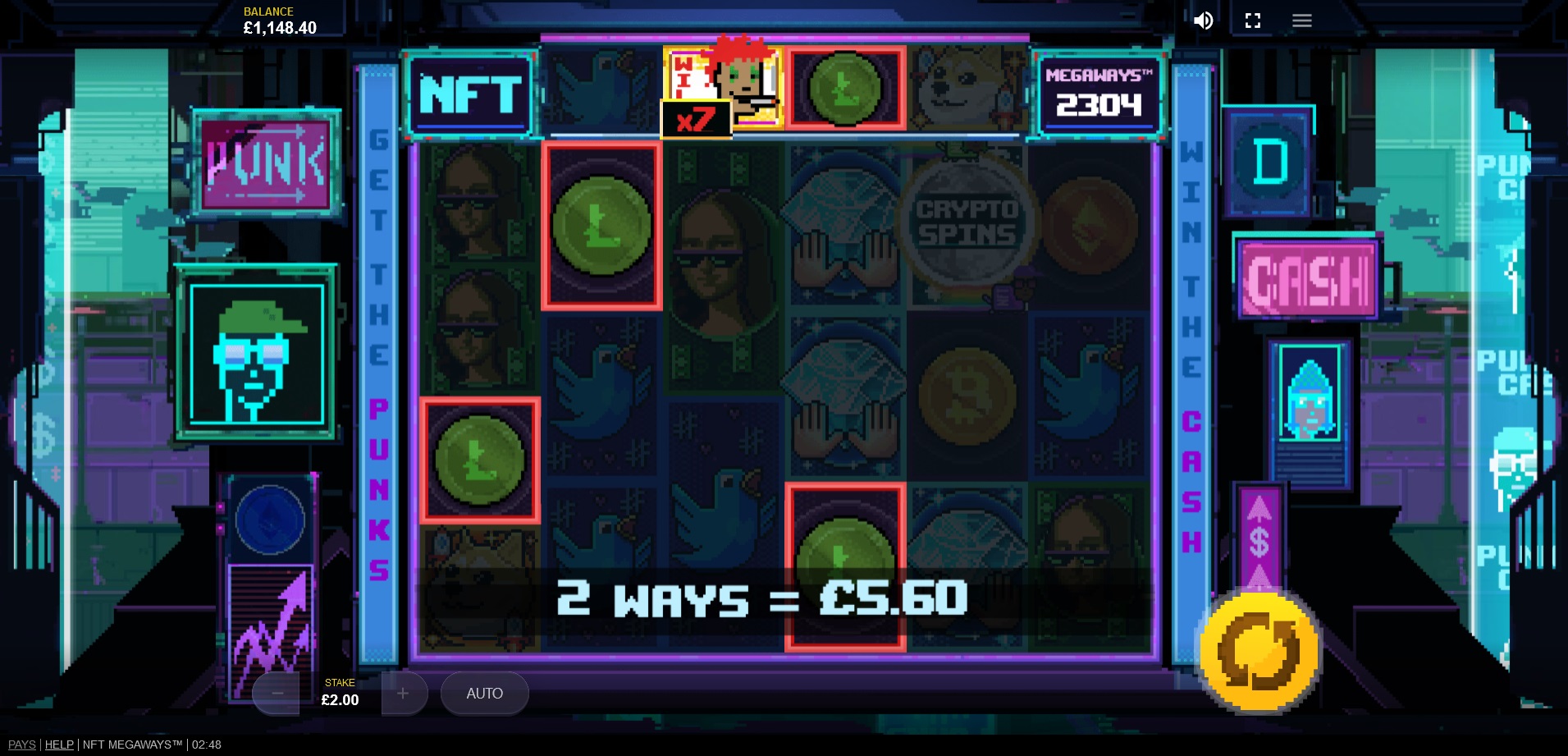 Look and Feel of NFT Megaways
Red Tiger use the original NFT's, Larva Lab's Crypto Punk characters (24x24p pixel art images of punky looking men and women) as the main inspiration for the game's look and feel. It's a clever move, as it allows them to tap into the evergreen popularity of the retro-8-bit aesthetic, complete with 80's arcade style bleeps and sound effects. The action takes place in some kind of industrial setting, while flying by in the background are a fleet of chunkily pixelated planes and helicopters which look like they've come straight out of an early 80's shoot 'em up.
The game's symbols stay on theme with the four low value symbols represented by coins, but not just any old coins but Doge, Litecoin, Bitcoin, and Ethereum tokens. The high value symbols will also be familiar to anyone who keeps up to speed with the digital space and pop culture references. They are 8-bit appropriations of the Tesla's Cybertruck, Larry T Bird (the Twitter logo), Mona Lisa in Thug Life sunglasses, a Shiba Inu dog, and the Diamond Hands symbol (Diamond Hands is the name given to those who hold onto their cryptocurrency even during a downturn in the market, confident their preferred coins will eventually make them a mint). The Diamond Hands symbol is the highest paying, with 6 on adjacent reels paying 3x the bet size. You can see the full paytable below.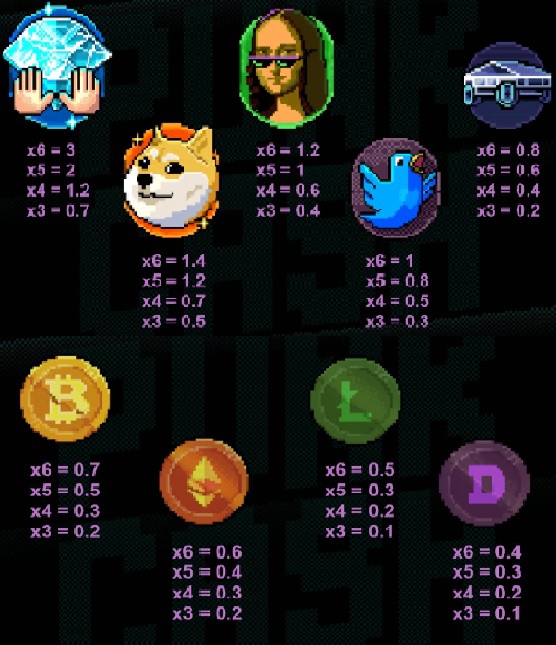 The four wild symbols are taken directly from Larva Lab's 10,000 Cyber Punks (to be precise #914, #3008, #4701, and #8143)

Red Tiger have done well to bring something new to the Megaways table with their clever use of the Crypto Punks to introduce a new way of using a multiplier wild. Building 4 different wild symbols, each with the potential to multiply any win they're involved in by up to 30x can lead to an exciting bonus round. The multipliers are also capable of building rapidly. Furthermore, if more than one wild forms part of the same win then their multiplier values are multiplied together.
This is an innovative slot from Red Tiger, and one which works well within the Megaways framework.
Disclaimer: the game's RTP and min/max bet may vary depending on operator and jurisdiction. Use our data as a pointer, but always make sure you check the real RTP by locating the help file directly in the game itself once loaded.