Knight's Life Slot
Knight's Life by Merkur Gaming is an absolute classic 5 x 3 reel, 95.84% RTP slot game. Want to join the world of Medieval fantasy but not sure how to do it? This all-time favourite, beast of a volatility machine is how. We are finally walking through it and we'll introduce you to why it is one of the biggest successes and one of our streamers' favourites. The goal of this game? Align all the knights and befriend them while saving your damsel in distress as you smash your way across the slot's reel in Knight's Life. The theme is not the only reason why you should take up this game, another big one is variance. According to one of our main streamers Slotspinner, this slot has an "Ultra high variance. Retriggers make you go crazy on this game, and recently it showed me even without retriggers you can hit a monster – when I had a 1650x!" So what we guess he's saying is that the slot doesn't give you a win quite often, but when it does, especially on the free spins bonus, you win big!
Design and Symbols
[caption id="attachment_18682" align="alignnone" width="1000"]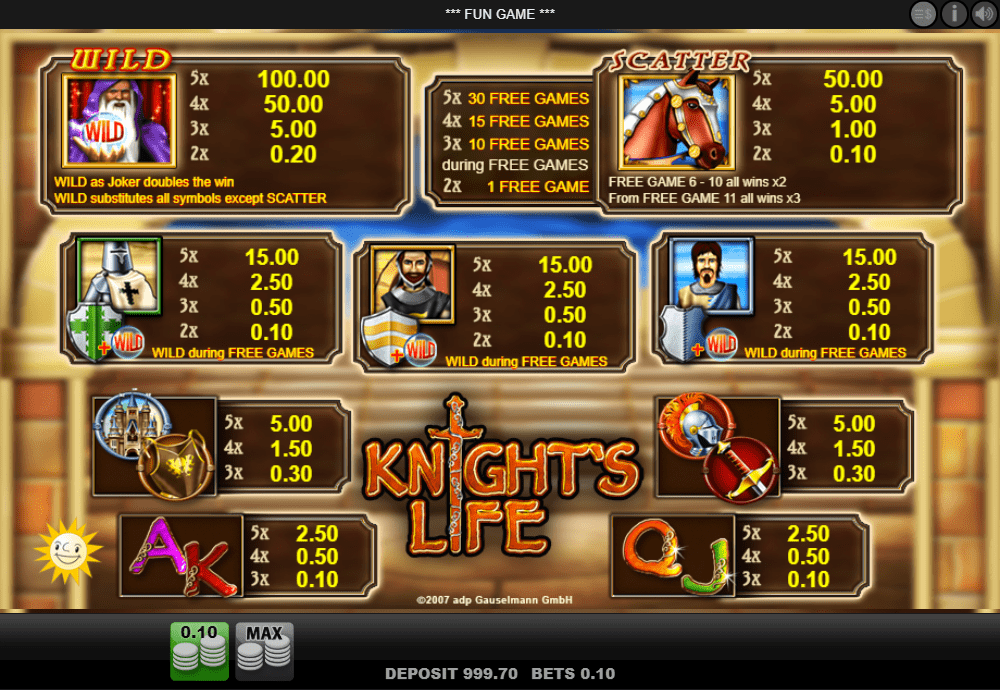 The symbols in Knight's Life vary from letters to horse scatter symbols, noble knights and the medieval wizard who also functions as a wild symbol.[/caption]
The wizard can substitute any symbol, except the horse; if a wild-line appears, it will award you a win of 1000x. Any time the wizard appears at all, you as a player will get double your win! As for sound effects, this game is mystical indeed, with a wizard sounding spin that lands your symbols on a drum bass. A little melody that is bound to keep you at the edge of your seat. Have you won? You'll know if you did, as a groovy tune will pop up and is sure to make you dance to its groove. The gasping sound that follows a scatter symbol hitting your reel is also something to comment about. Scatter symbols mean free spin bonus rounds, and the more rounds you have, the bigger your wins! Gasping is pretty accurate when you learn that you might be about to win some big cash, is it not?
Special Features
If you're lucky enough to land three, four or five horse scatter symbols anywhere on your reel, you win 10, 15 or 30 free spins respectively. During the free spins round, your typical noble knights are replaced by wild symbols and you might potentially win more than a gazillion times your stake! If this game is not the perfect example of extreme volatility, then we don't know what is! You have the chance to win big on knight's life, just like our streamer slotspinner did here.
Free Spins
When it comes to free spins, from your sixth to the eleventh spin, any wins will double.
From your eleventh spin onwards, any wins will triple.
Any two horses that show up on your reels gives you an additional extra spin during this bonus round
You are sure to win big after your 15th free spin.
Reviewers' Thoughts on A Knight's Life
If you're a fan of high volatility slots, then this game is definitely a go-to for you. The opportunity to win big, albeit rare, is huge when it hits! Extremely simple, clean, yet a very interesting bonus mechanic which makes this game an all-time favourite and definitely has a spot in the hall of fame of slots. The gasping sound that follows a scatter symbol hitting your reel is a true representation of the feeling you get when close to a bonus in such a high volatility game.