Play Fancy Fruits Crazy Chicken Shooter on
Check out casino bonuses on our casino index.
Fancy Fruits Crazy Chicken Shooter by Gamomat released on 17.11.2018 is a 5-reel & 3-row online slot with 5 paylines and a 96.09% RTP. This is a classic fruit-themed game offering players a max win of up to 1250x their stake. Fancy Fruits Crazy Chicken Shooter can be played on all devices from €0.3 to €30 per spin and is considered a high volatility game.
Community Big Wins
No big wins yet! Share your big win on our forum!
Design and Features

The design of this slot is unique in the sense that it follows two different themes. The original base game looks like your classic old school fruit slot machine. The symbols are the most common classic fruits including lemons, plums, oranges, watermelons grapes and of course the number '7'.
Once the special feature is activated the theme of the slot completely changes. It will start with hutch doors exploding open and a ton of chickens fleeing. You will then be taken to the next page where you will load your belt with bullets ready for shooting. Lastly, you will have the pleasure of stepping outside into the green countryside where you will find chickens runnings and flapping around everywhere.
Special Features
Three possible wager levels
Crazy chicken shooter
Three possible wager levels
When you enter the slot game, underneath the reels you will find a chicken icon displayed. By clicking on the icon it will display one to three target icons to the left side. The more targets symbols displayed next to the chicken, the higher the wager level selected. This essentially means the higher your prize level or the individual values of the chickens you will shoot.
Crazy Chicken Shooter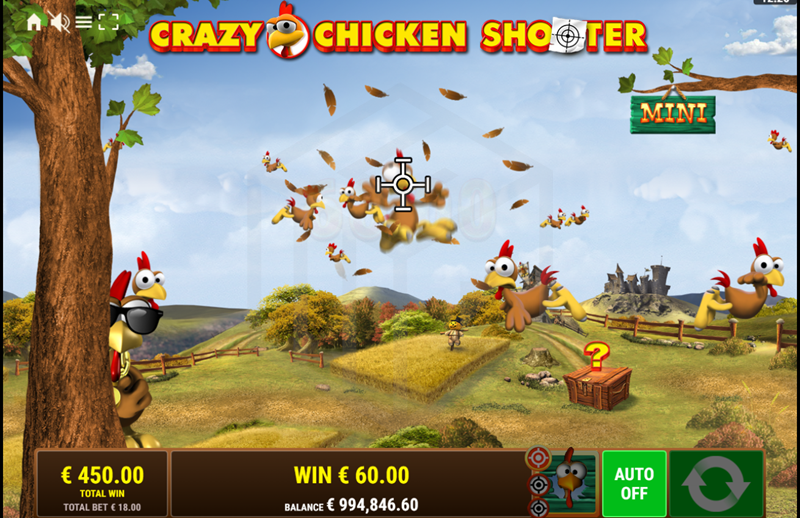 To activate the crazy chicken shooter you will first need to unlock all three padlocks on the chicken hutch. Once you have cracked all the padlocks the hutch doors will burst open releasing the chicken free.
Next, you will be taken to a barn where you will find your belt ready to load with bullets. The more bullet rounds you collect in your belt which is displayed to the top of the reels, the higher your prize level and the individual prizes from each chicken you shoot.
In order to activate the Chicken shooting level you need to fill your belt with bullets between the 'Mini' section up to 'Grand'. As a result, you need to collect a minimum of 5 rounds.
Once you have filled your belt with enough rounds you will be taken out to the farmland where the chickens are running riot. While you are shooting the chicken keep an eye on the wooden box lying in the grass. This gives you the potential to level up, where you will be able to collect bigger prizes.
Our thoughts on Fancy Fruits Crazy Chicken Shooter
Overall, I was rather satisfied with this new online slot game from Gamomat. When I first entered the game I was slightly unenthusiastic to see the same old classical fruit symbols, however, the ultimate twist they added with the special features was great fun. I found the special features really enhanced my player's experience. Also as a highly volatile slot, this new Gamomat edition has great potential to payout.
Looking for something different to play? Or maybe you are looking for a traditional classic with an exhilarating twist? Then why not give Fancy Fruits Crazy Chicken Shooter a shot!
Also Read: Check out our Top Ten Gamomat Casinos & Slot Games and discover more games from this game provider and where you can play them online.
Other Gamomat games