Play Conan on
Conan by NetEnt released on 24.19.2019 is a 6-reel & 4-row online slot with 24 paylines and a 96,28% RTP. This is a fictional-themed game offering players a max win of up to 2016x their stake. Conan can be played on all devices from €0,20 to €200 per spin and is considered a medium volatility game.
Community Big Wins
No big wins yet! Share your big win on our forum!
Design & Symbols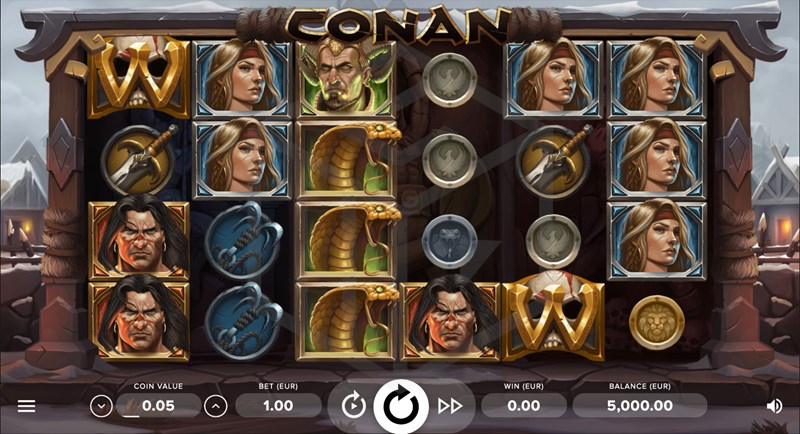 When they put their minds to it, NetEnt's design team are at the very top of their game, and happily, such is the case with Conan. The backdrop is of a mythical wintry village with fires burning brightly inside each small wooden snow-capped dwelling, although different features reveal various desolate backdrops.
The gameboard covers the vast majority of the screen space, and it is a large, carved wood-framed affair. Inside the gameboard, which serves as some sort of ancient temple, the reels spin over three stone carvings of Conan in various battle poses.
The gameplay is punctured by the sound of whistling winds and the clash of swords on shields.
Low-value symbols are coins depicting Falcons, Serpents, and Lions. Medium value symbols are represented by Anchors, Swords, and Horned Helmets. High-value symbols are the characters from the Conan stories, Valeria, Thoth-Amon, and Conan himself.
Naturally, Conan is the highest paying symbol, with 6 across a pay line awarding 6x the bet size. There are two types of wilds, Tower, and Battle which we will discuss later, along with a transforming mystery symbol which takes the form of a large serpent.
The scatter symbols area round shields in front of crossed swords.
Special Features
There are three base game reel modifiers; Tower Wilds, Battle Wilds, and Mystery Symbols.
In turn, these modifiers can also produce additional features, the Mystery Multiplier, and the Thoth-Amon feature.
There are also three scatter triggered free spin games. Finally, there is a randomly activated linked reels feature which can occur in both the base and bonus games.
Reel Modifiers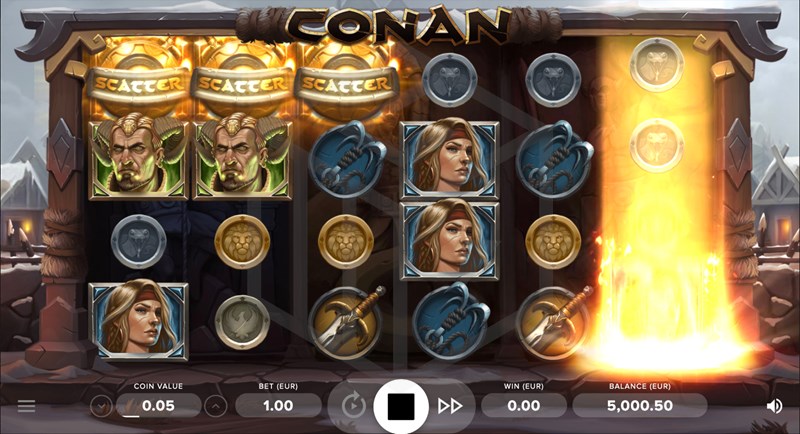 Tower Wilds (reels 1-2)
Tower Wilds, represented by a skull with shining blue eyes behind a golden 'W' only occurs on the first 2x4 section (reels 1 & 2). Tower Wilds expand to cover part or all of the reel upon which it lands.
Mystery Symbols (reels 3-4)
Only found on reels 3-4, Mystery Symbols appear as hissing serpents but transform into a regular symbol at the end of the spin.
Multiple mystery symbols often appear in the same spin. All transform into the same, randomly chosen regular symbol
Mystery Multiplier: A Mystery Symbol landing fully stacked on a reel activates a mystery multiplier on a winning spin. The win multiplier will be between 3x and 7x.
Battle Wilds (reels 5-6)
Looking similar to Tower Wilds but with red piercing eyes rather than blue, Battle Wilds only occur on reels 5-6.
Upon landing Battle Wilds expand sideways up to three spaces on adjacent reels.
Thoth-Amon Feature
Landing a fully stacked Mystery Symbol alongside either a Tower or Battle wild can trigger the Thoth-Amon feature.
If activated the Thoth-Amon feature adds between 3-6 Mystery Symbols randomly between reels 2 and 5.
Linked Reels
At any time during the base game, any of the three 2x4 reel sections may light up and become 'linked reels', meaning that they will both stop at the same combination of symbols, thus increasing the likely hood of a winning spin.
Linked Reels also randomly occur during all free spins rounds, the difference being they can occur on up to all 6 reels at the same time.
Free Spins Features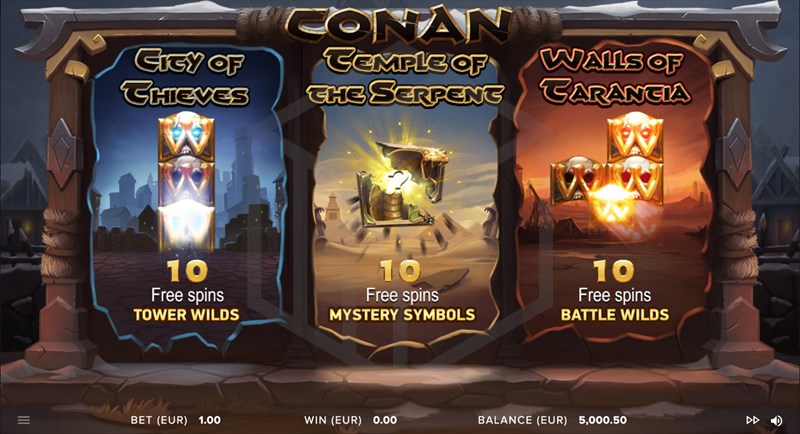 As previously noted, there are three free spins features. Land 3 scatters to activate free spins, whereupon you may choose which of the three free spins rounds you'd like to play. Each has different volatility.
City of Thieves Free Spins
Of low/medium volatility, City of Thieves Free Spins benefits from Tower Wilds which can appear on all reels and expand to cover part or all of the reel upon which it lands.
Temple of the Serpent Free Spins
Of medium/high volatility, Temple of the Serpent Free Spins benefit from Mystery Symbols which can appear on all reels, either stacked or as single symbols.
Landing a fully stacked Mystery Symbol activates the Mystery Multiplier feature. Landing between 5-9 Mystery Symbols may activate the Amon-Thoth feature.
Walls of Tarantia Free Spins
Of low/medium volatility, Walls of Tarantia Free Spins benefit from Battle Wilds on all reels which may expand up to three spaces that positions sideways on adjacent reels.
Big Wins on the Conan Slot
The slot version of Conan the Barbarian is scheduled to hit the market on September 24th, 2019.
There are no big win videos captured from this game yet. Please note that any videos showing wins on this game before this date is only from demo play.
Wanted: If you win big on the Conan slot, we invite you to create a thread on Epic Wins (1000x and beyond) section of our 23.000+ member strong forum. You might just get featured in a compilation video on our official YouTube-channel.
Free Play Demo
Please note: We've stopped advertising for free play demos on CasinoGrounds due to regulatory changes.
This has been done to strengthen responsible gambling practices and discourage underage gambling (even if it's with play money).
We recommend you sign up with an online casino of your choosing and play for free when logged in for as much as you like. No deposits required. Check out our online casinos' index for an extensive list with casino bonuses offers (for depositing customers only).
Disclaimer: ensure you familiarize yourself with any wagering requirements whenever you opt-in for a promotional offer. t&c apply.
Other Branded NetEnt Slots
Emoji Planet
Planet of the Apes
Universal Monsters
The Phantom's Curse
Dracula
The Invisible Man
Motörhead
Jimi Hendrix
Scarface
Frankenstein
Summary
If there is one thing to be said about the Conan slot, then it is that is a very ambitious one. Design-wise it is top rank with superb attention to detail, fantastic animations, and spot-on artwork.
In terms of game-play, it can be a little confusing, certainly until you've fully got to grips with the game, simply because there is so much going on.
Different wilds, features which spawn spin-off features, a multiple choice free spins round, linked reels etc. – it's a lot to take in!
Consequently, it took a lot of play to finally experience all of these features. While the game is certainly entertaining, I would question if there needed to be quite so many features – especially as none of them (in my admittedly limited experience) seemed to pay out an awful lot.
I can imagine this game putting off some of the higher variance fans looking for a greater win potential as the proliferation of features means the RTP is spread very thin, with no standout big paying feature to speak of.
However, we know there are players out there who love a variety of features. If they also happen to love branded slots and top-notch artwork, well, then they are in for a treat!
Other NetEnt games