Aztec Bonanza by Pragmatic Play released on 05.03.2020 is a 5-reel & 6-row online slot with 7 776 ways to win and a 96.53% RTP. This is a Aztec-themed game offering players a max win of up to 19000x their stake. Aztec Bonanza can be played on all devices from €0.30 to €150 per spin and is considered a medium volatility game.
Special Features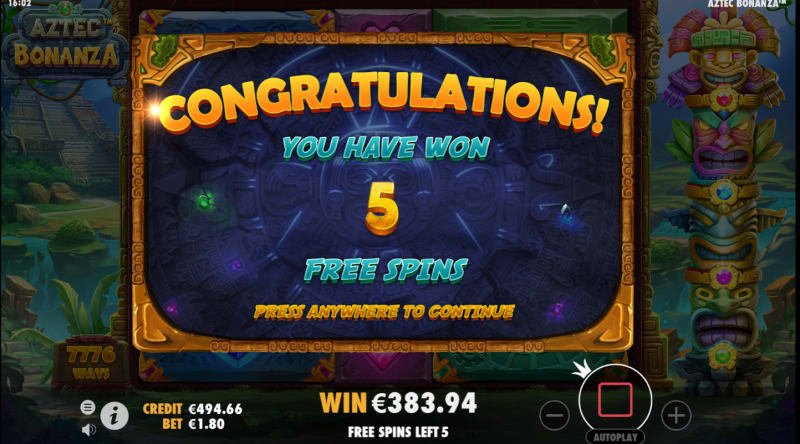 We have to say we are slightly disappointed with the bonus features that are added to this slot. Seeing there is no scatter symbols, no wild symbols and just one bonus feature leaves us wanting more. Coming from a slot like this, we would have liked to see Pragmatic Play going all in with the features.
Mystery Symbol
There is one special symbol in Aztec Bonanza and that is the Mystery symbol. It is in the form of the Aztec god himself, which of course is perfect for the theme. The symbol will appear when the top left corner of the reel set is unlocked. It will also appear randomly during the free spins feature of the game. When it lands on the reels, at the end of that spin, all of the Mystery symbols on the screen will then be changed into the same paying symbols at random.
Symbol Unlocking feature
As mentioned above, Aztec Bonanza will be starting out with a 2-4-6-4-2 reel set. During the main game, while the reels are spinning, you will see that the corners will crack and disappear. This is what starts the Symbol Unlocking feature. As you continue spinning the reels, each time two consecutive cracks in the corners take place, one of the 4 corners will completely break and will reward you with more symbols on the reels set. This, of course, means you will have more ways of winning.
In every corner of the reel set, there will be different rewards hiding.
Top right corner: up to 3 low-value symbols changed into high-value symbols
Top left corner: mystery symbols turn into regular paying symbols
Bottom right corner: all symbols on reels 4 and 5, are replaced with 2x2 expanded symbols
Bottom left corner: all symbols of reels 1 and 2, are replaced with 2x2 expanded symbols
Free Spins feature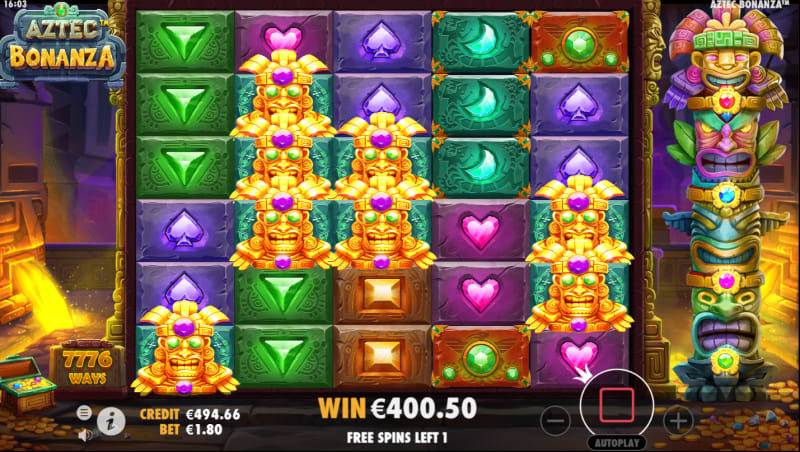 For the Aztec Bonanza free spins feature to be triggered, you will have to break and unlock all 4 corners of the reel set. For this to happen, you will have to get 8 consecutive cracks while spinning the reels. You will then start out with 5 free spins on the reel set which will have expanded to a 5x6 set and 7 776 ways to win. The reel set will remain expanded through the feature.
What makes this feature even more entertaining, is that on each spin, you will be randomly activating one of the following features: Symbol Transform, Mystery Symbols or Giant Symbols.
Design and Symbols
Upon loading the Aztec Bonanza slot, you will find yourself being sucked into a time machine and getting thrown way back in time to Meso-America. This slot will have you exploring the dense jungles while your goal will be to hunt down the hidden temple where rumours are that there are some hidden treasures there waiting to be found. Of course, all this means that this is another Aztec themed which will be added to a long line of existing similar slots. You will be seeing the ruins of the Aztec temple in the background while a totem pole is seen on the right side of the reel set, playing a big role in triggering different features. Throughout the game, you will be hearing a tribal styled soundtrack as well as the sounds of stones dropping when spinning the reels.
The symbols on the reels are kept pretty simple, meaning you will be seeing a range of gems in various shapes and colours. These consist of clubs, hearts, spades, triangles, rectangles, moons, oval blue orbs and round green orbs. These are listed in order starting from the low-value symbols to the high-value symbols with the last three being the premium symbols of the game. They are marked with golden corners.
Something that caught us by surprise, seeing that this isn't a classic slot in any way, is that there are no scatter symbols or wild symbols to be found. However, there is a Mystery Symbol which is represented by a golden totem.
Our Thoughts on Aztec Bonanza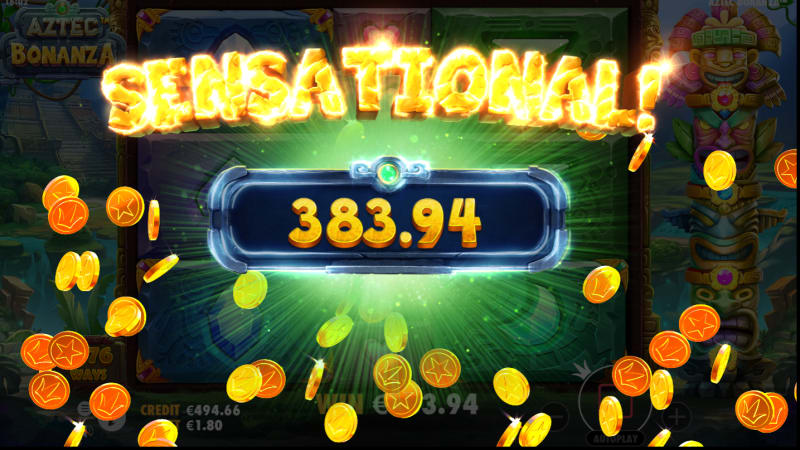 We have to admit that we are kind of stuck in the middle on this one. While the slot certainly isn't horrible, we don't manage to commit to saying that is great either. Aztec Bonanza is simply a slot that is quite average, meaning many players will enjoy giving it a couple of rounds, but it will unlikely become any new favourite amongst players. Of course, unless you are a huge fan of all things Aztec-themed, but even then there will be better choices out there.
You will, however, have the chance to get some big wins in the main game, even if you don't get to trigger the free spins feature in this process. We also enjoyed the graphics of the game as well as the mechanics which make sure the reels work smoothly. Once the feature is triggered, this also makes sure the game is even more entertaining than it would have been without.