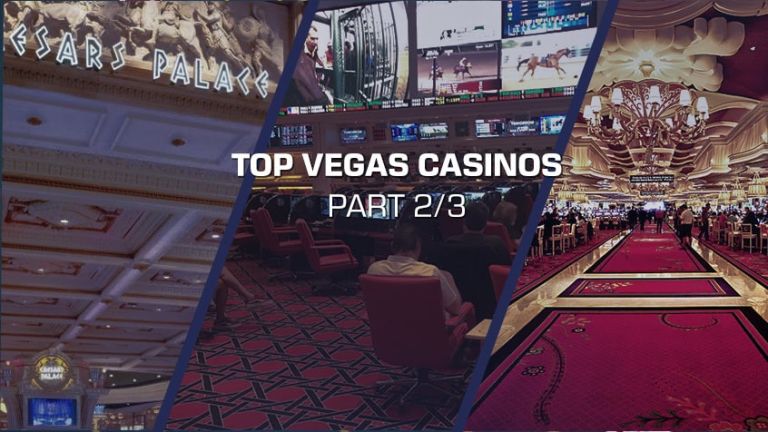 The Top 5 Casinos in Las Vegas (part 2)
Here we continue our rundown of our picks for the top 5 casinos in Las Vegas. We based our rankings after scouring reviews from the likes of Trip Advisor, CNN, The Travel Channel, The Guardian Newspaper, Casino Daily News, and plenty of Las Vegas casino bloggers as well as some of our own opinions based on experience.
Caesars Palace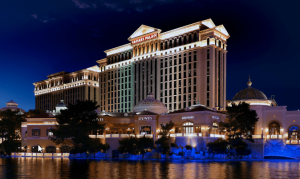 Caesars Palace is arguably the most famous Las Vegas casino of all, having been a monster player on the strip for over half a century now. Even non-gambling types will be very familiar with Caesars Palace's iconic Roman Empire inspired statues, columns, and décor as the building has been featured in almost 30 major feature films including the likes of The Hangover, Rain Man, Iron Man, The Big Short, and Rocky V to name but a few.
If you love slots (and we're presuming you do) then you'll be interested to hear that Caesars Palace has been the site of more $1,000,000+ casino slot jackpots than any other in the world. Granted they have a few decades more reel spinning experience than the more recent mega-casinos but that's still an impressive declaration to be able to make. The slot floor currently houses over 2,500 traditional reel, video reel, video poker, blackjack and keno machines including many of the latest releases.
Caesars also boasts a 16 table 4.5k square foot poker room and a large assortment of different table games. It's in the area racing and sports book gambling, however, that Caesars really excel. Voted by CNN this year as the no.1 "Best casino for sports betting", and voted the best Las Vegas sports betting destination four years in a row by Review-Journal readers, Las Vegas Sports Book at Caesars Palace is where you need to be if you're a sports betting nut.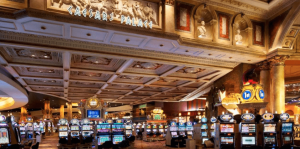 Of course, the name Caesars Palace is also synonymous with entertainment and over the years they have had more global superstars perform than all the other Casino hotels put together including such legends as Frank Sinatra, Sammy Davis Jr., Elton John, Judy Garland, Tony Bennett, Janet Jackson, and Dolly Parton. Today they still have an equally enviable roster which currently includes Celine Dion, Mariah Carey, Rod Stewart, Van Morrison and Jerry Seinfeld. If you prefer your evening entertainment to be a little more up to date then their nightclub Omnia, at 75,000 square feet is one of the biggest in Las Vegas and plays host to the biggest name DJ's in the world including Calvin Harris, Tiesto, Martin Garrix, and Steve Aoki.
Caesars are no slouches on the dining front either with dozens of eateries including the likes of Nobu and restaurants by multiple Michelin starred chefs Gordon Ramsay and Guy Savoy.
All in all not bad for a Casino and resort not far off its old age pension!
Caesars Palace Highlights
Best Racing and Sportsbook in Las Vegas – Voted best sports betting destination by Review-Journal readers for the past four years this is the place to be for avid sports fans.
Best place to catch a show – you can't argue with the talent which Caesars Palace regularly attracts, and it's the first place to look if you want a night's entertainment with the biggest stars on the strip.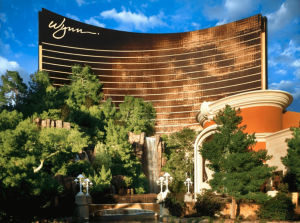 Wynn Las Vegas
Currently voted the No.1 casino in Las Vegas by Trip Advisor, Steve Wynn's $2.7 billion masterpiece opened in April 2005, exactly five years from the day the real estate businessman purchased the former Desert Inn site.
Not to knock the excellent casino games and gambling opportunities at the Wynn it's fair to say that that no.1 Trip Advisor rating probably had more to do with the sheer luxury and matchless quality you find throughout every aspect of this jewel in Wynn Resorts crown. After all, you don't become the first ever Resort & Casino to earn Forbes five-star ratings in every category (hotel, restaurant, and spa) for nothing. In fact Wynn Las Vegas and its sister property Encore Las Vegas have more Forbes five-star awards than any other resort and casino in the world!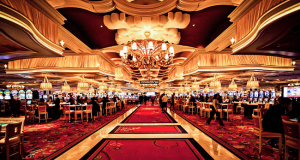 When it comes to the casino itself you're never short of action in the huge 189,000 square feet of gaming floor which houses over 2,000 slots with plenty for the penny players all the way up to $5k a spin bad-boys with seven-figure jackpots. Wynn also provides 167 tables games and an absolutely killer sports book. Newly renovated, the sports book at the Wynn looks sure to rival Caesars Palace as the best on the strip very soon. Punters can view their many, many state of the art screens both large and small which wrap around the walls from the comfort of one of the many, many premium red leather swivel chairs or sat at their immaculate desk space seats with granite countertops.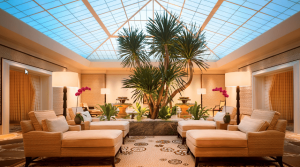 Due to the overall quality (and hence price) of rooms and amenities at the Wynn it often attracts a good number of high rollers. The big spending guests are able to gamble in peace as Wynn has both a high limit slots room and a huge high limit table games room. These high roller rooms are undoubtedly a significant part of the reason that Wynn Las Vegas consistently brings in more revenue annually than any other Casino Resort in Las Vegas.
Wynn Las Vegas Highlights
The Best Spa on the Strip – The Spa at Wynn was the first spa in Las Vegas to receive a Forbes Travel Guide Five-Star Award, one that it has held onto each year that it has been in operation. The waiting room with its many crackling fireplaces is a firm favourite with guests, as is the gorgeous Jacuzzi room with waterfall deluge showers and huge central soaking bath. The Spas has 45 treatment rooms where guests can enjoy all manner of exotic Asian and Middle Eastern-inspired treatments
Dining at Wing Lei – Another Forbes Five-Star Award recipient, as well as the proud owner of a coveted Michelin Star, Wing Lei at Wynn Las Vegas is one of the city's finest oriental dining experiences (speciality Peking Duck). What's more it comes at a fraction of the price of other Michelin starred restaurants on the Strip such as Guy Savoy at Caesars or Joël Robuchon at the MGM Grand.