Video Slot Review - Laser Fruit – Red Tiger Gaming
Note April 26th in your calendar, and feast your eyes on this all-time fruit slot favourite with a twist; a nice take on modern meets fruit slots with neon style colours and lasers. The signs and symbols show typical Red Tiger gaming features, except for the colour scheme which is anything but; no one is complaining here though, this is what makes Laser Fruit stand out from the crowd! Want to be the first to read about this Red Tiger Gaming slot? You're at the right place!
What you Need to Know
Look at this game as a modern take on the all-time classic fruit slot.
This 5 x 3 reel, 96.02% RTP in addition to  60,466,176 ways to win, and as you spin, the game shows you how many ways to win you currently have.  Find high volatility, as well as big, super and mega wins to add to that element of excitement.
Design and Symbols
The theme of this game is pretty much described in its title: Laser Fruit.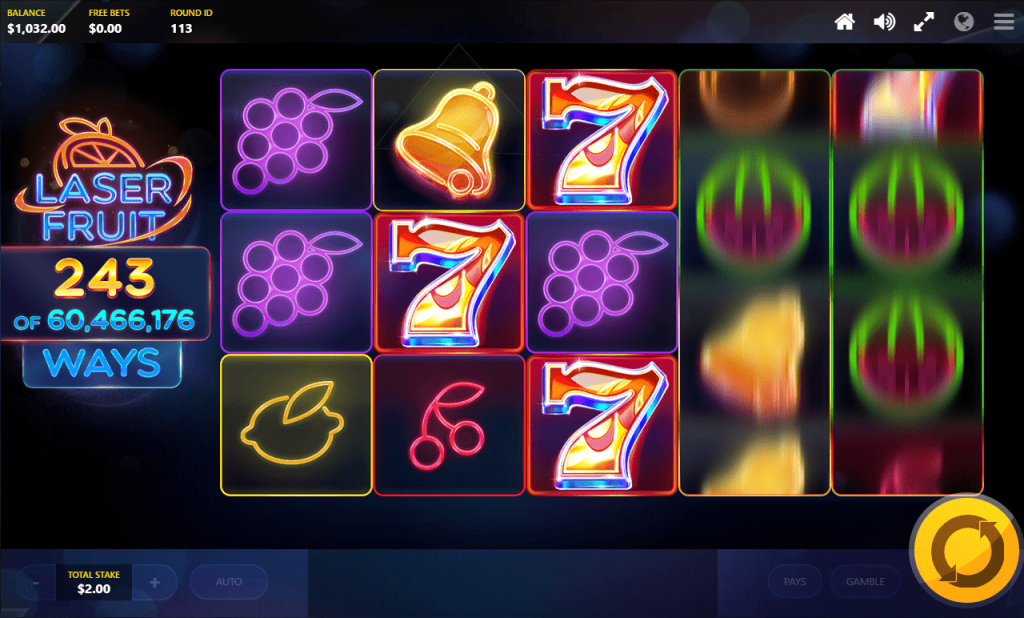 This is not your typical fruit slot though, and you can immediately see this from the symbols of the game, but we'll talk about that later.
The game has a clean interface with a cool light neon laser background; the typical laser shapes you see at the back include bubbles, hexagons and laser beams. Play anything between £0.20 to £500, and win 0.1 to 25 times your stake.
The symbols here are ones you would find in your typical fruit slot machine, but with one major difference. Red Tiger Gaming has created these symbols in a way that reflects the title of the game: Laser Fruit. All you see are the lasered outline of the fruit symbols, but they do have more or less the same colour scheme, just a bit more 'neonic'.
Special Features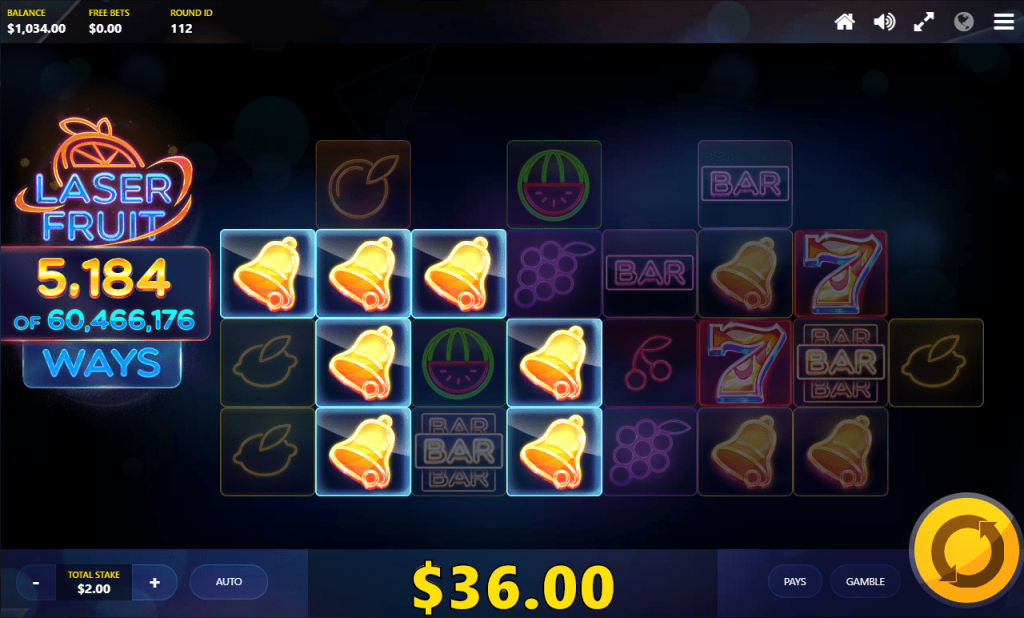 When it comes to special features in Laser Fruit, it all comes down to the expanding reels during free-spins. 
Free Spins Bonus Round
This is where the real up 60,466,176 ways to win comes into play. Get 3 free spin scatters anywhere on your reels and you're awarded a number of spins in the bonus round. If you're really lucky, you can get another round of spins in the free spins round, giving you even more ways and chances to win!
During this bonus round, nothing changes much, apart from the neon blue lasers that expand the reels to the right or upwards, lock them and keep repeating this process over and over again until you reach the maximum number of ways to win. One thing that changes in the free spins round is the music, which becomes more upbeat and a bit spacey when things get interesting; not that you'd want to hear it anyway though.
Developer's Corner
"When we came up with a concept of the game, the idea was to go with a well-known theme. Since the high volatile slots are getting more and more trendy among the community we looked at the popular themes in the industry and combined it with a fresh finish. From the concept of expanding lasers, it just struck us that going with fruits is going to be the way to do it."
Following up on volatility, as our community love these type of mechanics, can we expect more high volatile slots from you in any foreseeable future?
"Yes, there are more slots coming :)"
Our Thoughts on Laser Fruit
Laser fruit has more or less anything you'd expect from your typical, high volatility slot. The game can get a bit tedious unless you're about to hit some free spins or win big; in that case, things are bound to get much more exciting.  The beauty of this game lies in the clean design and the potential to win big, super or mega even though this happens rarely; let's just say that if it does happen, you'll have a reaction like any of  these.