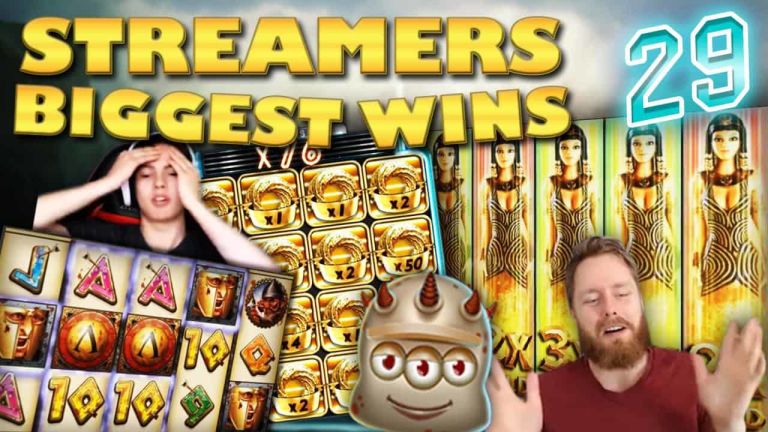 Casino Streamers Biggest Wins – Week 29 of 2018
Things are back to normal, therefore Casino Streamers Biggest Wins – Week 29 of 2018 will be on our YouTube channel as always. Today we have an number of your favorite casino streamers winning big on a variety of slot machines. In addition these hits come from the 16th until the 22nd of July 2018. If you want to try any of these slot machines, you can play them, for real money, on any online casino on our trusted casino list. Watch a quick montage of the wins on the video below:
Miikapekka
We start Casino Streamers Biggest Wins – Week 29 of 2018 with a slot game that is familiar to most by now. I am talking about Queen of Riches which once again shows its tremendous potential. This time it was Miikapekka playing the slot on a €2 bet at Rizk casino. The streamer landed a perfect spin, where 5 out of the 6 total reels became wilds. In addition the multipliers of each colossal wild were high and thanks to a premium on the fist reel the total win was up to 486x the stake.
Huggehugg
Next up is Huggehugg releasing the Gargatoon on LeoVegas. The casino streamer was playing SEK 10 bets when the three eyed monster came busting out of his cell to give a mega win of 782x the stake. Unfortunately Hugo was unable to finish his wagering and he did not make the cash-out he was hoping for. However if he keeps getting hits like this, the big cash-outs will follow.
David Labowsky
D-Labs is making up for his time away from YouTube with epic win after epic win. This time the slot streamer got a big one on Book of Dead. Here he got the bonus on a €4 bet at Dunder casino. Moreover he was lucky enough to get the premium pineapple head as the special expanding symbol. Thanks to a spin where for of these symbols landed the total free spin bonus gave 431x the stake. - The Book never disappoints!
Rex Borgersen
We have a rare one! It's always exciting when we have big wins through features which are difficult to get. This time it was the Hot Mode on the Terminator 2 video slot. Most of you know the huge potential this feature has, and so did Rex Borgersen who got immediately hyped when he landed it. The slot streamer was playing €3 bets on Casumo when everything happened. Needless to say that the hot mode free spin round was amazing, with multiple mega wins. In total the payout was €2768. Can't wait for the first time I will get the hot mode.
Shaw Slots
To end Casino Streamers Biggest Wins – Week 29 of 2018 we go to Shaw Slots. His win comes on my absolute favorite slot machine 300 Shields. This is a type of game that even on a small bet you can win massively. Thus Shaw's €0.75 bet was more than enough to get him a stupendous 2103x the stake win. As you might have guessed it was thanks to the 300x multiplier feature which you can reach by collecting the scatter shields. Kaboo is the casino to go if you want to try this game and trust me you will love it immediately.
Tell us which win on Casino Streamers Biggest Wins – Week 29 of 2018 was your favorite. Share your thoughts in the comments. Also make sure to check our other videos on CasinoGround's YouTube channel.