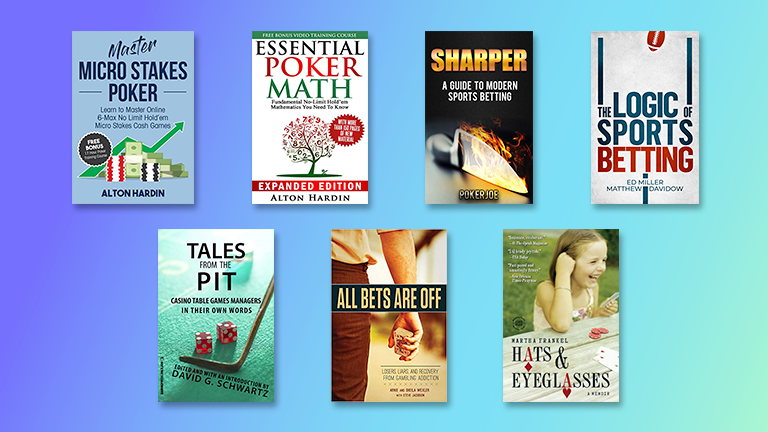 9 Great Books to Read for a Gambler
In this digital era, paperback books have become almost obsolete. There are still some of us who love the fresh smell of paper, the "feel" of the book to gain some insight into a particular topic or just for general reading pleasures. A lot of people these days have been trying out playing at casinos, some as an escape and some as a way to make money. Being a casino player, you would never think that books would be of importance to you. But trust us, it's the exact opposite. There are some very good books on the market available especially for players who frequent not just land-based but online casinos as well. The list of reading titles we have prepared for you is carefully curated to help you gain in-depth knowledge about something you probably weren't aware about. So without further ado, let's jump right into this.
Here are the Top Books recommended by CasinoGrounds for all Casino Players
The Table Game Hero
We at CasinoGrounds, love us some table games. Some Blackjack, Roulette maybe some Baccarat, and we find ourselves having a great time playing online. This section, is specifically for players who love table games more than the others and want to read focused on not how table games work (we have guides for those), but some backend information on what happens behind the curtains and the glamour, which ends up making sure every time you step into the casino, you have a much deeper understanding of how they operate, and potentially end up enjoying your experience even more than the others.
Tales from the Pit
Written by David G. Schwartz, this book sheds light on the past decades of casino history, through the words and eyes of those who lived through it. The current and former tables games managers speak openly about the owners, bosses, dealers and players who presented hurdles in their day to day lives. These managers are an interview in the book and it provides an overview of how the interviewees felt about a multitude of topics ranging from them first entering this industry to their transition into entering management positions, with an insight into the major changes brought about this industry in the several decades it has been flourishing. The book can be purchased here.
The Punter (Sports betting)
Ahh, sports betting, a fan favourite. Sports betting has been growing increasingly popular in the recent times. With options of betting on Esports and a whole plethora of sports games being played around the world, bettors are always left wanting more information on this topic. This section, is for you. We have compiled a list of 2 books for you guys to read and enjoy, possible giving you a much better perspective on betting, the next time you decide to place a bet. They might have some winning strategies inside them. Bring out that hot glass of coffee, some cookies, and read on:
The Logic Of Sports Betting
Which types of bets are the best? How can you beat the house? How do professionals place their betting lines? If you've ever found yourself asking these questions, this is the right book for you. It will answer all your questions, with a splash of humor and some real legitimate talk as to how it all works. You're put in the shoes of the dude behind the counter to see first hand how sports books operate. When you're done reading this, you'll think " Why didn't I think of this logic before?" And combine it with some insider knowledge, is the secret recipe. Out of both the authors Ed Miller and Matthew Davidow, Matthew is a sports modeller who has been using methods to beat major sportsbookies for more than 15 years. Ed Miller, on the other hand, is a best-selling author of poker and gambling books. Together, they have created a masterpiece which is a must read for anyone getting into sports betting, or looking to gain an upper hand on their present strategies. Find your book here.
Sharper
A Guide to Modern Sports Betting: Written by True Pokerjoe, this book is beneficial for the majority of sports bettors out there who have no idea what they are doing. There is no "winning strategy" or gimmicks to always win at this, because there aren't any in real life. There is math, formulas, understanding the game, teams, players that will differentiate you from a professional sports bettor to a self-acclaimed professional. This book provides sports bettors with some key ideas to get started and to get a better understanding of the industry and how it functions. What you can do to potentially become a much better sports bettor. The book can be purchased from here.
The Poker Shark
For all you poker fanatics out there, this Is the section for you. Poker has been a prime market in the casino and gambling industry way before sports betting or online casinos, and still continues to be. With the conclusion of the World Series Of Poker 2019, most players decide to take a week or two off and get back to work preparing for the next major poker event. Some people think Poker is a game of luck, most know it is a game of skill. "You never play your cards, you play your opponent." These theories have been proved time and time again with regular faces like Daniel Negreanu, one of the best players in the world, and his insane reads on the table on Live TV or Phil Ivey, who is deemed to have the most terrifying and deadly poker face in the whole world. Most of the Professional Poker Players, study. They study day in and day out before investing even $100 in a tournament or cash game. Poker is an easy game to understand but requires not just studying but a lot of time, attention and focus. We have curated a list of 3 books every poker player should have read before sitting on that table.
Master Micro Stakes Poker
Learn to Master 6-Max No Limit Hold'em Micro Stakes Cash Games : Authored by Alton Hardin, this is a prime book for any struggling or new poker players. If you're a regular and are currently going through a "dry" phase and losing money, this book is beneficial to get back up on your feet. As the title clearly suggests, this book will teach you how to crush 6-Max No Limit Hold'em Tables not just at Micro Stakes, but Low stakes too. It sheds light on time-tested strategies to punish that limper or read a bluff at the right position. With this book, you can expect to build a solid mental foundation which causes you to think of so many things while playing a hand, be it position or raise size or decision making or catching a live tell. The first chapter, will open your eyes, "Why people lose at poker", and it only keeps getting better and better. So go ahead, add it to your Cart here.
Essential Poker Math Expanded Edition
Fundamental No Limit Hold'em Mathematics You Need To Know: Another masterpiece by Alton Hardin, this book is more statistically inclined. As the name suggests, this book dives head first into a vast ocean of what is called Poker Math, in the industry. Poker Math is essentially being able to calculate your odds of winning and losing, in certain spots, with certain flops/turns/rivers and against certain players. Poker math is a vital skill to possess but is often overlooked or forgotten about simply because of the misconception that " Poker math is hard". This book will prove to you how easy it is not only to learn but to apply fundamental poker math and in no time you'll see a soar in your average poker winnings. Most poker players know they aren't "gambling" per se, because they use of math formulas and strategies which decides their every decision. Playing poker without math, means you're simply playing a guessing game and you would lose more often than win. You may purchase it here.
Molly's Game
The True Story of the 26-Year-Old Woman Behind the Most Exclusive, High-Stakes Underground Poker Game in the World: One of the most well known books in the poker industry, Molly's Game has gotten world renown recognition due to how informative and highly entertaining the book is. It was so good in fact, that a movie was made on the book called Molly's Game, which shows you first hand about Molly, the woman who was behind a very high-stakes underground poker game. "Hollywood's Poker Princess" who gambled everything she had, won huge, and then lost it all. Once you start reading this book, you get lost in the greed, glamour, danger and of course the ever lovely Molly, who was the mistress of High-Stakes UnderGround Poker around the world. The books takes you through the ups and downs but behind all the entertainment, shows you what happens with people like her, and teaches you a lesson. We promise you, you will not want to stop reading this, once you begin. The book can be purchased here but if you fancy watching the movie instead, here you go...
The 'Went too far" - Books on problem gambling
Now that we have covered the major portions of this industry, let's talk about the ugly one. Sometimes while gambling, we tend to get carried away and lose track of our minds and surroundings. If you have found yourself in this position one too many times, this section is for you. If you have a gambling problem and need urgent help, please contact your local Gambling Addiction Helpline or alert the local authorities if it is taking a toll on you. For more information on this, we suggest BeGambleAware®: Gambling Help & Gambling Addiction ...https://www.begambleaware.org/. But if you're catching it at the early stages or you'd like to look at the downsides of gambling before you get started, we recommend you read on to our list of top 2 books that one should read if they have a gambling problem, or simply want to know more.
All Bets Are Off: Losers, Liars, and Recovery from Gambling Addiction
Authored by Arnie and Sheila Wexler, the title says it all. This gripping narrative takes the readers through a dark tunnel of a compulsive gambler's world, which is usually trying to chase the big wins and digging deeper holes in their wallets to get there. It also sheds light on how this addiction, pushed Arnie and Sheila to the literal edge of life. They received some help in their time of need, and survived. With this book, they are on a mission to save others around the world from the same deep hole they managed to climb out of. They also run a toll-free national helpline 888-LAST-BET, if you ever find yourself needing to talk to someone about the problem you are having. We highly recommend this book, which can be bought here.
Hats & Eyeglasses: A Memoir
Talking about being brought up in a gambling-centric household, Martha Frankel, the author, was brought up in a lovely home where her father was a poker addict and her mother, spent most of her time on mahjong. This habit later came on to her and her cousins. They started betting on every little thing and soon, it started running through their veins. In this amazingly funny memoir, Frankel traces her relationship with poker back in her mid-forties, which she was good at. Things were going good with the occasional winning night but all this changed when something revolutionised the industry, online poker. A hilarious and heartbreaking novel, Hats & Eyeglasses: A Memoir is a tale of passion, love for the game, addiction and what happens in life when you lose so much money, that almost puts you out on the roads. Read up for yourselves here.