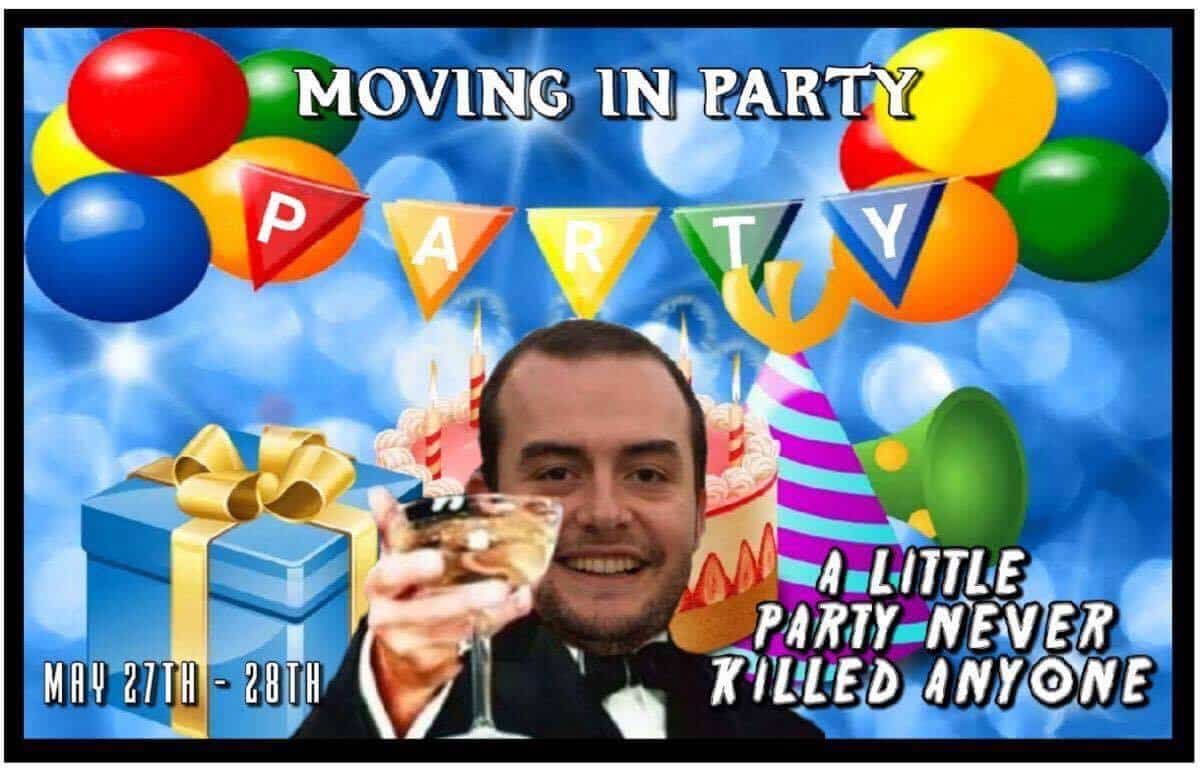 Reggie's Moving In Party – Report and Pics
Reggie, the popular sidekick on Letsgiveitaspin's stream, recently got to move into his very first own apartment here in Sweden. A grown man getting his own place, after living with his uncle for more than two years, and now being allowed to do whatever he pleases, is a big thing. At least Kim (LGIS) thought so and for sure didn't want this occasion to go unnoticed. So he figured, what better way is there than to invite everybody on his stream for a night of partying and drinking to mark the celebrations? Well, as it turns out, there probably isn't any.
The date for the party was soon set for Saturday the 27th of May to leave room for all the preparations, and naturally the place would be Halmstad – the city where Reggie lives.
Preparations
The event took a full month of planning – probably 3½ weeks more than Kim had anticipated. Everything, from setting the venue, food, drinks and entertainment, to making sure every guest could make it in time wherever they came from, was discussed and taken care of. LeoVegas played a huge part in this, not only helping out with all the planning, but also paying for all the expenses in relation to it – a big shout out to them!
Finally, on the very last day before the party, everything was ready – or at least us involved considered it to be.
Guests Arriving
The first viewers came in on Friday the 26th, the day before the event. Emtyen and his nephew Adrian were the first to arrive. Together with Kim and the rest of the gang, the group hit the city to meet the rest of the viewers as they came in. After everybody had arrived (which also included the streamers David Labowsky and Slotspinner), the group went out for dinner at one of the best restaurants in Halmstad. Needless to say, the bill turned out to be rather hefty 🙂
Once the restaurant visit was over, the group returned to Kim's place where everyone participated in a joint bullet. The whole thing was streamed, so if you want to watch the Friday stream with the viewers, you can find it below:
---
The Party
On Saturday, it was finally time for the main event.
The party kicked off at 17.00CET with everybody arriving getting free drink tickets and snacks (in the shape of most of the fruits seen in the slot 'Fruit Warp'). Guests were also treated to shrimps on a skewer, prepared by one of the best grill chefs in Sweden – the one and only Jörgen. After a couple of hours of meet and greet, food and (lots of) drinks, the party kind of officially kicked off. This was marked by a stand up comedy performance by the funny canadian Joe Eagan. The performance lasted for 40 minutes or so and once it finished everybody seemed to be in a really good mood.
The party continued on with music and (more) drinks and people from the streams getting to know each other. After two hours or so it felt like the perfect time to kick off a stream. Everybody at the party was invited to join in, either by being part of the bullet, saying hi/playing on stream, or both. Jörgen, the chef, stole the show with his spectacular win on Raging Rhino winning a staggering SEK 75,000. Being a community bullet, this also meant that a lot of the people at the party won a considerable amount. Check out some of the party stream below:
---
Aftermath
After the stream the party continued on in one of the best clubs in the city, where a VIP corner was awaiting. More dancing , and drinking and fun ensued until the very early hours of Sunday. From there on, some of us went on to a laid back after party in one of the hotel suites, while many (rightfully so) decided it was time to hit the sack. The following day, most of the viewers left for their respective cities and countries, and we can only hope they had an incredible experience. – Because we sure did! 🙂
Share with friends on
Email