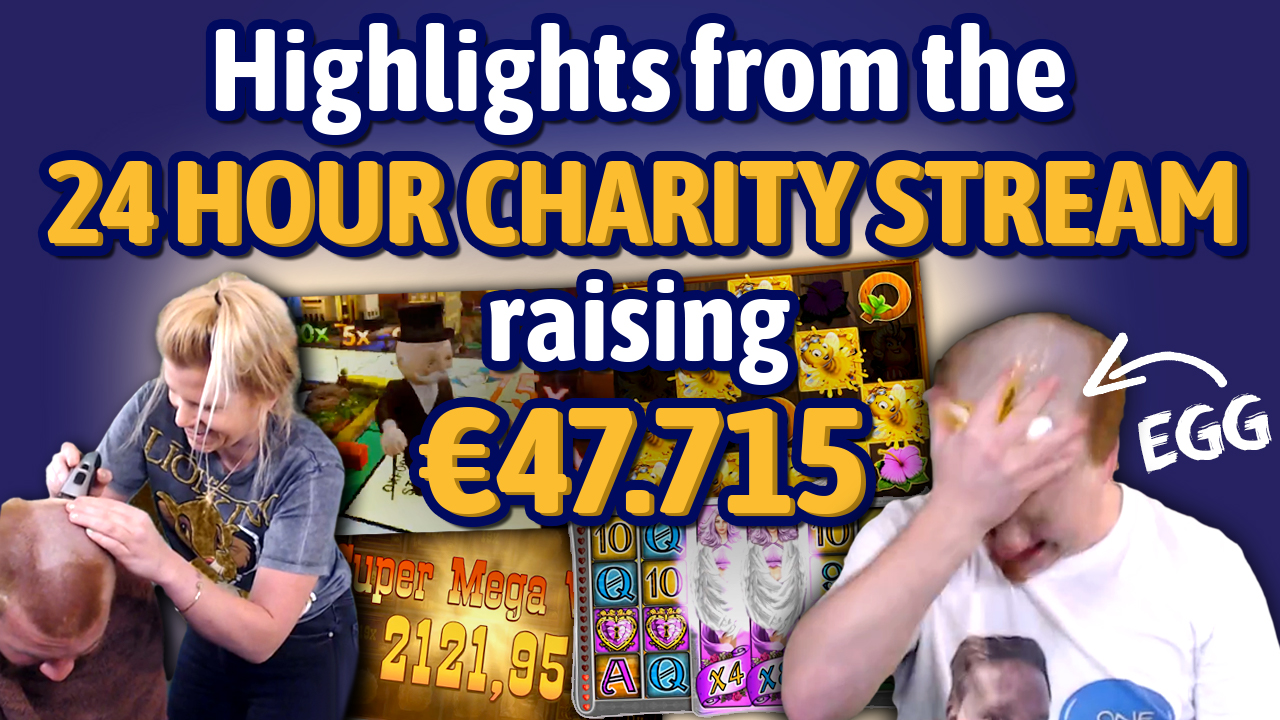 24-hour Charity Stream Raised €47.715 to the COVID-Solidarity Response Fund for WHO
It's been a little over a month ago since CasinoGrounds co-founder and casino streamer Kim Hultman a.k.a LetsGiveItASpin concluded the biggest charity stream of his career, raising a staggering €47.715 in donations to the COVID-Solidarity Response Fund for WHO, in memory of his father Sverker Hultman.
For a Good Cause
On April 6th he announced on the CasinoGrounds Forum that his 24-hour charity stream was to start on the following Easter Saturday, 11th April, starting at 20:00 PM CEST, with plans of not wrapping it up before Easter Sunday at 20:00 PM CEST.
The initial plan was to raise funds to suicide prevention and awareness as this is a cause Kim holds close to his heart.
He, however, announced that "we're doing a 24-hour charity stream to help fight COVID-19.". He felt that "at the moment this might help save more lives, and I know the WHO response fund is aimed to first help the most vulnerable people in the society which is why I think it's a great cause."
Hilariousness Ensues
LetsGiveItASpin was aided and abetted throughout the stream by Blanco, as well as appearances and assistance from Kim's girlfriend, Maya.
Before the challenge, Kim pledged to match all donations up to x-amount as well as asking CasinoGrounds forum members for ideas of any crazy stunts, dares, or bets the viewers could undertake during the stream to keep everyone entertained.
The ideas came in thick and fast, with many of them making it to the screen, often with hilarious consequences. Heads were shaved, eggs were smashed, consumed, and (unfortunately) regurgitated, and plenty more besides.
The stream raised a total of €47,715 raised by countless contributors from all over the world, culminated in Kim sending the funds to the Swiss Philanthropy Foundation on April 23 2020.
For more highlights, check out the 47 minute video with the very best of the best from that stream on Kim's YouTube-channel.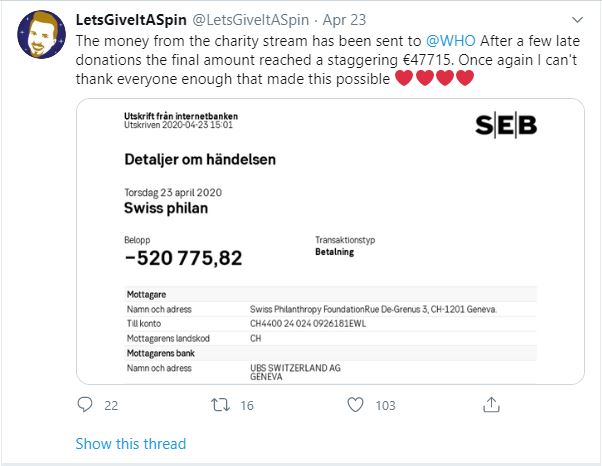 Kim pledged to match all donations up to €5.000, initially. That amount was reached in no time, leading to him changing the number to €10.000, then again €15.000, before ending up donating €25.000 out of his own pocket.
In addition to saying thank you for the donations, we'd like to give a shout-out to all who took part in this epic stream. Especially those who joined in with the head-shaving fun.
Check out this forum thread to see what some of our more unhinged members mutilated their follicles during the stream! That page has links to some of the streams biggest wins, and a selection of hilarious forfeits and challenges.
A Few Highlights from the Stream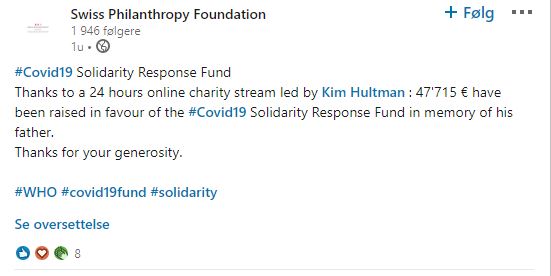 Over 30.000 unique viewers on YouTube alone (not counting Twitch)
230.000 stream views in total on YouTube/Twitch
Biggest win during stream = TNT Tumble, €5882,5 on €5 bet bonus buy slot
First-ever recorded six-card-charlie (Blackjack) on LGIAS
LGIAS biggest Bonanza slot win ever (€4286.5 on €10 bet)
By the end of the stream both LGIAS and Blanco had gone from hirsute to hairless (for the charity of course, not stress-related!)
We believe LGIAS became the first slot streamer to throw-up in front of thousands of viewers after consuming one curried egg too many!
16 community members also shaved their heads in solidarity with Kim & Blanco
About the COVID-19 Solidarity Response Fund
Created by the United Nations Foundation in partnership with the Swiss Philanthropy Foundation at the request of WHO, the COVID-19 Solidarity Response Fund for the World Health Organization (WHO) is the only way for individuals, corporations, foundations and other organizations to donate directly.
The fund was created to help quickly disburse any financial aid given to support WHO and its partners who work towards preventing, detecting and responding to the pandemic, especially in areas where the needs are the greatest.
All funds received will be used according to the COVID-19 Strategi Preparedness and Response Plan, directly supporting WHO (World Health Organization), UNICEF and CEPI (Coalition for Epidemic Preparedness Innovations).
For more information about the fund and how to donate, visit the official official WHO website. Every donation counts.
Share with friends on
Email