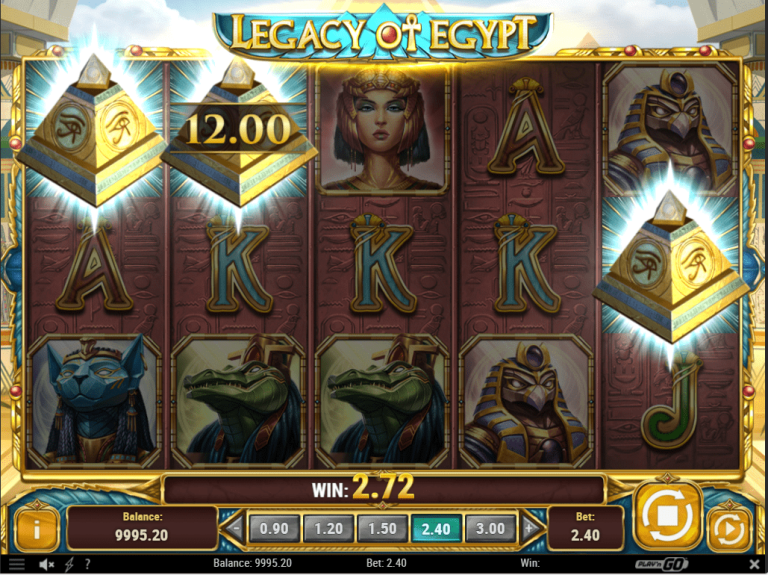 Video Slot Review – Legacy of Egypt - Play'N Go
Ancient Egypt is known for mummies, pyramids and honoured Pharaohs. Play'n Go's new slot, Legacy of Egypt, will make it known for much more! If you want to learn more about this slot game and the legacy that it came out of, then you're at the right place.
What you Need to Know
This new Play'n Go online slot is your go-to game if you like to play high volatility slot games on your phone, tablet and desktop. With 5 reels and 30 pay-lines, you can bet anywhere between a minimum of €0.30 to a maximum of €90. With a 96.5% RTP, Legacy of Egypt is definitely a game that you must try on its launch on the 25th of April.
We can't help but connect this game with another, very similar of its kind, Montezuma. They have the same amount of pay-lines, similar symbols, and identical special features where 3 scatters give you free spins, and within the free spins round, 2 scatters give you re-triggers, all with a multiplier.
Design and Symbols
The symbols in this slot game were carefully chosen to represent the actual Legacy of Egypt in characters. A,Q,K,J and the 10 playing cards, together with Ancient Egyptian Gods and Goddesses as well as Cleopatra and Pharaoh.
The highest paying symbol is the wild, which can award you 16.6x your stake for 5 of its kind, followed by Cleopatra with a win of 10x your stake for 5 symbols across a pay-line.
Cleopatra, the last pharaoh of Ancient Egypt, was known for both her beauty and her intellect. The Pharaoh was the political and religious leader of the Egyptian people, so their presence in the Legacy of Egypt comes as no surprise to us.  Sekhmet, an Egyptian Goddess, is better known for having a lion's head. Sobek, the Ancient God of crocodiles, is depicted as a crocodile-headed man. Find Anubis, one of the most iconic Egyptian Gods, as the figure of a man with the head of a jackal. Last but not least, Ra, the God of Sun, is represented as a man with a Hawk's head instead of his own.
Special Features
Legacy of Egypt does not have a lot of special features, except for a double trouble free spin round.
Free Spin Round
The pyramid symbol is the most important one in this game.
Get three yellow pyramid symbols across your reel and watch as the wheel of gods grants you 3 to 10, 15 or 20 spins. A  multiplier at the top randomly multiplies your winnings by 2x, 3x, 5x, 8x or 10x during the Free Spins round,
Pyramid Spins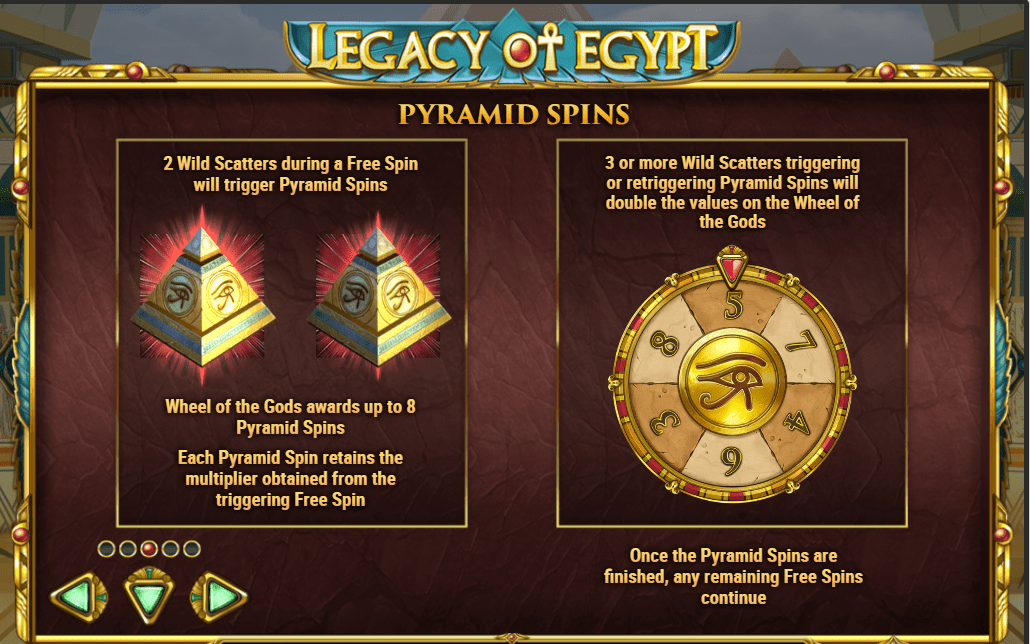 Get 2 pyramid symbols during the Free Spins Round to trigger another round of free spins called Pyramid Spins.
You get anywhere between 3 to 8 additional spins at same the multiplier rate the pyramid spins were triggered in. If you manage to get more than 2 pyramid symbols, the pyramid spins double and you're awarded 6 to 18 spins. During this round, hitting 2 pyramid symbols will trigger another round of pyramid spins. If you're really lucky here, and you get a number of spins at a fixed multiplied rate of 10x your stake. You can potentially win a payout of 5000x your stake.  You could even win 3000x your stake for the highest paying regular symbol, Cleopatra.
Our Thoughts on Legacy of Egypt
We did find the astonishingly identical similarities to Montezuma quite funny; as in, who would create a game precisely like another? Having said that, Legacy of Egypt did keep us entertained for quite a long time. The symbols are unique and noteworthy, and we got pretty excited during the free spins round waiting for the re-trigger to hit!