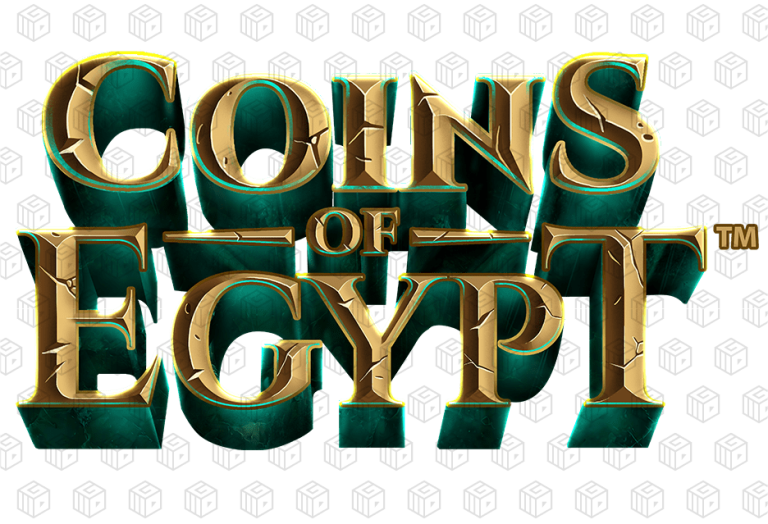 Video Slot Preview - Coins of Egypt - Netent
Release: 8th October 2018
Wilds, Scatters, an adventurer, Pharaos and free spins. - The recipe for a successful slot. Behold the latest Netent game Coins of Egypt! As you can guess, this is a pretty feature-heavy title. You will be pleased to find an RTP of 96.97% in addition to all the common features like free spin granting scatters, wild symbols and even a mini jackpot system during the free spins.
Design and Symbols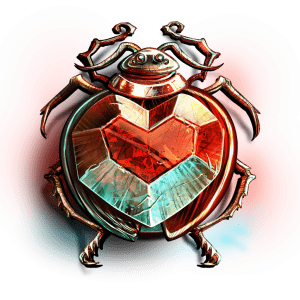 The first thing you will notice when opening Coins of Egypt for the first time is the dark Egyptian theme. We're in a tomb, and we meet the all familiar scarabs (however WILDS and not scatters as we might be used to) among pharaohs and gods.  We also find free spin giving scatter symbols that are mirrors activating the sun god himself.  One thing we hope to see polished before launch might be a few of the symbol animations. They can seem a bit shorter than needed. That said, looking at the lower paying symbols, they must be some of the better card face interpretations we've seen for a good while.
Special Features
In Coins of Egypt, we find a few main special features worth to mention. First of all, we have the wild and scatter symbols, which in themselves might not sound interesting, however, there is a lot happening during the free spins, and you can end up with quite a few if you are lucky enough. That, and the addition of coins on the reels both during the base game and during the free spins, Netent has done a good job in trying to keep you entertained throughout the game.
The Coins
During the base game, you will notice a special symbol that only appear on the fifth reel. This symbol will collect any coin landing on the reels during the spin. If you are really lucky you can land up to three coins in one spin on reels one, two and three. These coins have a bet multiplier of anything between 2 to 15x your bet.
Now, during the free-spins, we will be introduced to a different set of coins which charges up some seal symbols found in a brand new reel set.
Free Spins
Trigger the free spins rounds by landing three scatters on reels one, three and five. You recall we mentioned that little jackpot system in the beginning? This all comes into play during the free spin rounds. The new seals will land during your spins as you would expect, however they now have three different faces; The Ruby Eagle, The Emerald Snake and finally the Golden Cat Seal. All of which has a matching chest.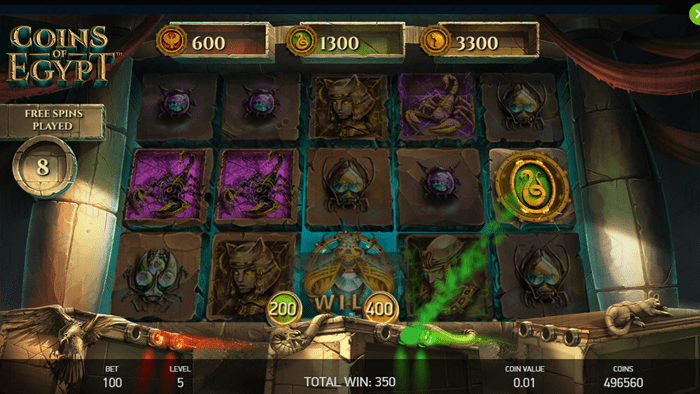 The whole goal during the free spins is to gather at least three of these seals, as this is how you conclude the free spin rounds. Collect seals into their corresponding chests. As soon as three seals are collected you will receive the winnings, and the round is over.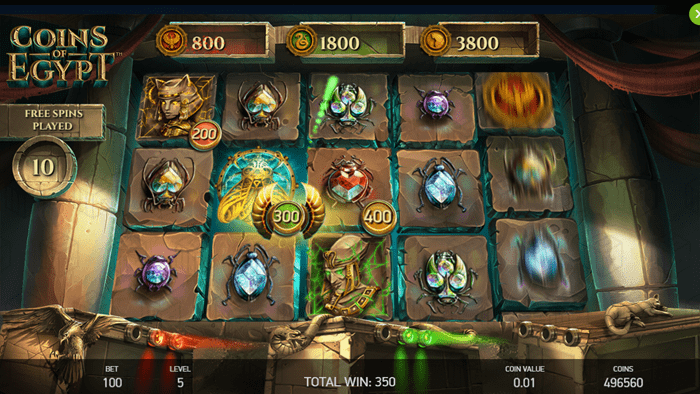 To give you a picture of the potential, during the test run today we were able to get decent 20-something spins. The win was just short of 150x. Worth to mention is the fact there are no way to re-trigger free spins.
Our thoughts on Coins of Egypt
The whole game has a familiar flare over it, for better or worse. - We have a game with a very secure theme, and a kind of secure "package" of special features as well. - We have seen some really awesome releases from Netent lately, especially with the new MAX concept in Berry Burst Max.
Is this one of the next amped up MAX titles from Netent? Who knows! If I knew, you guys would be the first to know. Let's just lean back and see what Netent has in store for us, as this game is not coming out until 8th October 2018! One thing is for sure. It will be interesting to see how this game plays out when it goes live at your favourite casino.