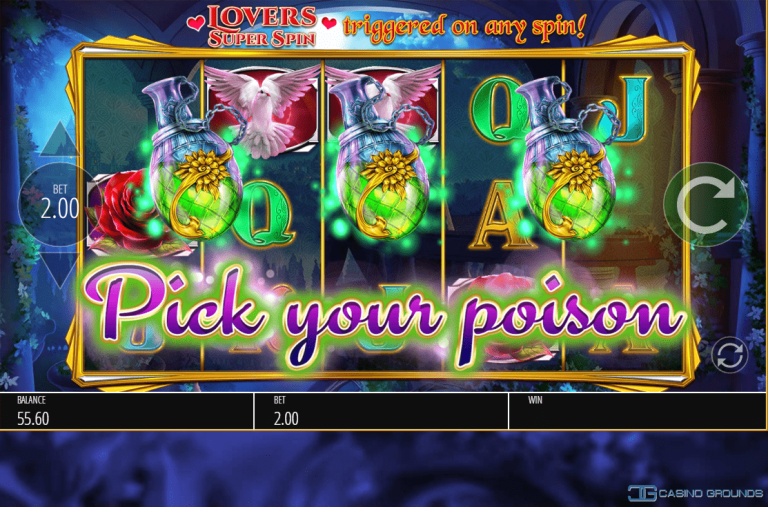 New Slot Review – BluePrint Gaming - Romeo and Juliet
Blueprint presents their take on the most famous play in the history of humankind.Welcome to Romeo and Juliet Slot! Romeo and Juliet is a five-reel, three-row, 20 line video slot, housing five special features, and an RTP of 96.42%. You will find three jackpots, and the theme is romance and love, the scene set at the famous Verona balcony where they confessed their undying love for each other.
Design and Symbols.
Love and romance is the theme in Romeo and Juliet. Here you will find symbols like roses, doves, hearts and the love-birds themselves to mention a few. The lower paying symbols are standard 9-A symbols. The background music, and sounds when spinning the reels are harps, violins and such, backing up the whole theatrical, romantic theme in Romeo and Juliet from Blueprint.
Special Features in Romeo And Juliet
Blueprint gaming has been very generous when it comes to special features in Romeo and Juliet. The bonus symbol in Romeo and Juliet is a poison bottle covering two symbols. Whenever three poison bottles appear on reels 1,3,5, they will pop out, and you will be able to choose your poison at random. The choices are Juliet Wheel of Fortune, Star-Crossed Lovers Free-spins, Romeo's Mystery Spin. (More about this later).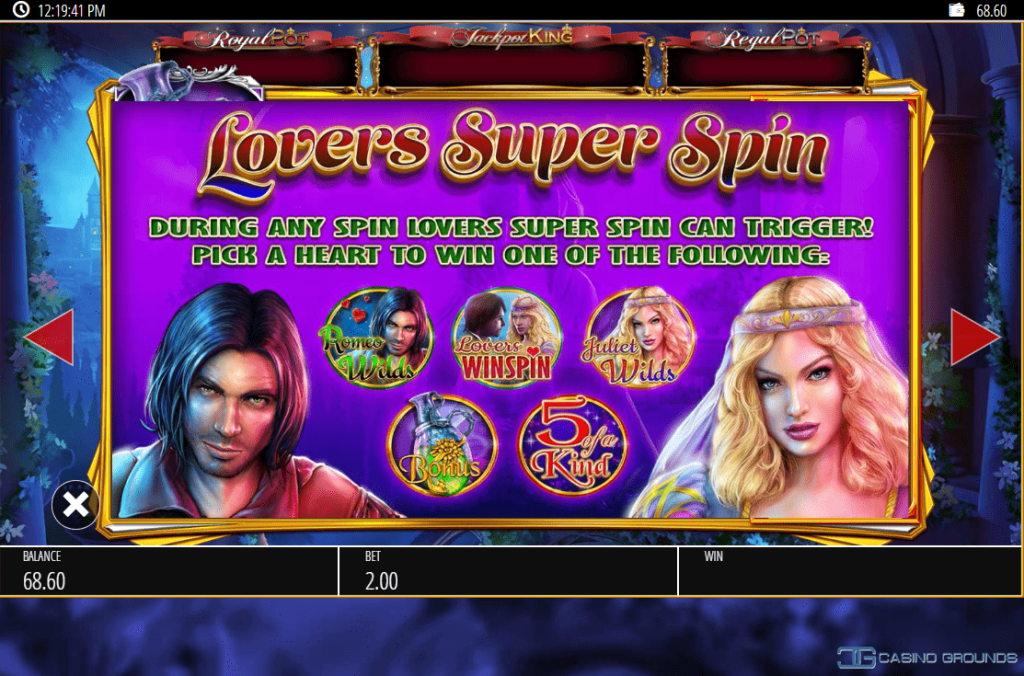 You would think the special features stopped with the three extra scatter features, but we are just getting started. – There is a thirds special symbol in Romeo and Juliet activating the Lover's Super Spin.
Juliet's Wheel of Fortune in Romeo And Juliet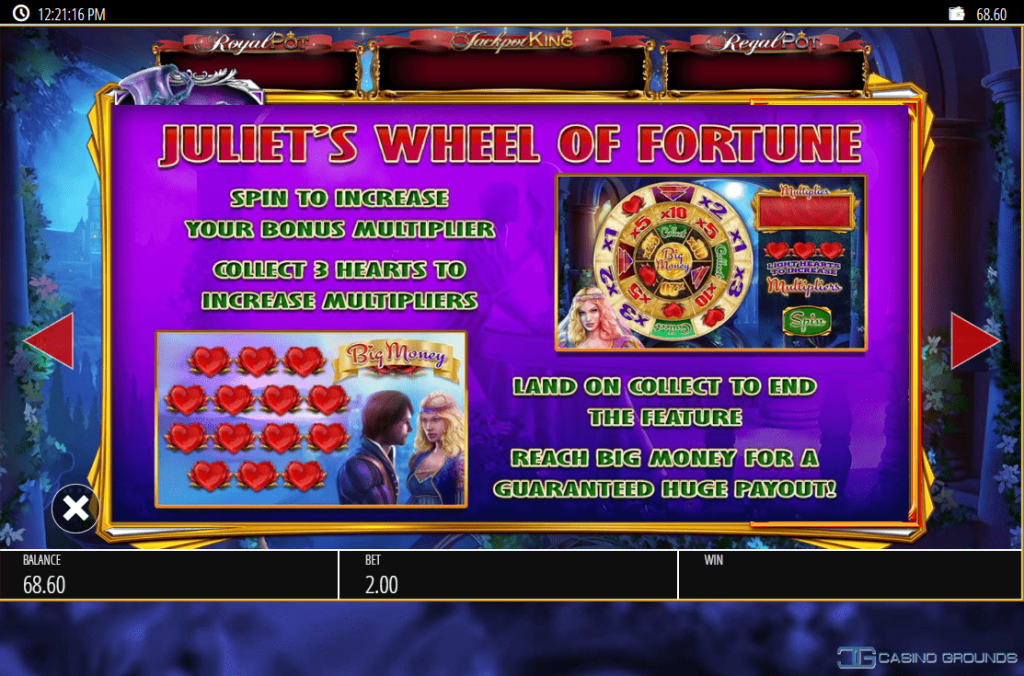 Juliet wheel of fortune can remind a bit about the Wheel of Fortune in the Netent title Megafortune. Here you start out in the outer wheel, and for each spin, you can receive further cash winnings or go further into the next wheel. If you land on "Collect" you will receive your accumulated winnings and go back to regular rounds.
Star-Crossed Lovers free-spins in Romeo And Juliet.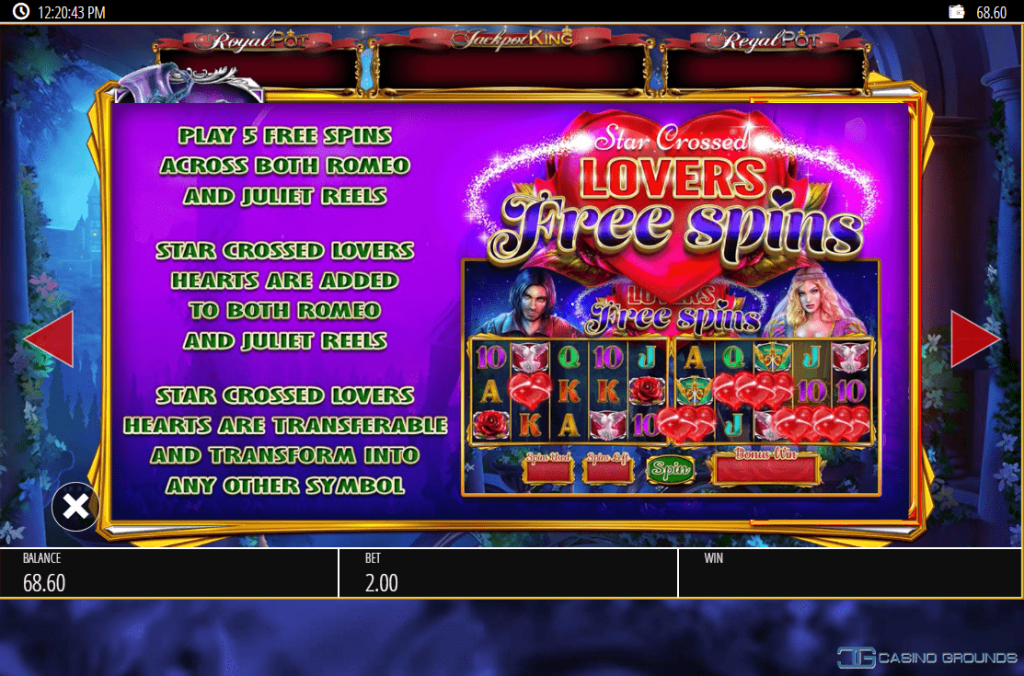 Another feature available in Pick your Poison game is the Star-Crossed Lovers free-spins. During the spins, you will have two sets of reels, Romeo and Juliet reels. All crossed lovers symbols appearing on either of the reels will transfer to an adjacent reel. When the reels stop, they will transform into any other symbol except the bonus symbol.
Romeo's Mystery Spin in Romeo And Juliet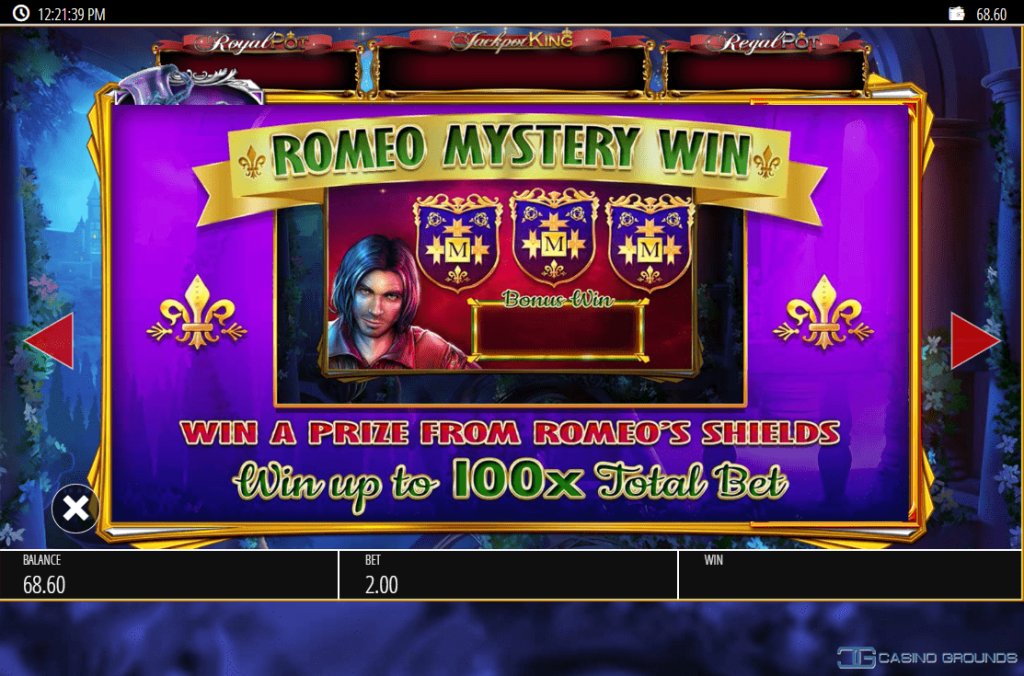 Romeo's Mystery Spin is the third and last game you can activate in the Pick your poison bonus round. – If you get one of the Romeo's Mystery Spins, you can choose random features from three shields. You find two different symbols behind the shields; Collect-symbol which stops the rounds, or Juliet-symbol which grants cash prizes.
Jackpots.
During any spin in the main game, you might land some Jackpot King symbols. – If one lands on every reel from 1-5 you will activate the Jackpot King Wheel. During the wheel, you will collect Crown Symbols, which will move you up the prize ladder.  Other symbols you might find is COLLECT which takes you back to the regular spins, and the Wheel King, which brings you all the way to the Wheel king part of the feature. This is where you want to be, as it is here you will be able to win the jackpots and big prizes.  Please note though; your operator might remove the Jackpot feature, so keep an eye on the top of your reels, as you might not have this feature in your favorite online casino.
Our thoughts
Time was spent in the development of Romeo and Juliet. I like the game, albeit the theme is not my favorite, I can still appreciate the level of details and general feel of this slot. I played for a good 40 minutes, hoping to activate all Scatter features. However, I was only able to activate Juliet's Wheel of fortune once. During the Play money rounds, I had to restock my balance of 100 twice to finish my test.
Super high variance and the potential to add three Progressive jackpots makes me think this game will fare well with both new players and our slot-veterans in our streaming community.