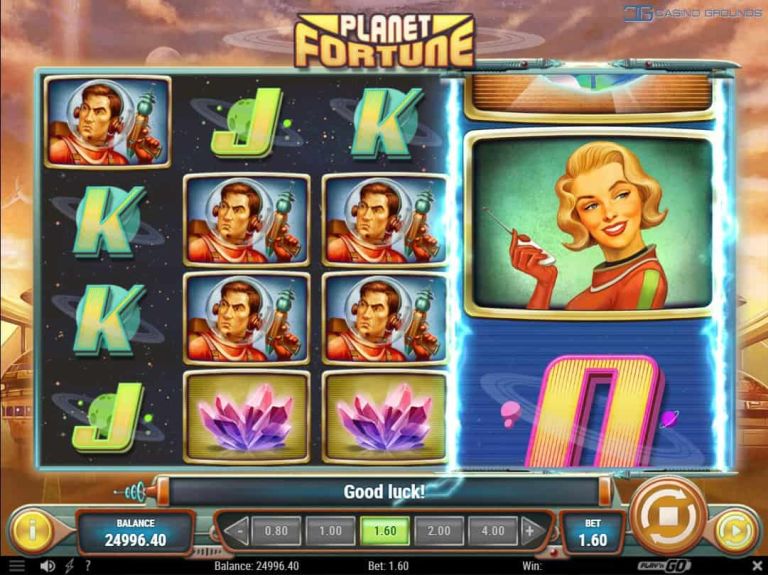 Planet Fortune Slot Review
Welcome to the future! Planet Fortune from Play'n Go together with Astro-Adam and Extragalactic-Eva invite you back to the future! (??!) This retro-futuristic five-reel, four-row, 40 line video slot has an RTP of 96%, and features like expanding symbols, free-spins and two versions of the Wild symbol.
Design and Symbols.
It is evident that design in Planet Fortune was significant for Play'n Go. Although we do find regular 9-A card symbols, the higher paying ones are all unique and work so well with the general theme. These elements together with the backdrop and theme music create the complete game experience we don't see very often anymore.
Special Features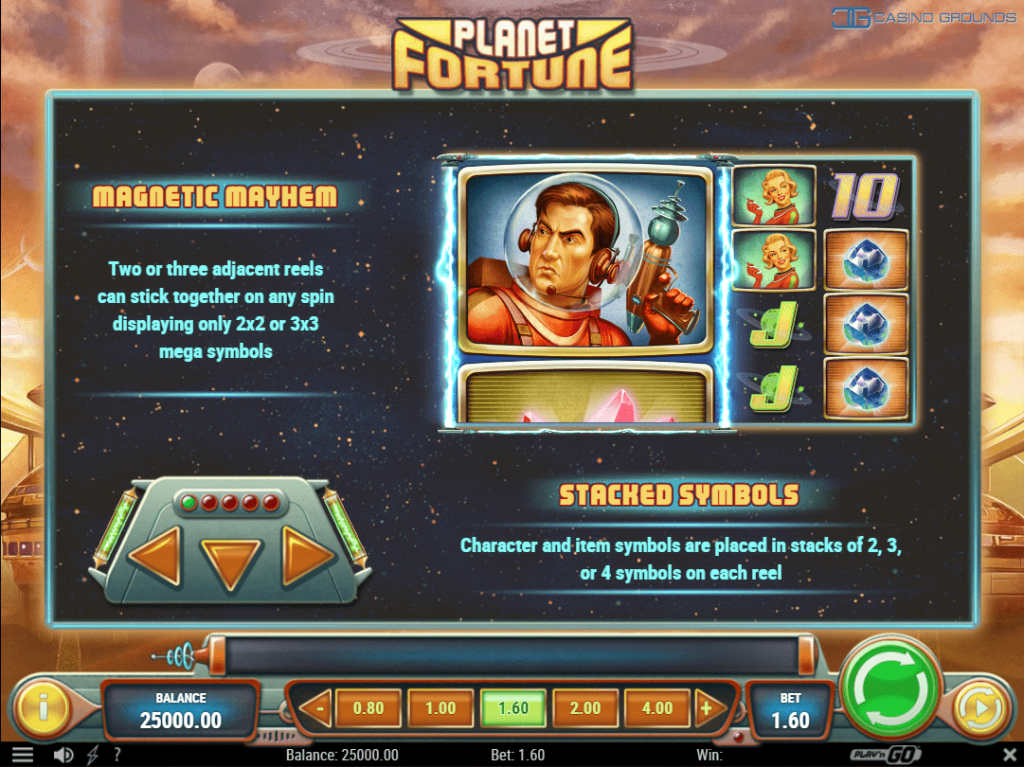 Magnetic Mayhem combine similar symbols into mega symbols.
Free-spins, wilds and expanding mega-symbols is what you can expect when arriving at Planet Fortune. All these features are very straightforward to understand.
Wilds and free-spins.
The wild Symbol in Planet fortune doubles as a scatter symbol. During the regular spins, the wild is there for one round and replaces all other symbols. If there are more than three symbols in one spin, ten free-spins will be credited activating the Robot Revolution feature.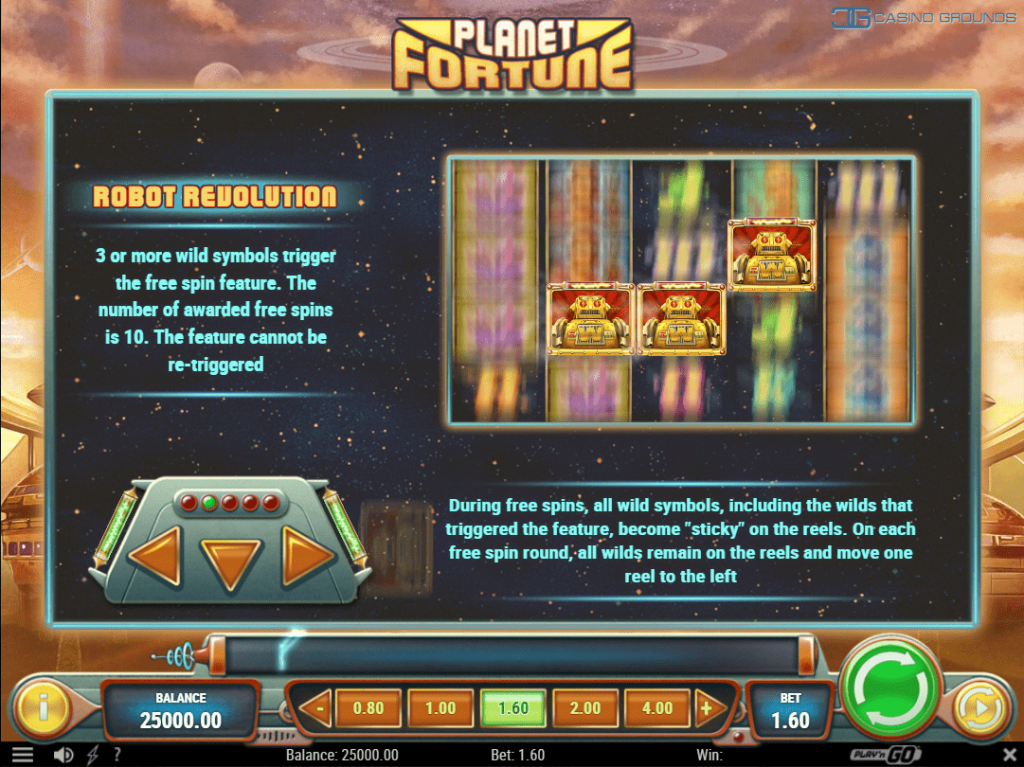 During the revolution, you will notice the Wild symbols changes color to red and has turned into "sticky" wilds, moving one reel to the left for each spin.
 Any additional Wild symbol during the free-spins will have the same qualities.
Other Features in Planet Fortune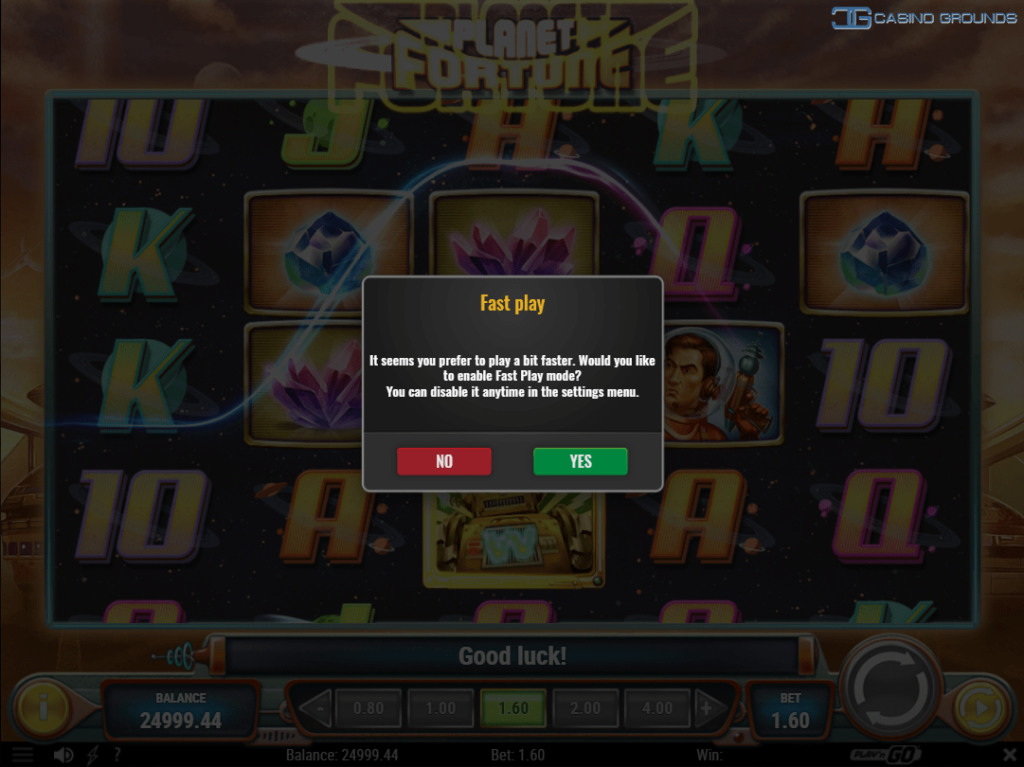 Other features in Planet fortune we would like to mention is the "Fast Play" prompt popping up after stopping spins mid-spin a few times in a row. – Nifty indeed!
Our thoughts    
Planet fortune must be one of my absolute favorites from my recent reviews. The game is very straightforward, and it does not take long to get used to the special features. The design landed very close to home, mostly because I've been an avid player of the Fallout series for many years. The mega symbols are always fun when they arrive, and if you are fortunate and fill the three first rows with these, you are guaranteed a win!
I would say variance is so-so, but the entertainment factor is still there! – At least for a retro gamer like myself.
Would I play Planet Fortune again? Yes- I'm pretty sure this will be my fallback slot for a while.
Let us know what you think in our Forums!