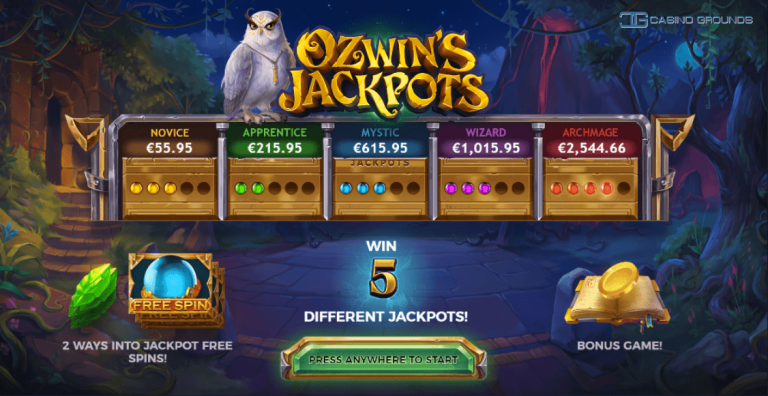 Slot Review - Yggdrasil - Ozwins Jackpots
Welcome to Yggdrasil's latest Jackpot slot!
Ozwins Jackpots is a five-reel, three-row video slot, boasting with special symbols like Free-spins symbols, Bonus symbols, and orbs (?!!!). You will also find not one but five jackpots that are up for grabs. The theme in Ozwins Jackpots is fantasy and wizardry.  Return to player is set at 96.7% by Yggdrasil themselves.
Trailer
Design and Symbols
Yggdrasil went for fantasy inspired design in Ozwins Jackpots with a beautiful frame, custom symbols, and buttons. Can I find anything to point the finger at here? Not really. The design is well thought-through, and the standard picture card symbols which most slots seem to fall back on nowadays is not to be found anywhere in Ozwins Jackpots. The symbols you will recognize is the clubs, hearts, diamonds, and spades from a card-deck. The remaining symbols are unique to Ozwins Jackpots. Special symbols include Free-spins symbols, Bonus symbols, plus these orbs and crystals you can collect for the Jackpot Free-spins.
Special Features in Ozwins Jackpots
This slot is very centered around the jackpots available. So most special features get you to the jackpot one way or the other.
Jackpot free-spins Ozwins Jackpots.
The main feature and what will pull in the crowd to try out Ozwins Jackpots is the... wait for it....  Jackpots.  You can win the jackpots by collecting orbs during free-spins. These orbs are not to be confused with the crystals collected during the main game as these will merely get you to the Free-spin rounds in which you can win the Jackpot.
Getting to the jackpot with crystals in Ozwins Jackpots.
During the main game, you will notice you have a few slots under each jackpot on top of your wheels. As you spin, you will start collecting these crystals, and as soon as you have accumulated at least 5 of one color, the jackpot free-spins is activated. Here you can try to gather Jackpot Orbs.  You will start with one orb in the color your initiated the spins with when starting the jackpot free-spins with crystals in the main game.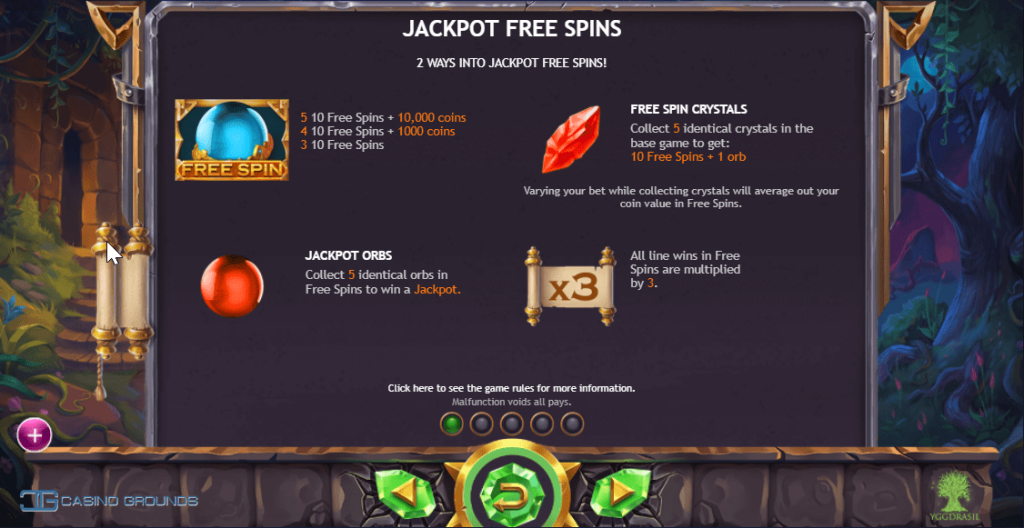 There are several ways to get to the jackpots, either by gathering crystals or getting 3 or more Bonus Symbols during the main game.
Getting to the jackpot with free-spin symbols in Ozwins Jackpots.
The free-spin symbol in Ozwins Jackpots will send you to the Jackpot free-spins game with ten spins if you receive at least three symbols. The only difference from this feature compared to collecting crystals is that you will not start with an extra orb in any color, and if you are lucky and land on more than three free-spin symbols, you will get an additional Coin prize (but no free-spins mind you.)
Spellbook Bonus Game.
Collect Spellbooks to get extra prizes!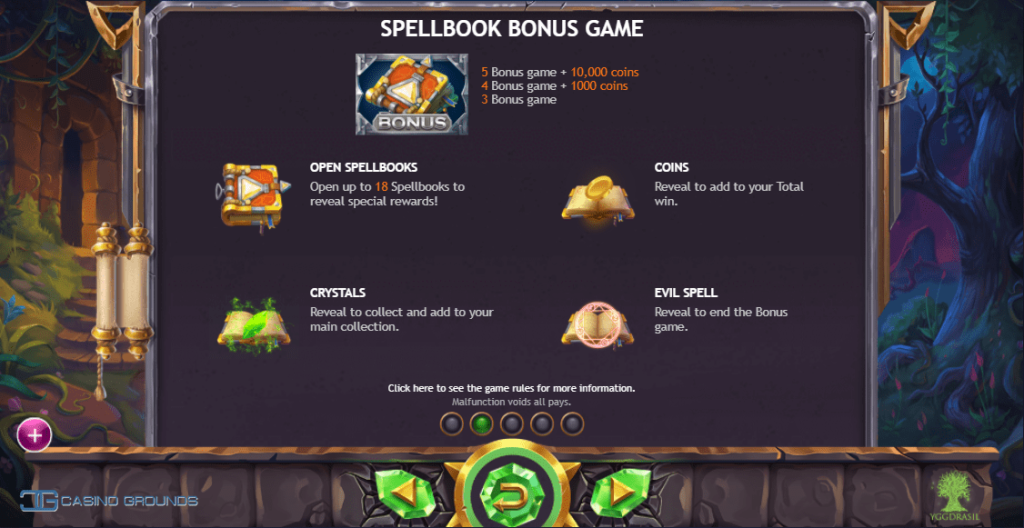 If three or more Spellbook symbols lands on the wheels during the main game, you will activate the Spellbook Bonus Game.
You will be presented with 18 spellbooks, which grants coins, crystals, and finally a hidden evil spell that stops the bonus game.
Our thoughts
I played the play-money version of Ozwins travels a good 45 minutes today, and honestly, I got to the Jackpot free-spins once by collecting the crystals and had two shots at the jackpots with the help of the free-spin symbol. – I would love to see the free-spins a bit more often, as there's seemingly no way to get some re-spins or more free-spins during the Jackpot free-spin game. Personally, I'm a fantasy fanatic, so I will most probably fall back on this slot due to that fact. I'll most likely check out the jackpot when we see this slot getting launched on more sites.