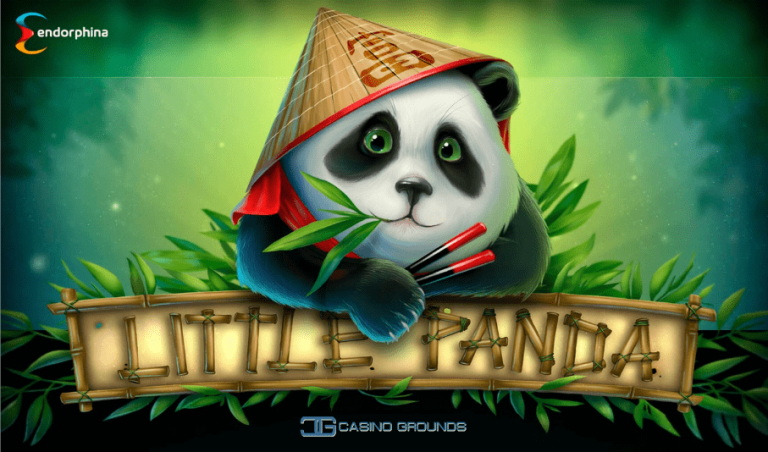 Slot Review - Endorphina - Little Panda
Little Panda from Endorphina studios, is a cute Chinese panda-themed video slot with five reels, four rows of symbols, 1024 ways to win and an RTP of 96%, inspired by titles like Raging Rhino and Pink Elephants. Special features in Little Panda includes Free games, Scatter symbols, multipliers and wild symbols to mention a few.
Endorphina themselves calls this slot a "Joyful and brightly colored game taking their players to the magical lush forests in a remote corner of China.*"
Let us check their claim!
Design and Symbols.
The symbol design, theme and general graphics in Little Panda are…. Cute!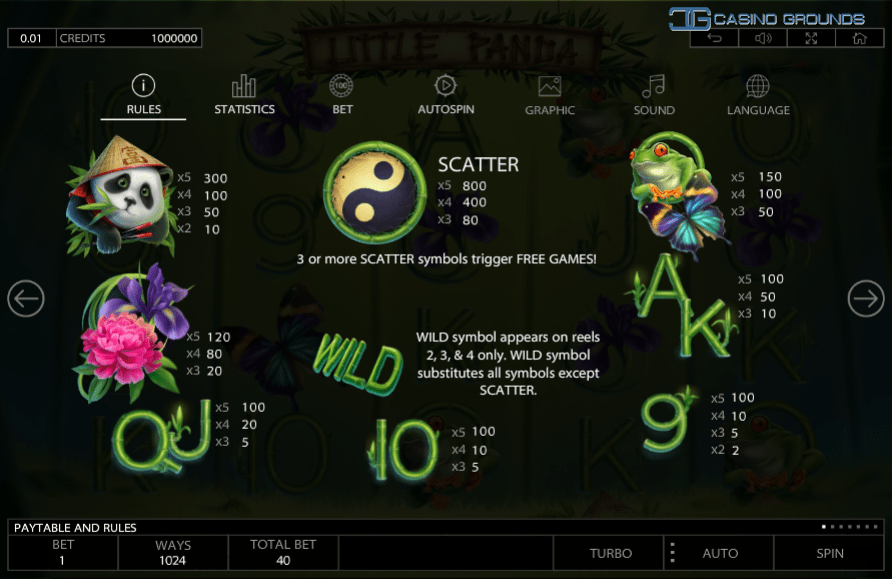 Special symbols like wilds and scatter symbols and the little panda herself, are all animated, giving an extra layer of enjoyment when you win. That said, the lower paying symbols are card symbols wrapped in bamboo, and Endorphina would probably benefit from making these symbols unique in future releases to create a slightly better user experience.
Special Features in Little Panda
We touched base on what we might expect regarding special features in Little Panda previously in this text. Here we will dive into a bit more thorough explanation of these.
Scatter and Wild symbols in Little Panda.
The Wild symbols in Little Panda substitute all other symbols, except the Scatter symbol.  During the Little Panda Feature (Which is free-spins) you might be lucky to get a multiplying Wild symbol, doubling or tripling the winnings. The scatter symbol in Little Panda is a Yin Yang sign, and if you get 3 or more symbols, you will activate the Panda Feature.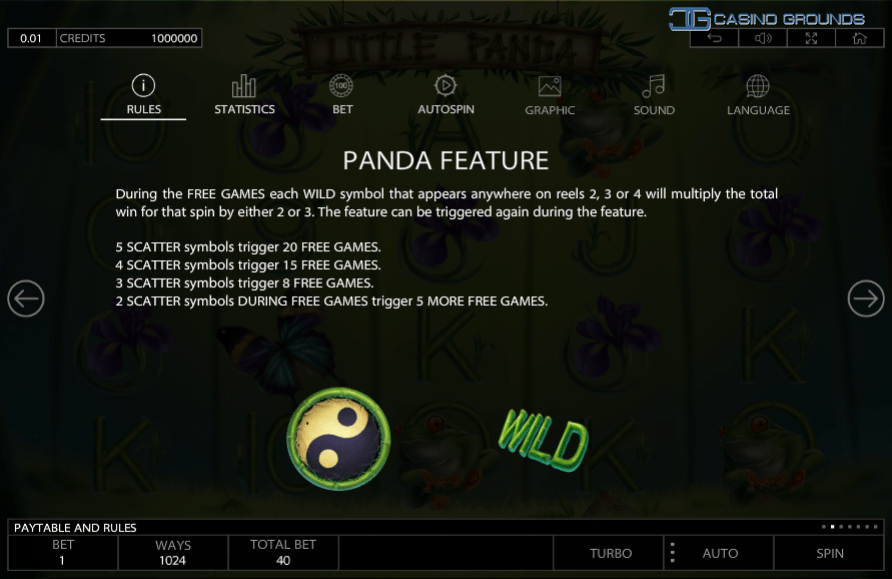 The Panda Feature in Little Panda add some spice to your free-spins.
The Panda Feature
Free-spin rounds with multiplying wilds. Should the wild symbols land on reel 2, 3 or 4, they will either pay out double or triple of original winnings. In addition, it is possible to activate more free spins during the Panda Feature:
5 Scatter Symbols trigger 20 free spins
4 Scatter Symbols trigger 15 free spins
3 Scatter Symbols trigger 8 free spins
2 Scatter Symbols during free games trigger 5 free spins
When testing, we were able to trigger the Scatter symbols three times during the Panda Feature when testing, granting a total of 28 free spins before going back to the main game.
Double or nothing- Gamble feature in Little Panda
No matter where you win in Little Panda, be it during the main game or during the Panda Feature, you will be able to gamble your winnings, making it possible to double any winnings you might receive. The gamble feature brings you to a new window. Here you will be presented with 5 cards, four of which is faced down. -Your job is to get a higher card than the fifth, visible card. We did try out this feature, and which cards are dealt in this extra game seems very random, as sometimes, there are no cards with a higher value than the faced up one and vice versa.
"The latest slot is joyful and brightly colored game and it takes the players on the way to the magical lush forest in the remote corner of China"*
Trailer
Our thoughts
Was Endorphina true to their claim? I would say yes. The theme thought through, and most parts of it are actually joyful and colored in the sense that the symbols are well made and the panda is as cute as they come. Lacking a bit variance, but with a new algorithm and the new 1024 ways to win feature, Little Panda is hopefully the child of a great new mechanic coming from Endorphinas collection.