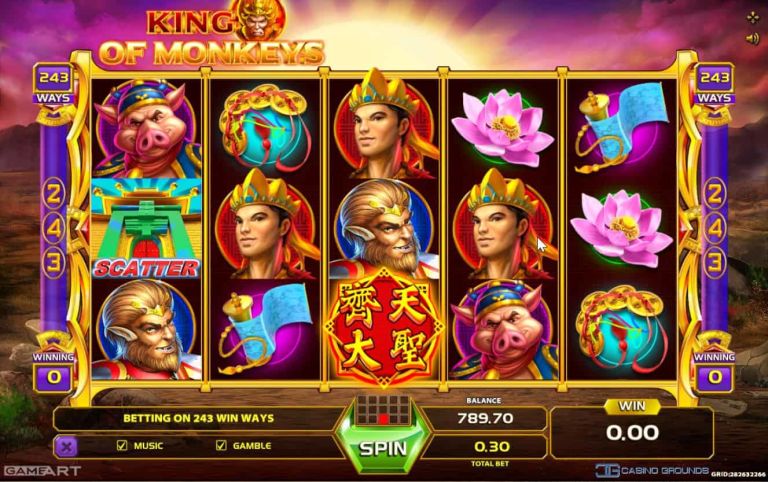 New Slot Review – Gameart – King of Monkeys
Gameart Studios is probably not the most heard of slot game developer, but man, the games they make are just beautiful. Their latest addition Called "King of Monkeys" which has an Asian theme, and the king himself Sun Wukon will introduce you to his companions. The game has five reels and three rows of symbols. You can find 243 ways to win, and an RTP of 96.2%. Bonus features includes wilds, scatters, a dragon and some companions.
Design and Symbols.
The design in King of Monkeys is through and through thought through. (Say that ten times in a row) And there are no lame card symbols to found anywhere in the slot. The reels lie on a back-drop which can look like a mountain at sunset or something of the sort.
Special Features in King of Monkeys
King of monkeys has special features like Wilds, Scatters, a bonus game and some funky things happening to the monkey king now and then during the free-spins sessions.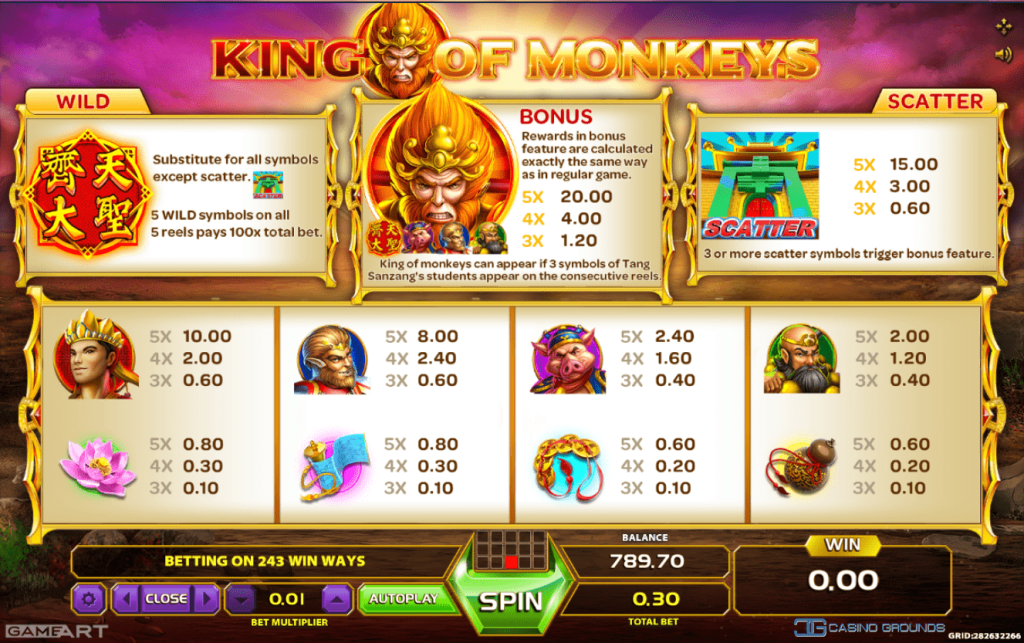 The King of Monkeys has three companions, Tang Sanzang, Zhu Wuneng and Sun Wukong, and they are on a quest to find sacred scrolls, said to harbor great prizes.
Scatter Symbol and bonus round in King of Monkeys
To activate the Bonus rounds in King of Monkeys, all you have to do is spin the slot, and when three or more scatter symbols lands on the reels, you will receive at least ten free-spins.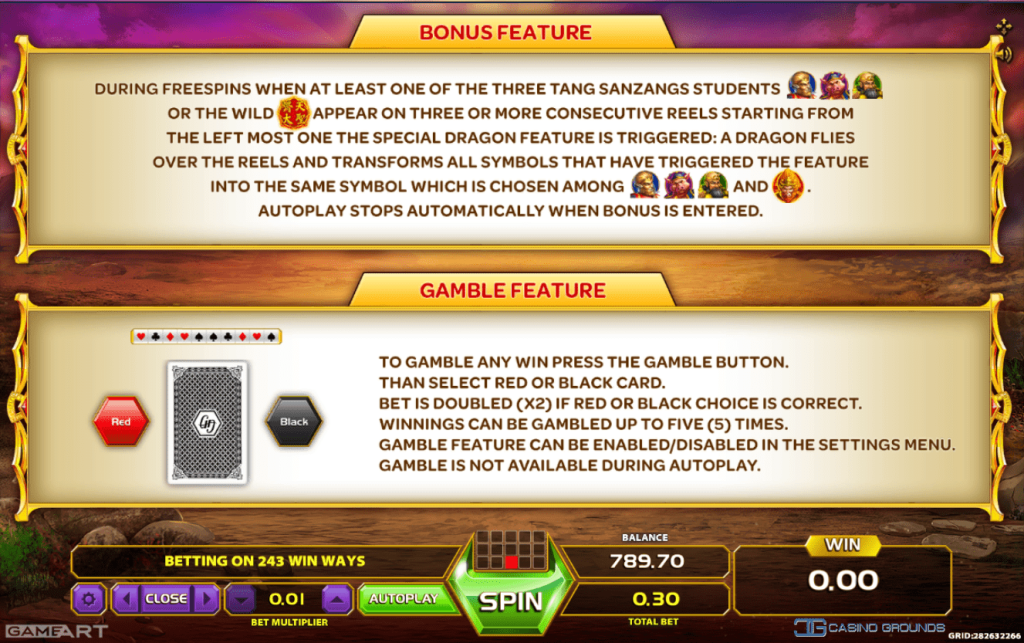 The free-spins in King of Monkeys grants a slightly higher pay-out on all symbols, but that is not all! Your questing companion might be able to summon a mighty dragon to get even more prizes during the spins.
All three companions have to land on the first three wheels, and a mighty dragon will be summoned to hover over them, effectively changing all symbols into the same type, giving you some extra bang for the buck.
Gamble feature in King of Monkeys

The gamble feature is available in King of Monkeys as an option (at least when I tried out the Play Money version on their website) enabled by pressing the "options" wheel at the lower left corner of the slot.
Wild symbol in King of Monkeys
Nothing special to say about this feature really. The Wild symbol works as some of you might expect, replacing all other symbols except the scatter symbol.
Our thoughts
Did I love the game? Well, Yes and no. Let's start with what I didn't like that much. -First and foremost, the variance in this game is not the best in the market. That said, Most other aspects of this slot are on par with our expectations from a modern slot. The Dragon feature occurs often enough during free-spins, however, after a good 20 minutes and three tries at the free-spins, I was not able to trigger the additional free-spins. Will I play it again? Good Question indeed.