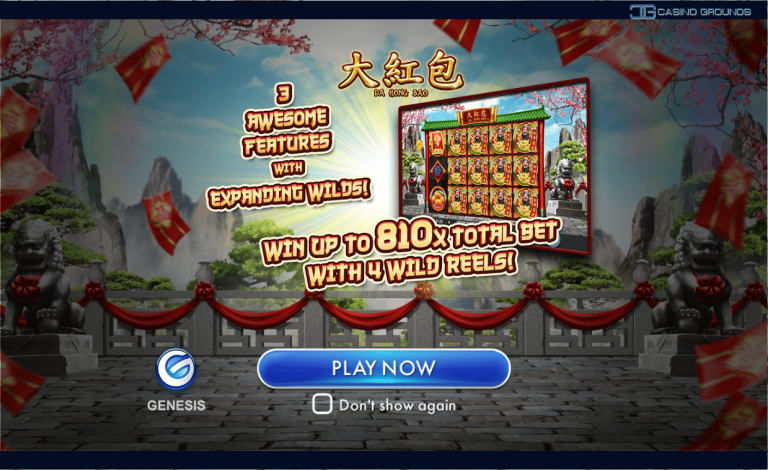 New Slot Review – Genesis – Da Hong Bao
The god of wealth welcomes you and the rest of our slot streaming community to the Chinese New Year this January. Da Hong Bao is the latest addition to Genesis Slot-game Park, boasting with features like Wilds symbols, scatters, and high-paying symbols like the god of wealth himself. You will find five reels, three rows, 50 betting lines and the RTP set at 97.26%. We would categorize this slot as a medium to low volatility slot.
Design and Symbols.
'Da Hongbao' is a traditional Chinese gift which is a red envelope with money, often given to the younger generation from the elders in the family during celebratory occasions in China, as The Chinese New Year.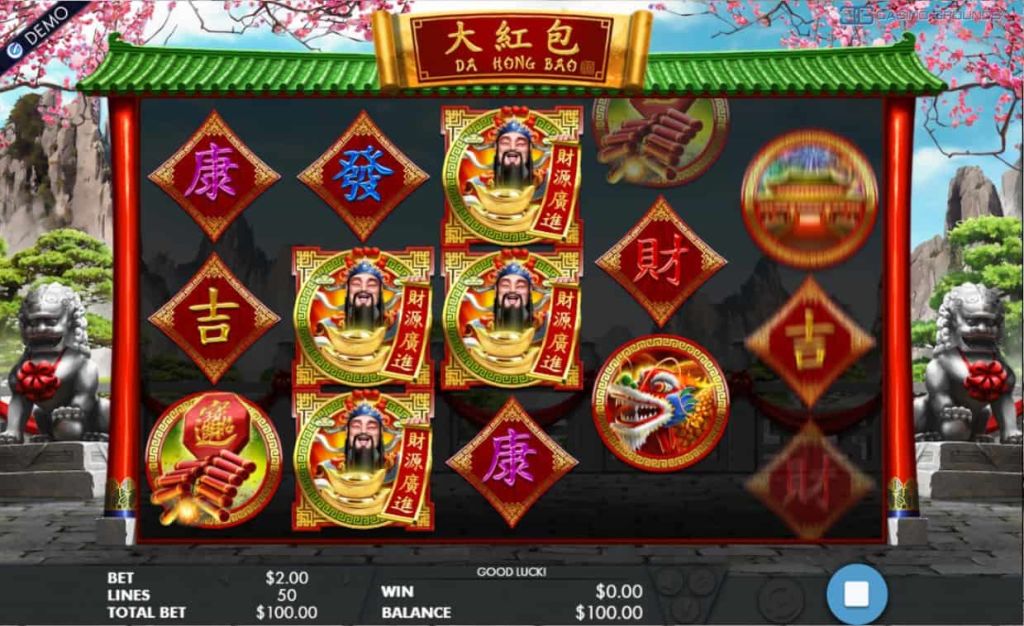 In Da Hong Bao we find several "Red Note" Symbols, the God of Wealth himself, and others that can remind us of the New Years Celebrations.
Special Features in Da Hong Bao
Da Hong Bao has several Special Features, including Wild symbols (The god of wealth himself), Scatters (the red notes) which triggers not only free-spins but also re-spins in the main game, making it possible to win a bit extra before the free-spin rounds.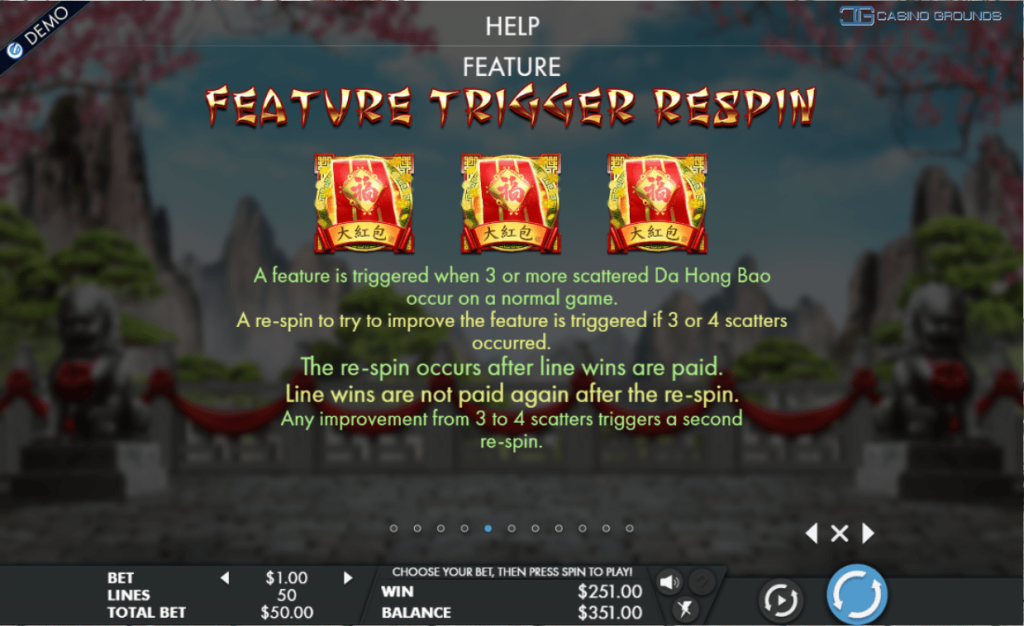 Scatter Symbol and "Feature Trigger Re-Spin" in Da Hong Bao
The scatter symbol in Da Hong Bao, are actual "hongbao's" and can appear on all reels. If you get at least three scatter symbols, you will receive at least nine free-spins and possibly more as they will trigger re-spins, making it possible activate additional features before you are taken to the free-spins rounds. Do note there will be no extra prizes during the re-spins, and it's only possible to acquire more features at this stage.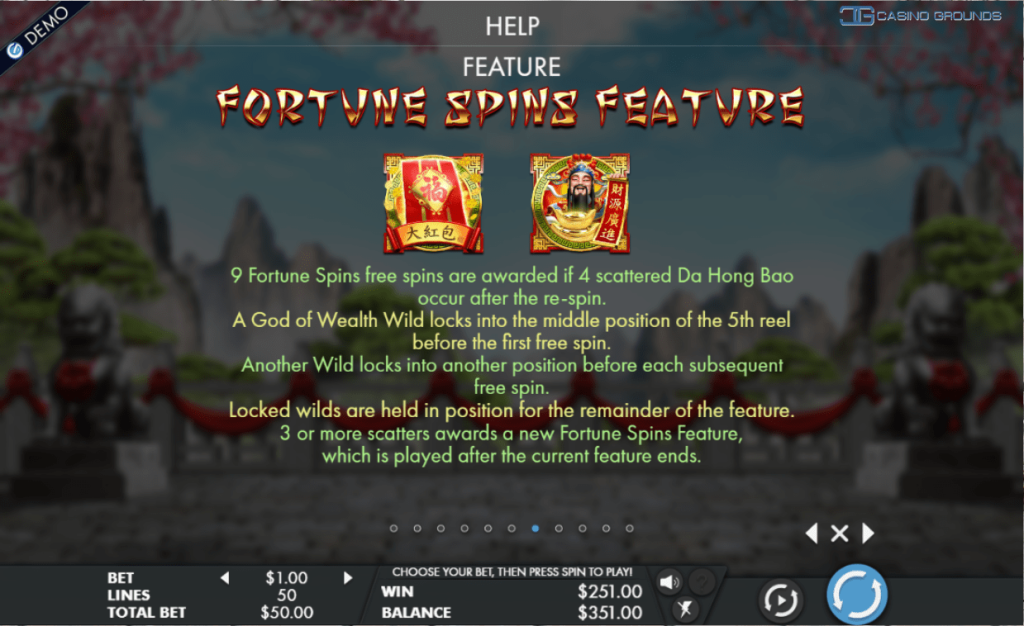 When getting four Da Hong Bao scatter symbols, you will get 9 Free-spins plus a locked God of Wealth Wild symbol on reel number five during your free-spins.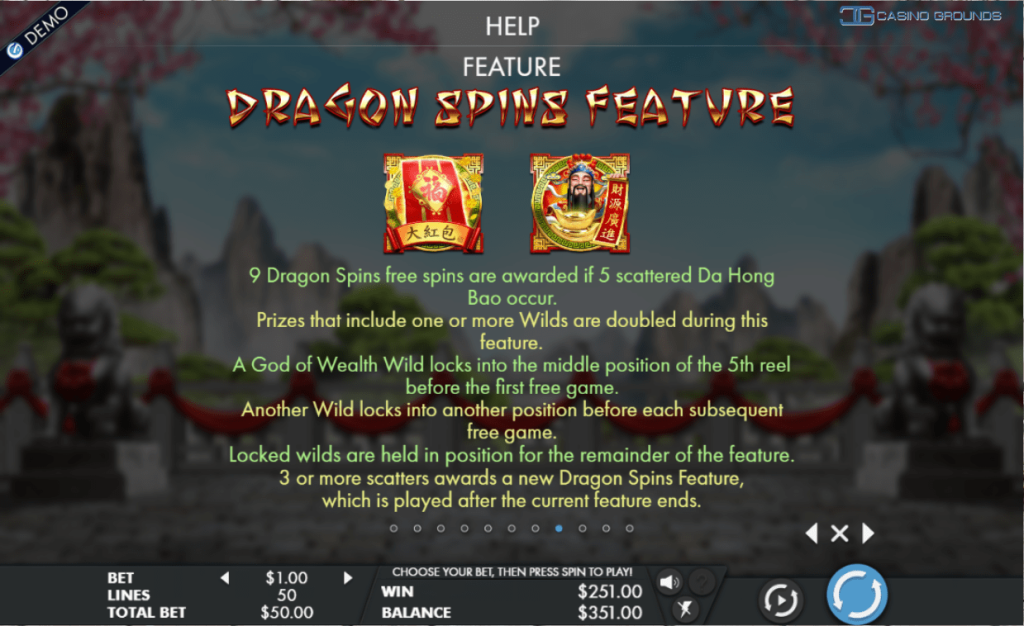 Five Da Hong Bao scatter symbols during the re-spins, you will get the same as with four, but with an extra wild locked into a random position during the whole free-spin session.
Our thoughts
We were only able to try out the demo version of the slot on Genesis website, and the balance updated between each spin, making it a bit difficult to get a real picture of actual RTP and variance.
That said, during a 20-30 minutes session of spins, I was able to activate the standard free-spins a few times, but never with the extra features (locked Wilds), which was a bit of a disappointment. Genesis gaming has been faithful to the theme, and I actually learned something new when investigation what "Da Hong Bao" might be. Will I play it again? Maybe around the next Chinese New year, as this is the year of the dog, and I'm more of a cat person.
Let us know what you think in our Forum!