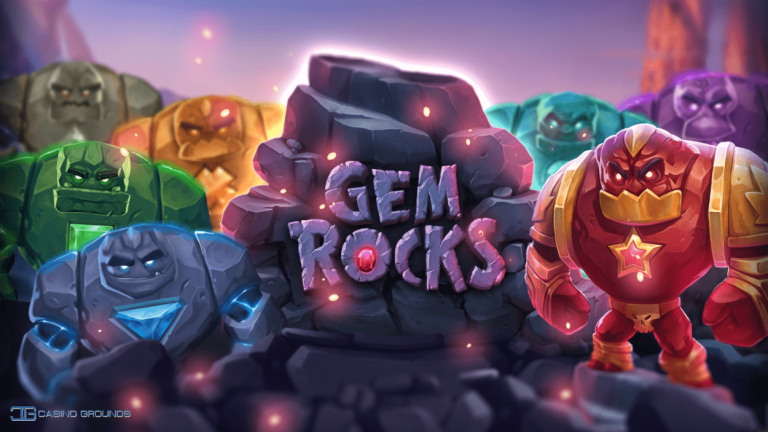 New Slot Release - Yggdrasil - Gem Rocks
Welcome to the valley of the Rock Monsters!Yggdrasil has been creating quality games for a pretty long time now, and their experience shines through in their latest release, Gem Rocks. Gem Rocks is a five-reel video slot, with four rows. Symbols will cascade as soon as a winning combination appears on the reels. Other special features include Gem Giants and reel-based multipliers. Gem rocks harbor a possible 9000x prize, consecutive wins, and high volatility.
Design and Symbols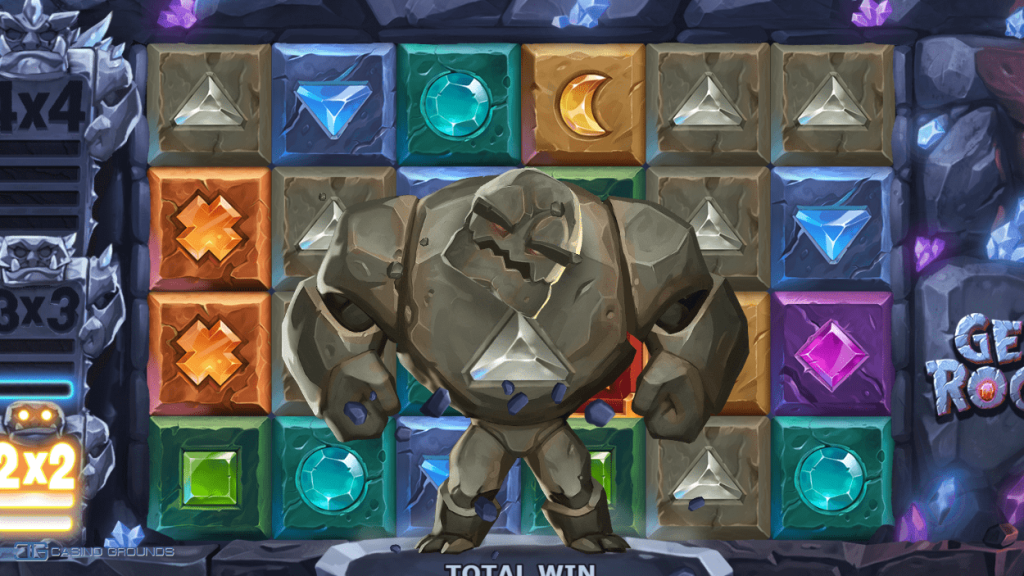 Rocky symbols and giants are what awaits when you open Gem Rocks from Yggdrasil.
Gem Rocks is beautiful, with only one game-mode which effectively gives you multipliers, re-spins and massive blocks of similar symbols promising big wins. All the symbols are rocks with gems, and the higher paying one has an extra golden frame.
Special Features in Gem Rocks
The slot has a couple of nifty features like the cascading symbols, and the Gem Rock feature.
Whenever you have a winning line, symbols disappear, and new symbols cascade down from the top. If you cascade the symbols more than twice, a Rock Giant will arrive and settle at a random prize-winning spot on the reels.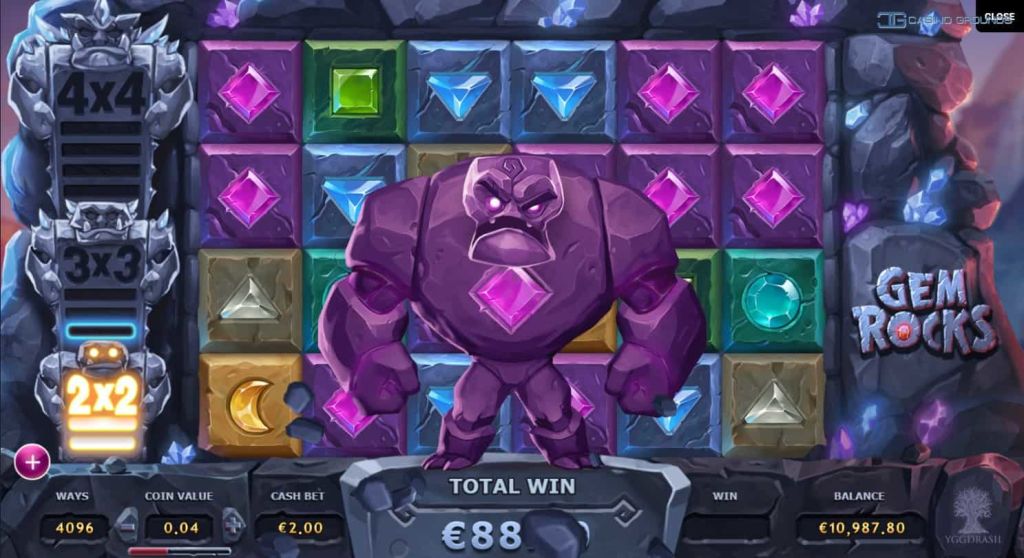 The main special feature in this slot is the Gem Rock feature.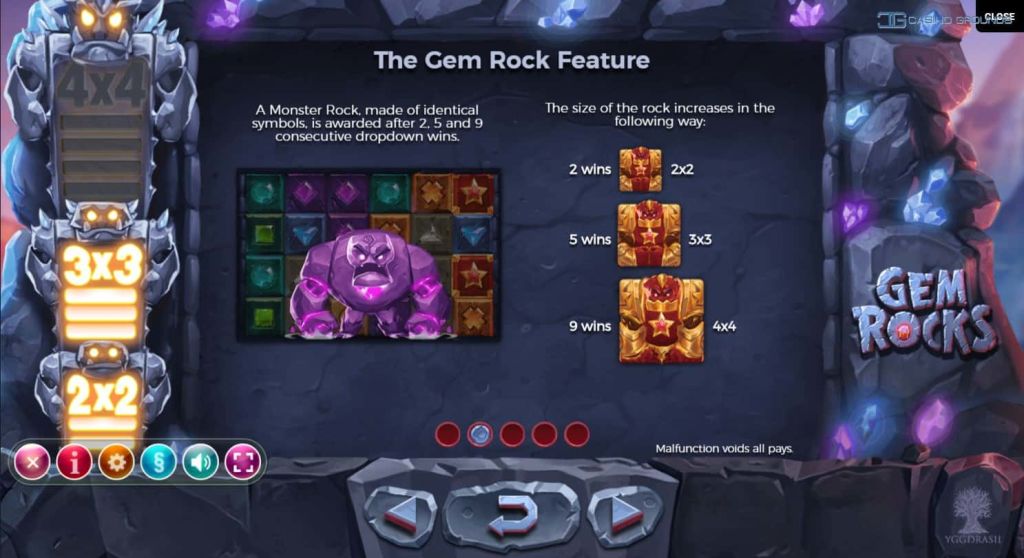 The more consecutive wins in one spin, the bigger the giant. For two cascading wins, a 2x2 giant jumps onto the slots, for five wins a 3x3 giant appear, and if you manage to get nine consecutive wins, a reel covering 4x4 giant visits.
How does the payout work?
Did we mention multipliers?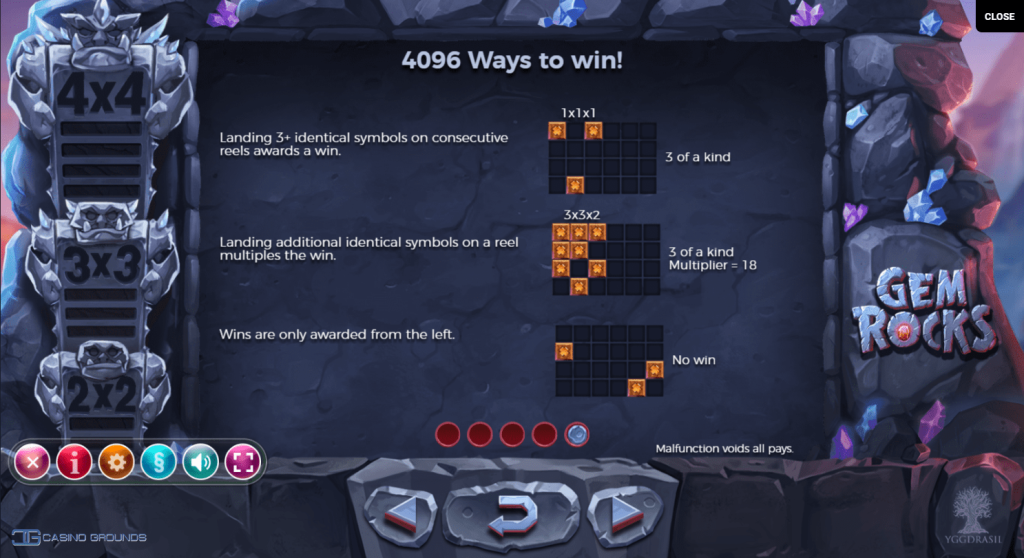 Let's say you get three of one symbol in reel 1 and 2, and two in the third.  You will then get the actual coin winnings like this: 3x3x2: 18x win.
Our thoughts
Since the mid-2000's the video slot market has been heavily saturated with half-assed graphics and design. Now looking at the releases from Yggdrasil, it is clear they see the value of creating immersive, beautiful games, which delivers a right balance between high volatility and features.
Gem Rocks is one of these games. You do not find 40 different features, bonus games or 14 different variances of the Wild symbol for example. What Yggdrasil made here is a high volatility slot, with the potential of big wins.
That said, with the ever-occurring Rock Monsters, and cascading symbols, you will still get a decent amount of small to average winnings keeping you in this game from Yggdrasil for a long time.
I got stuck testing the game a good while today, mainly to try to get to that elusive 4x4 Rock Monster.
Will I play it again? – Honestly, I'm a sucker for bonus rounds, free spins, and bonus pickers, so this slot is not my cup of tea. That said, this game stole more time from me today than probably necessary, and I see how Gem Rocks will be a hit with a good portion of our streaming community.
What do you think? Let us know your thoughts about this game in our Community!