Snow Wild and the Seven Features Slot
Once upon a time, Red Tiger decided to create a Spintastic Spin-of of a very well known story. What the original is, we will leave up to you to figure out. Snow Wild and the Seven Features is a fast paced video slot with five reels, three rows, and  20 pay lines. A rock n roll theme combined with this reference to a well known story, makes this slot fairly unique on it's own. But that is not all! "The seven Special Features" in the name of this slot deliver as promised. Find seven extra features that can be activated with a bonus wheel.
Symbols
In Snow Wild and the Seven Features has normal Card symbols in the main game, in addition to a few theme symbols like a Mug of beer and a half eaten apple (You know, that sleep inducing apple from the story). "Snow Wild" is the wild symbol in this slot, and replaces all other symbols on the reels, except the Lucky Wheel symbol, which activated the bonus game "Lucky Wheel".
Special Features
This is a fast paced slot. And one of the special features in this game is the possibility to activate the TURBO SPIN function, by simply holding the space bar down.The main special feature in Snow Wild and the Seven Features is the Lucky wheel, which grants one of the seven Features:
Snow Wild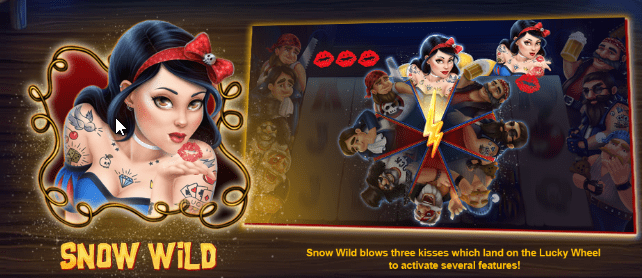 Definitely the most lucrative of the special feature, Snow Wild blows three kisses at the other features, awarding several special features simultaneously .
Boozy

Boozy is a thirsty fellow. Whenever the wheel falls on Mr Boozy, He'll flip on the Beer Taps, filling on or more reels with wilds.
Goldy

Goldy has a bucket of …. You guessed it, Gold. This guy does not fool around. If you are lucky and land on Goldy, he will come to your reels and shake things up a abit granting Cash bonuses.
Dozy

Dozy the sleepy one might show up every now and then, snoring the symbols around on the reels, raising the chances for higher prizes.
Sneaky

This sneaky fellow will hide behind your reels,. Cutting out pieces of them and replacing your symbols he chooses, promising bigger wins.
Tickly

Living on the country side, with a bad case of the hayfever, Tickly will sneeze some respins onto your slot, giving you chances for more wins.
Flash

Flash, you know that famous guitar player? This is the fantasy brother, slashing some insane riffs causing lightning to hit the reels, blasting away old symbols leaving space for new ones, giving you a chance for a win.
Crazy

Last but not least is our friend, Crazy. He's the nice kind of crazy, stealing some symbols replacing them to guarantee you a win.
Our Thoughts
Honestly, I played this slot a lot. And Red Tiger do not disappoint when it comes to features, design and variance in Snow Wild and the Seven Features.
I really enjoyed testing out this game and look forward to review more games from Red Tiger the upcoming weeks. Only thing I would like to point out, is the fact that you have to put in some dimes between the big wins.
Now you've read what we think. How about you? Any thoughts around this fairly new release from Red Tiger? Share them with us in the forum!