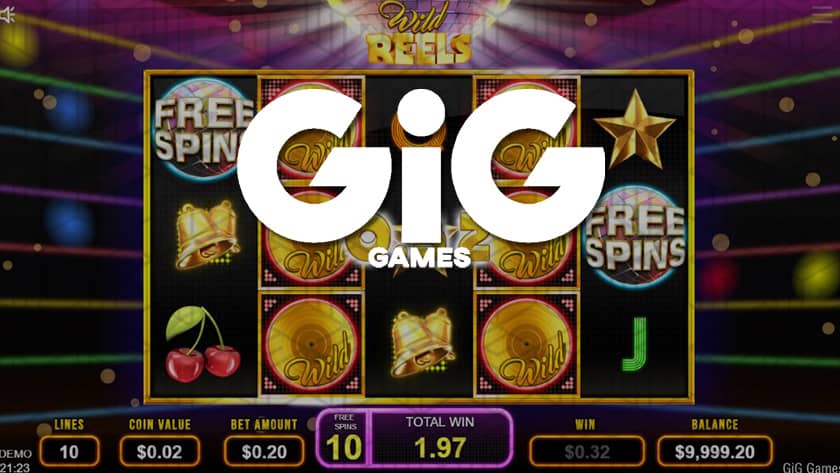 Wild Reels – First GIG Games Slot Now Live
Today we stumbled over the Wild Reels at Rizk Casino, the first ever video slot from GIG Games, the newly introduced game development branch of Gaming Innovation Group.
Wild Reels Slot
Wild Reels is a pretty standard five reel video slot with three symbol rows. The game does not introduce many new features, but after trying out the game for a while, the mechanics and general feel of the game is great!
In regards to special features, we find the usual bunch; free-spin granting scatters, and wilds.
Another nifty feature with Wild Reels is… the wild reels! Let's elaborate a bit on that: Every single spin in this game has a random reel covered with wilds!
Beyond that, the game looks OK. Nothing too exciting has been done to the graphics, but all symbols are very clear to understand with "Free Spins" or "Wild" written all over them.
GIG Games button layout and design are alright as well! Everything is where you would expect it, and with scrolling rules and paytable menus, it's easy to navigate on both Mobile and desktop.
Stay Tuned for an in-depth review as very soon!
GIG Games
Gaming innovation Group has become a pretty huge name in the online gambling world in the last few years. They are behind some of the best casino brands currently out there, like Highroller and Guts Casino.That's just the tip of the iceberg though. Wild Reels is just the beginning of another chapter in the GIG story.
We have already seen sports betting platforms, media services and other innovative solutions mainly aimed at the business side of online gambling. With the release of Wild Reels, the company is making a huge leap into the consumer market as well. Great work GIG! We're excited to see more games and cool ideas out of your already legendary portfolio.
Share with friends on
Email