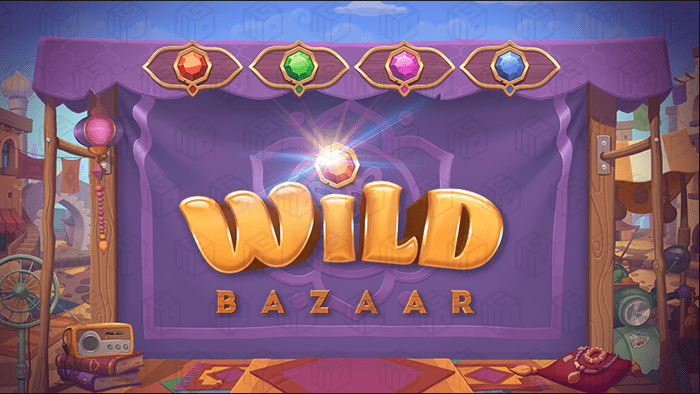 Preview of Wild Bazaar Slot: A New NetEnt Game
Wild Bazaar from Netent is a video slot taking wilds to the next level. Find a beautifully designed video slot, with a low volatility, but with almost any kind of wild, you could imagine. – The perfect game for people new to online video slots. The RTP is set at 96.15%.
Design and Symbols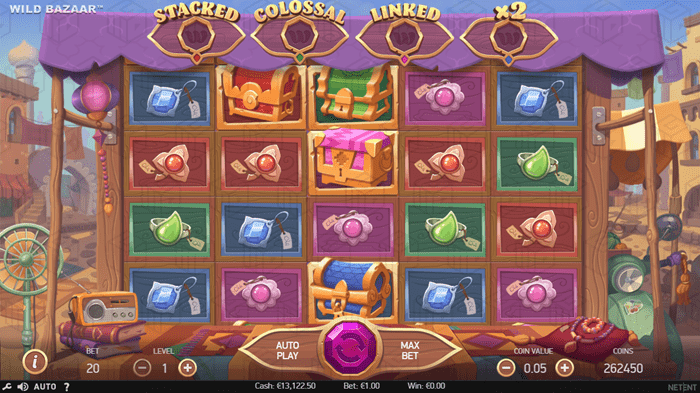 The first thing you will notice, there's not a single static element in the game when you spin the reels, everything is bouncing here and there (in a very natural way) and all symbols are beautifully designed. On top of the reels, you can see areas for the different wilds, and most an empty slot next to them, where you will start gathering re-spins whenever similar chests land on a winning line during the base game. More about that in our special features section.
Special Features
Beyond the wilds you trigger during the base game, you will also notice a nice re-spin/free spin feature. Basically, you have four different chests on the reels, all of which has a special kind of wild linked to them.
Wild Spins
The wild spins are activated when three or more chests land adjacent to each other on a winning line during the base game. These chests come in four different flavors; the linked wilds, stacked wilds, colossal wilds and 2x multiplier wilds. You can activate several of these wilds during the base game if you manage to land three or more of the same chests on multiple winning lines. – Worth to mention though, you will spin through one specific type of wild before starting on the next one. – In other words, you will not be able to see a stacked wild and a colossal wild at the same time on the reels.
Linked Wilds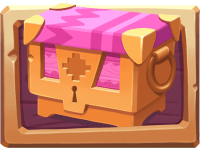 The pink chest.
When the Wild-symbols land on the leftmost and rightmost reels on the same horizontal line, they will transform all symbols between them into wilds. – Even other chests!
Colossal Wilds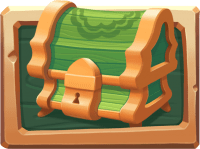 The green chest
Colossal Wilds cover 2×2 symbols raising your chances to win.
Stacked Wilds
The Red chest.
Stacked wilds come stacked 4 and 4 on the reels. If you are really lucky, you will be able to cover the whole reel with wilds!
2x Multiplier Wild

The Blue Chest
2x Multiplier wilds does exactly what the name implies. – All winnings with this wild is doubled!
Wild Spins Re-trigger
During the free spins, you can win more by simply landing chests adjacent on a winning line. – Just like in the base game.
Our thoughts on Wild Bazaar
Trying out Wild Bazaar, it quickly becomes clear that this game is aimed at an audience who's recently gotten introduced to the online casino industry, looking for a game with low volatility, easy to understand rules and graphics, and plenty of spins for the buck. – I cannot see any huge potential for big wins in this game though.
Share with friends on
Email