Twitch Leaked!
Live video streaming platform Twitch suffered an enormous hack in the early hours of Wednesday, 06.10.21, leading to a 125GB torrent of the company's data being shared by the hackers, with a promise of more to come.
The leak was exposed in a 4chan post by an anonymous user who told forum members that the torrent contained, among other things, the "entirety of twitch.tv, with commit history going back to its early beginnings". Along with the torrents, the hacker also taunted Twitch owners, Amazon, saying, "Jeff Bezos paid $970 million for this, we're giving it away FOR FREE". They also described the streaming service as a "disgusting toxic cesspool".
You can view the original 4chan post in its entirety below: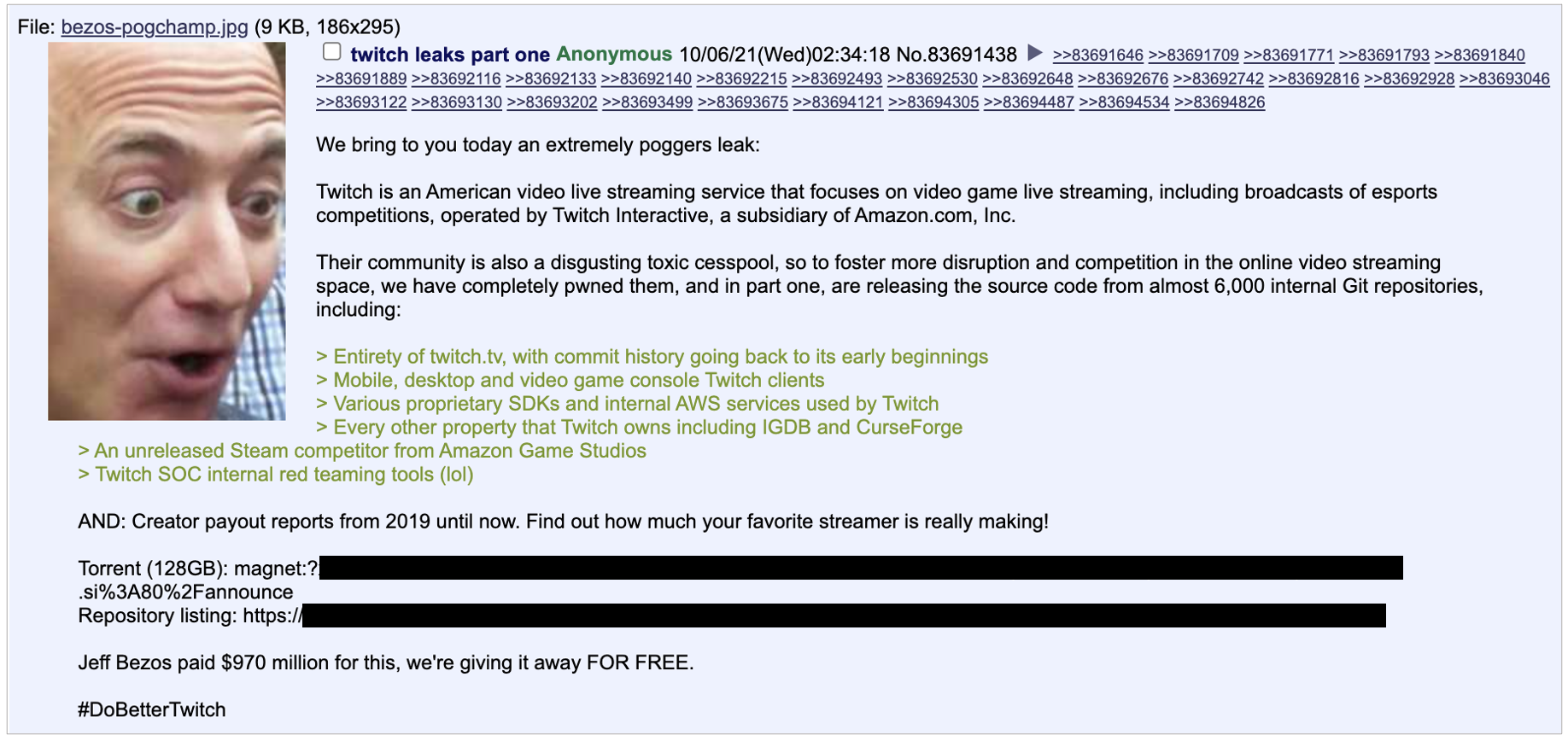 Also contained among the plethora of leaked files were details of an as-yet-unreleased Amazon-owned competitor to Steam. Codenamed 'Vapour', if successful, it would allow Twitch users to buy and keep their games library on Twitch, with all of Twitch's features.
Most of the internet chitter-chatter, however, concerned the leaked documents containing full payout reports from Twitch to its 2.4 million content creators from August 2019 to October 2021. The reports showed that Twitch has paid 81 content creators $1m or more over the past 2 years, and these amounts were shared ad infinitum across the internet throughout the day.
The data shows that the highest-paid channel is 'Critical Role', home of a web series featuring a group of professional voice actors playing Dungeons & Dragons. The popular channel has received over $9.6m from Twitch since August 2019. Other well-known streamers on the millionaire's list include Summit ($5.8m), Tfue ($5.3m), shroud ($2m) Adin Ross ($1.85m) pokimane ($1.53m), and tommyinnit ($1.51m).
People were quick to point out, however, that these figures likely pale into insignificance when compared to the amounts many of these streamers will be earning from sponsorships, donations, merchandise, youtube, etc. Moreover, despite the salacious nature of million-dollar payouts being 'leaked', it would appear that the streamers themselves were not especially concerned about the leaks. As a streamer, game writer, and industry journalist Alanah Pearce tweeted;
"The strangest thing about people being shocked to learn how much certain Twitch streamers have earned is that that information has always been publicly available. Other companies do try to keep it a secret, but Twitch never has. Sub count x 2.5 is a good place to start"
Some streamers even took time out to mock the pay leaks.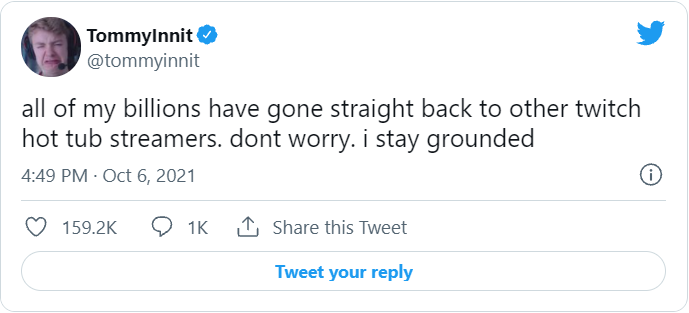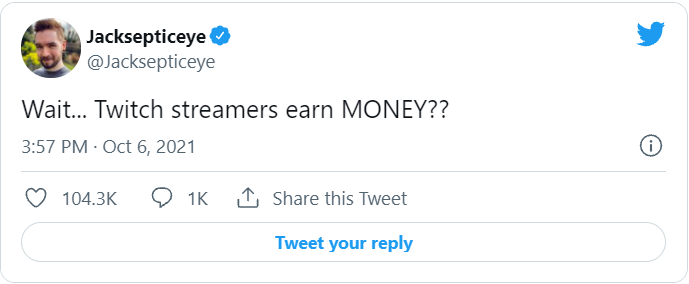 In fact, despite the enormity of the leak, there don't appear to be any major consequences for Twitch users whatsoever. Twitch responded to safety concerns by saying "At this time, we have no indication that login credentials have been exposed." It would also appear that neither addresses nor banking information has been compromised. With regards to credit card details held on file, Twitch was quick to note that, "Full credit card numbers are not stored by Twitch, so full credit card numbers were not exposed."
In a blog post late last night, Twitch blamed the leak on, "an error in a Twitch server configuration change that was subsequently accessed by a malicious third party". In the post, they also alerted users that "out of an abundance of caution, we have reset all stream keys" with a link to where the new stream keys can be found https://dashboard.twitch.tv/settings/stream.
So now it would seem that the leak, described yesterday by a BBC cyber reporter as, "the biggest leak I have ever seen - an entire company's most valuable data cleaned out in one fell swoop." will end up having surprisingly little impact, at least on the end-user. As one of the platform's most high profile content creators, Smitty, pointed out in an amusing Twitter post, it looks to have been a case of,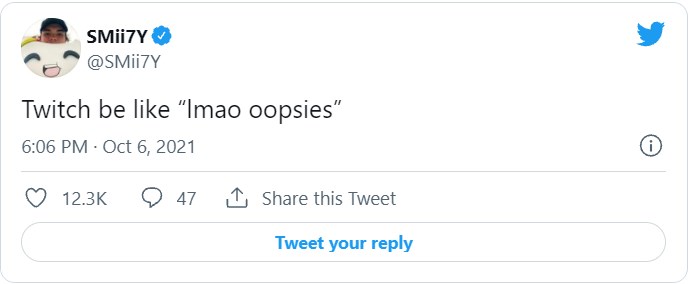 Nevertheless, we at Casinogrounds would encourage all our members who use Twitch to reset their Twitch passwords and enable 2 step authentication as its always better to be safe than sorry.