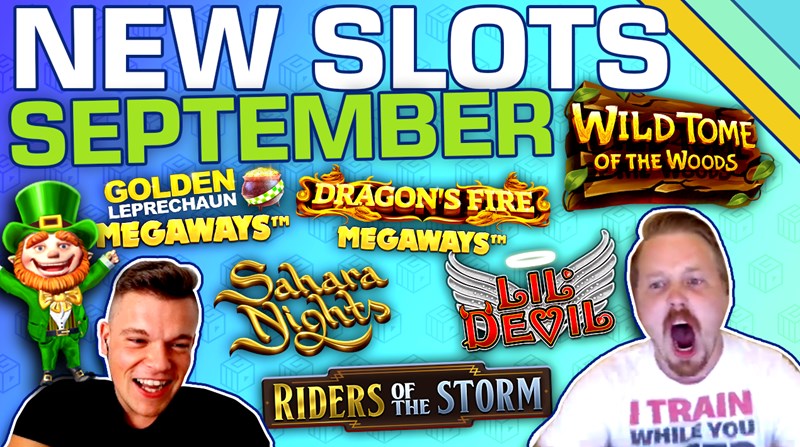 Top New Slots of September 2019
With October underway it's time to take our regular look back at the best of the previous month's new slot releases as played by our forum members and favourite streamers. There are some fab clips from some fab slots, including a win of almost 30,000x – so make sure to make some time to take a look for yourselves.
Nickslots: Riders of the Storm from Thunderkick
Playing at the higher end of his gambling range, CasinoGrounds maestro Nickslots is wagering £10 a spin on Thunderkick's awesome new Steampunk slot, Riders of the Storm. As we join the action Nick triggers free spins and picks the random option to choose his spins, wild multiplier and stacked symbol. The random pick results in 15 spins, a 3x wild multiplier, and with the highest value symbol appearing stacked. After 8 spins Nick is already happy with his lot after numerous walking 3x wild multipliers had landed, bringing in several small-medium wins. With over £1,400 already in the bank his 9th spin brings a huge win when the first reel fills with 3x wild multipliers as well as a 3x wild on the 2nd, 3rd, and 4th row. This spin forces Nick out of his chair (showing off his 'tasteful' red shorts) as he shouts, "THAT'S a bonus, THAT's a f**kin' bonus RIGHT THERE!" The spin adds over £2,600 to the bonus total. By the end of the free spins Nickslots balance had increased by £4,823, a 482x the stake win.
Gambling Bros: Sahara Nights from Yggdrasil
Yggdrasil's Aladdin themed slot, Sahara Nights, is up next, played but Norwegian streaming duo, Gambling Bros. Playing at €2 a spin the bros trigger 8 free spins with sticky expanding wilds on reels 2, 3, and 4. Early on the boys land one of the wilds on the middle reel, leading to some minor wins. On the 6th spins the other two expanding wilds land together making reels 2, 3, and 4 all fully wild. Furthermore, by landing all three expanding sticky wilds an extra two free spins are awarded. With so many wilds even a medium variance game such as Sahara Nights can pay big. The Gambling Bros are looking at a decent win as the spin wins of €166, €26, €54, and €82. Their final spin, however, is a monster as the Genie (the top paying symbol) lands in position 1 on reels 1 and 5 creating 5 top paying win lines, each paying 175x the stake and a single spin win of €2,142. Although the boys are aware this is going to be a good win as the win counter starts to spin up they clearly have no idea how much as their reaction when the final win is shown With other minor wins and their earlier winning spins, the Gambling Bros walk away from the bonus round with a total win of €2,480.80, equal to 1,240x their initial bet size.
Whitey: Lil' Devil from Big Time Gaming
Big Time Gaming released another of their high octane, high variance, slot-beasts in September, 'Lil' Devil' and it's already been making waves in the community. This clip comes from CG forum member, Whitey.
Whitey is already well into a an Angel Spins round when the clip begins with 8 spins gone and €106 in the bank – not bad considering he is playing at just €0.10 a spin.
The first spin we see completes a second fully wild reel which adds an additional 3 spins. As the wild reels are 3 and 4 both have become "Angel Wilds" with win multipliers. Also, all wilds in this round are sticky so with multipliers of 10x and 4x along with 2 wilds on reel 2 and 3 on reel 4 this means only one thing, LOTS of big wins. Not only this but the Angel Wild multipliers increase by 2x each until both have reached 12x so eventually all wins are multiplied by 144x. Even more free spins are added on the final spin as reel 4 fills with wilds. Without going into every single win there are 8, 3-figure wins, the last 4 of which are between 450x-550x. The total win ends up at €2,956.90, a staggering 29,569x Whitey's stake!
Jamjarboy: Dragon's Fire Megaways from Red Tiger
CG's Jamjarboy is up next playing one of Red Tiger's two September Megaways releases, Dragon's Fire Megaways. Playing at €2 a spin Jamjarboy activates 11 free spins with increasing win multipliers. Through the course of the spins he manages to retrigger the bonus 4 times, playing a total of 47 free spins. JJB manages to land a number of moderate wins and when he ends the session the win multiplier is up to a decent 16x. However, his big wins come courtesy of the 'Fire Blast' feature which highlights up to 3 reels, shooting down up to 4 wilds per highlighted reel. This feature is randomly activated twice during JJB's free spins. The first fires down 7 wilds across reels 1, 3, and 4 resulting in a €450 win (including the 5x win multiplier).The second only fires 5 wilds across 2 reels, but with a 12x multiplier in effect by this time the win racks up to over €482.
Jamjarboy's free spins finally come to an end with his bonus round winnings adding up to €1,152.80 for a 576x win.
TheGamblers: Golden Leprechaun Megaways from Red Tiger
Red Tiger's other September Megaways title Golden Leprechauns also gets an airing in our compilation, with YouTube slots uploaders TheGamblers providing this gem of a win.
The big win starts, as you might expect, after triggering free spins (called Lucky Spins here). Ten spins are awarded, along with a reel modifier. In this case the randomly selected modifier is 'Wild Stacks' which can appear on any Lucky Spin. When randomly triggered up to 3 reels are filled wild symbols.
Half the spins go by without troubling the scorers and with just 3 spins left TheGamblers have only racked up €4.60 in winnings. However, the last few spins bring with them three lots of Wild Stacks. While the first two only bring moderate wins, the last spin is a doozy. With the overall win multiplier up to 6x, Wild Stacks land on reels 2, 4, and 5 with multipliers of 6x, 5x, and 5x. Pints of Guinness land on the first and third reels and the combined multipliers and symbols result in a massive spin of €2,880. TheGamblers final Lucky Spins haul totals €2,913.40 for a 1,456x win.
Spintwix: Wild Tome of the Woods from Quickspin
Our final slot of the compilation stars Spintwix playing Quickspin's latest release, Wild Tome of the Woods. Spintwix is wagering €5 a spin on the enchanted forest themed slot when he hits the big time after hitting the maximum win from the Wild Tome feature. The feature is triggered any time a Wild Tome symbol (a red book) lands. The Tome then turns into a regular symbol, and all instances of this symbol on the board turn wild. In turn this can set off a chain reaction which turns other symbols into wilds. In this instance Spintwix's Tome sets of a chain reaction which results in ALL the symbols on the 6×4 board into wilds and a 1,000x win of €5,000.
Share with friends on
Email