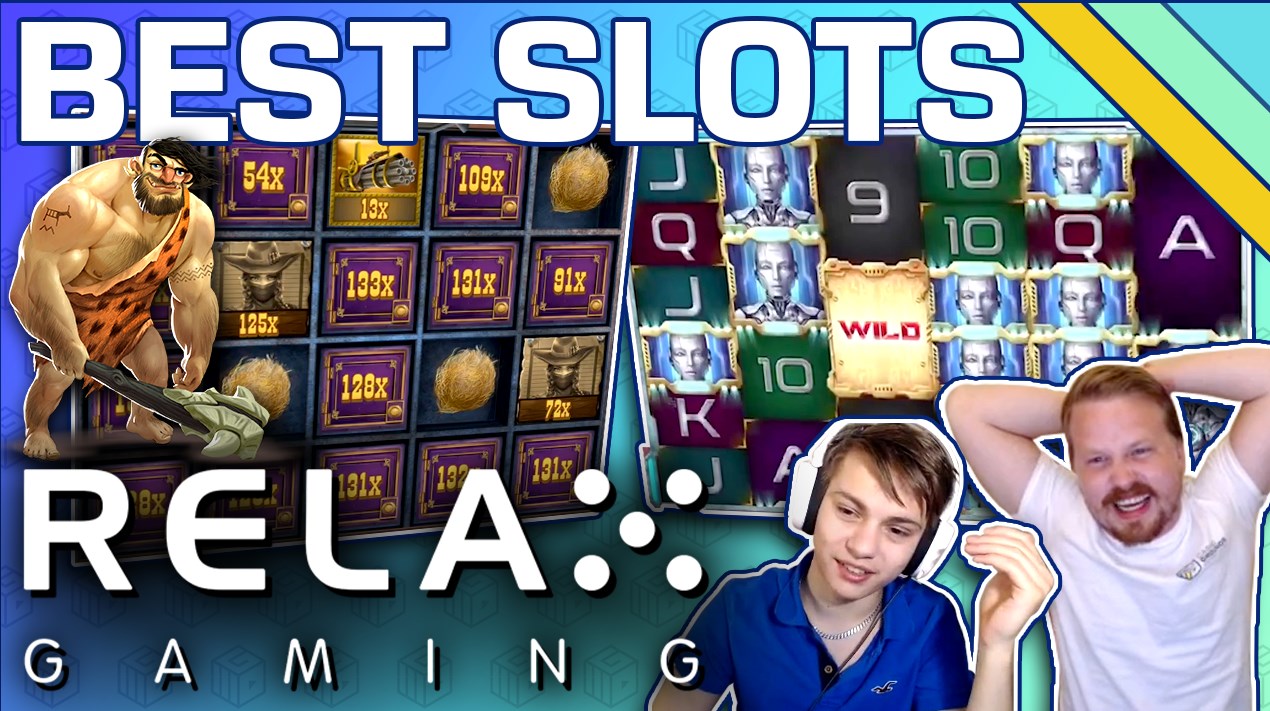 Relax Gaming was founded in a Maltese pub in 2010 by two veterans of the iGaming business, Patrik Österåker and Jani Tekoniemi. Relax have no provided iGaming solutions for the Poker, Bingo, and Casino industry for almost a decade and have grown from a two-man band to employing almost 80 staff across several European countries. In their early years, their Poker innovations for Kindred group was at the forefront of their operation. However, Relax was always mindful of the opportunity that delivering top-tier online slots presented and have, in recent years, dedicated a lot of resources to the production of world-class video slots.
Our latest compilation, starring some of our favourite streamers showcases big wins on slots from Relax Gaming's 2019 output.
1. The Bandit: Machina Megaways™ – 561x win
Popular British YouTube uploader The Bandit is first up, enjoying some lucrative spins on Relax Gaming's first every Megaways™ slot release, Machina Megaways™.
The Bandit is clearly not in the mood for a big grind as he opts to use the 'Buy Feature' button, paying 185x his regular spin bet of £1.80 for 15 free spins (total cost £333). The main objective in the free spins round is to collect as many yellow circuit board symbols as possible to fill the meter. Every time the meter fills 2 free spins are awarded and also one premium symbol transforms into the top paying cyborg symbol for the remainder of the spins.
During his free spins round, The Bandit manages to fill the meter enough times for all 4 premiums to transform to cyborgs. Not only does this lead to several decent cyborg wins but also triggers a couple of Silver and one Gold Jackpot (Jackpots are triggered by landing 10 (silver) or 12 (gold) cyborgs in a single spin. In total The Bandit wins £1,010.46, equating to 561x his bet size (or just over 3x his 'Buy a Feature' cost.
2. LetsGiveItASpin: Let's Get Ready To Rumble – 172x win
As well as releasing their first Megaways™ slot in 2019, Relax also rolled out their first branded slots with featuring the famous fight announcing Buffer brothers. Let's Get Ready To Rumble features the world renowned announcing skills of Michael Buffer in a boxing-themed game. In this clip, our very own LetsGiveItASpin gets lucky after triggering the game's best feature, 'Rumble Spins'.
During Rumble spins a selection of reel modifiers are randomly triggered, sometimes several times over, in order to improve the resultant win. In his rumble spins, LGIAS manages to increase the size of the gameboard with the 'Title Fight' modifier as well adding numerous wilds and expanding wilds across the board. In total 26 of the 40 spaces are filled with wilds, resulting in a final big spin of €858.50, worth 172x his €5 bet size.
3. Slot Professor: Ignite the Night – 375x win
A short but sweet clip here as UK streamer Slot Professor hits a nice base game win playing another of Relax's 2019 releases, Ignite the Night. Set on a tropical paradise party island, Ignite the Night certainly gets Slot Professor in the mood to party when he lands five of a kind of one of the highest paying symbols (the conga). This win would normally only return £7.50 for the £1 stake played. However, Slot Professor benefited considerably from the random 'Fire Multiplier' feature which multiplies high value wins by up to 50x. After starting at 5x, the multiplier slowly crept up to the maximum 50x, resulting in a £375 (375x) win.
4. Slotmad: Caveman Bob – 123.5x win
Next up is a win by Slotmad on May 2019 release Caveman Bob. After capturing the hog, Slotmad is awarded the 'Hand of Bob' feature in which the least valuable symbol visible on the reels is converted to a higher symbol, a process which repeats until a win bigger than the original win has been created. In this instance, all but one of the symbols on the 5×3 board is converted to the third-highest paying symbol (the Giant Rhino) which ends with a €247 win from a €2 stake – equal to 123.5x his bet size.
5. Shaw Slots: Temple Tumble™ – 773x win
Next up is Irish YouTuber Shaw Slots with a sweet free spins win on one of Relax's most successful slots, Temple Tumble Megaways™. Shaw Slots opts for the second most volatile free spins option which includes special symbols which, if landed, award either additional free spins or win multipliers. By the end of his bonus round, Shaw Slots has played 21 free spins, having landed several free spin blocks, and has built up a win multiplier of 6x. Like many Megaways™ slots, Temple Tumble benefits from a cascading symbol feature with reaction wins meaning that a single spin can result in multiple wins. That is indeed the case here as Shaw Slots lands reaction win after reaction win throughout this bonus round, culminating in a total win of €773.10 – that's 773x his original €1 stake.
6. LetsGiveItASpin: Money Train – 1,900x win
Our last clip gives LetsGivItASpin his second appearance of the compilation as he enjoys a Mega win playing August's Money Train. Playing at €5 a spin, LGIAS activates the games bonus round, the 'Money Cart Bonus Round'.
To win big in this round a player must land as many sticky purple win multiplier symbols as possible until they run out of spins or fill the board. Starting with 3 spins the spin-o-meter resets to 3 after every multiplier symbol lands. Fairly early on in the round, LGIAS lands the best of the special symbols, the "persistent collector" which also comes with a win multiplier attached. The persistent collector symbol adds its win multiplier to every purple multiplier on the board after every spin. What makes LGIAS's eventual win so memorable is that during the course of his spins he lands 2 regular "collector" symbols with multipliers of 4x and 1x. Collector symbols add their multiplier value to all symbols INCLUDING the persistent collector. Before I confuse you any further let's just say that this is a good thing and that for the final few spins, the persistent collector was adding 13x multipliers to all 15 of the multiplier symbols every single spin. The resultant win was a tasty €9,500, equal to 1,900x his stake.
Bonus Clip – HuggeHugg: King of Kings – 500x win
We finish things off with this entertaining random bonus win awarded to CG streamer HuggeHugg on Relax's very own Book of Ra clone, King of Kings. The win actually has nothing to do with the main game, it comes from the randomly activated 'Jackpot Stars' game you'll find on numerous Relax Gaming slots. Playing at just 2kr (€0.20) a game HuggeHug enters Jackpot stars which gives the player the chance to win up to 10,000x their bet size. Realistically this bonus rarely pays more than 50x the bet size and doesn't even pay that very often. Therefore it's nice to see HuggeHugg's incredulity when the red jackpot balls fill up the 1,000kr meter to give him a nice 500x win!
Share with friends on
Email