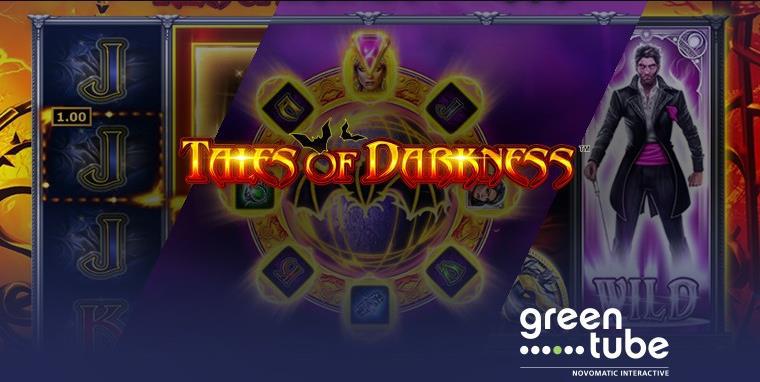 New Slot Series- Tales Of Darkness from Novomatic
Have you seen the new Novomatic games yet? We will tell you what makes the Tales of Darkness series so special that after reading this you want to see what's up!
Tales of Darkness series contains three different games: Break of Dawn, Full moon and Lunar Eclipse. These new games might look all the same, but every video slot is spiced up with totally different features. These vampire-themed games are perfect slots to play during this Halloween! Check them out for free here, or try them out for real money at LeoVegas tonight!

First, we have Tales of Darkness – Full Moon, which has stacked wilds even in the base game! There are not too many Novomatic slots with stacked wilds during the base game. That said, we find this game very weird, because getting 5 of a kind of the best symbol, pays 25x during the base game. Also, other payouts are very poor, and we really do not understand why. Novomatic slots are known of their line hits which usually pays more than other provider slots.
Special Features
The real potential you find in the ''Full moon'' Bonus feature, where you also have stacked wilds. During the feature, you get extra wilds on reels 2, 3 and 4. After every 5 spins in the bonus games, you will get more extra wilds to the same reels.
RTP of the slot is 95.08% and it wagers well, although the payouts are low. Check out our full review for more details on Tales of Darkness – Full Moon

Break of Dawn slot is a great game to wager on, but do not expect to win anything huge on this one either. The game pays you 3x win when you got five of a kind the best symbol. This is really unusual because it doesn't matter what game you are playing, 5 of a kind with the best symbol should be much, MUCH more than 3x. Break of Dawn has 50 pay lines, but after hitting the bonus game, lines are doubled to 100.
Special Features
''Break of Dawn'' bonus game will start as soon as you hit 3 moon-themed scatters. The bonus feature is almost like Jack and the Beanstalk bonus, but you have wild reels already on the first spin. To get the wild reel, you need to hit wild symbol on the third reel, which gives 2 extra spins, and a wild reel for next to spins. The lady-Wild moves to the left on the reels, and gentleman-wild moves to the right. We can see the potential if you hit the wild, spin after spin on the third reel. This means that you have multiple wild reels during the next spins in the bonus feature.
RTP of this slot is 95.00% and as other Tales of Darkness slots, this game also wagers well. Check out our full review for more details on Tales of Darkness – Break of Dawn

Lunar eclipse is the game with the most potential of the Tales of Darkness family. All the Novomatic 6-reel slots have been awesome games so far, and this is not an exception. This Vampire-Themed slot has beautiful graphics and the visual look difference is huge comparing to other, older, older Novomatic slots. This is just one of the reasons we think this game is better than the other Tales of Darkness titles.
Special Features
After hitting the 'Lunar Eclipse' Bonus game, you will get a special symbol. The symbol will expand during free games if it lands on reels 2 and/or 5. This can remind you about 'book of – 'games, but it's not even close. If you hit full reel of the special symbol during the bonus game, it will expand to cover the adjacent reels as well! In this game, free spins can be re-triggered too, which we find great.
RTP of the game is 95.01% and its really high volatile game. Check out our full review for more details on Tales of Darkness – Lunar Eclipse
Comparison
We found that Full Moon and Break of Dawn wager really well during the base game, but the payouts on these two games are very poor. Good for wagering though. Bonuses should land easily, and they should pay at least a decent amount. However, the potential for a huge win is definitely missing. If you are looking for a game to wager your bonus money, and you don't mind getting 10x-50x bonuses, you should try out Full Moon and Break of Dawn! For a Novomatic slot, visual look on Tales of Darkness games are better than we are used to!
Lunar Eclipse is the slot we recommend to you. It has the most potential and is by far the most entertaining slot of the lot. Lunar Eclipse has the highest volatility and highest win potential. We're sure this will be the most played in the series. The bonus feature is something we haven't seen before, which makes the game really exciting!
Share with friends on
Email