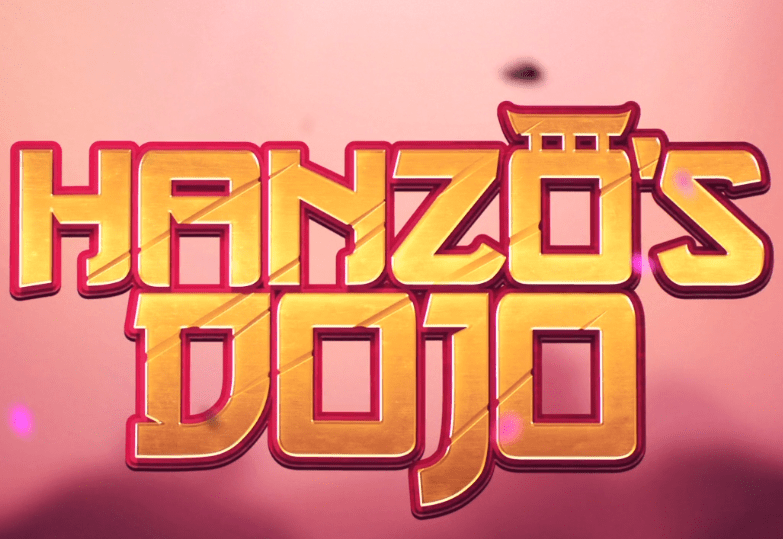 Preview of Hanzo's Dojo Slot
What's new in the world of slots? Lots, but there's one slot in particular that caught my interest, and that's Hanzo's Dojo from Yggdrasil Gaming.
So without further ado: Preview Hanzo's Dojo slot.
As always, the first impression is the one that counts the most for me. I don't have time to "play games" with slots that suffer from poor design, unoriginal themes, and boring functionalities. I want to get that feeling of wanting to check – and play – the game.
10 seconds after opening Hanzo's Dojo and I am intrigued. Albeit the Samurai theme is exhausted, Yggdrasil manages to grab my attention with their level of detail. It's the sum of it all that sends me off exploring what the game is all about.
So what is it about?
The short version: A Samurai-themed slot with 25 pay lines, 5 reels and a max win of 5.875 coins pr. spin in the base game, and even more if you trigger the Hanzo Spins (bonus free spins game with added boosters). Worth to mention is the theoretical return to player of 96.1%.
If you want a solid Samurai-themed game that's an easy choice for some fun while playing slots online, check out Hanzo's Dojo. The only thing I don't like about this game compared to other Yggdrasil titles is that it's noticeably slower. Almost sluggish-like. But hey, this might be because I am doing a demo, and not playing the game in an actual live environment.
Design and Symbols
There is a total lack of traditional slot symbols in this game. That dear reader is what I call refreshing! I love the non-character symbols, such as the cranes, wind and waves. Not to mention the Wild, and the gong-gong.
The other symbols though (the female, the warrior, the ninja, and the Sumo wrestler, that's where the designers cut some corners. They suck! Too cartoon-ish and is best compared to a bad spray paint job on amusement park rides.
Special Features

Special features are a surefire attention grabber, and I'll shoot from the hip here and take aim on what Yggdrasil calls the "Rooftop Slot". That's where your eyes will be most of the time. At the top of the roof like a sneaky little ninja looking to assassinate some Warlord-chump.
This is the function I appreciate. Not only because it's varied but also different in the sense of the game's take on what a bonus game entails.
Rooftop Slot
The Rooftop slot consists of 3 different symbols that might trigger a bonus feature during the base game.
These are:
Wild symbols
Hanzospins
Free Spins
WILD

The wild symbol is a nasty-looking crook of a samurai, and once he shows up on the rooftop slot, he'll move down to the corresponding reel below it in the base game, and expand the whole reel to form a stack wilds.
HANZOSPINS

If three old men show up with the text "HANZOSPINS" underneath them, you can look forward to 3 Hanzospins which basically are regular spins, but with a randomly selected, and locked symbols. The best part? It's a 3×3 block with the same symbol. In other words, there's a massive potential to score big once these show up.
FREE SPINS

Who doesn't just love free spins? It's expected, and this game is no exception from the "rule". The Free Spins Symbols can show up in the base game, as well as in the Rooftop slot.You'll need minimum 3 of them to trigger this bonus feature.
Each free spin symbol in the base game rewards x3 free spins.
Each symbol that lands on the rooftop awards x4 free spins, + boosters.
Yes. Boosters. Now we're talking!
About the Hanzo's Dojo boosters:
Also dubbed "Free spin-boosters", these beauties add to the excitement by rewarding you different types of boosters that help you win more. The only bad thing about them is that you can't get a 3×3 block, the "Hanzospins" during the free spins feature.
+2 booster = two extra free spins.
Win Both Ways = Any wins are now paid both ways if landing the symbols to qualify for a win.
x2 multiplier = Wins during this booster are doubled.
5th Wheel Wild = Lands an expanding wild symbol on the 5th reel, covering it entirely.
The conclusion of Hanzo's Dojo Slot Preview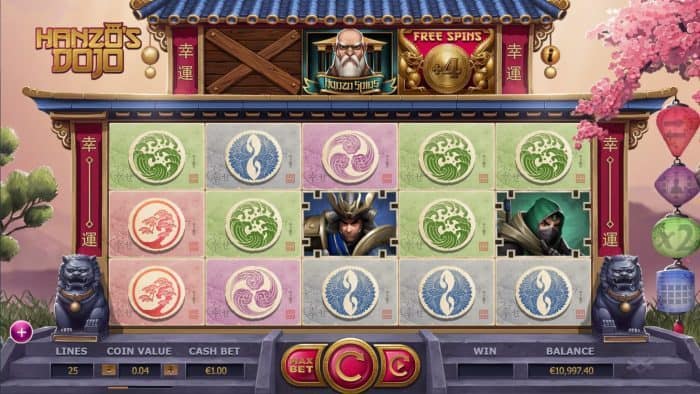 You'll either like it, or not. It's a matter of taste. What I think is good about this game is the sum of it all. Good design, sound, theme as well as bonus features that are just enough interesting to keep me chasing the free spins and other features, hoping to add to my player balance.
The game doesn't have a "WOW"-factor. It doesn't need one neither, as the purpose here isn't having people sit in awe while playing. It's a matter of having a clean and good looking game. I want to play this game, and I think others will too. Mainly because it's a Yggdrasil game, and they're a known game developer that stands for quality and a lovely user experience.
Give it a go, and let us know what you think!
Share with friends on
Email