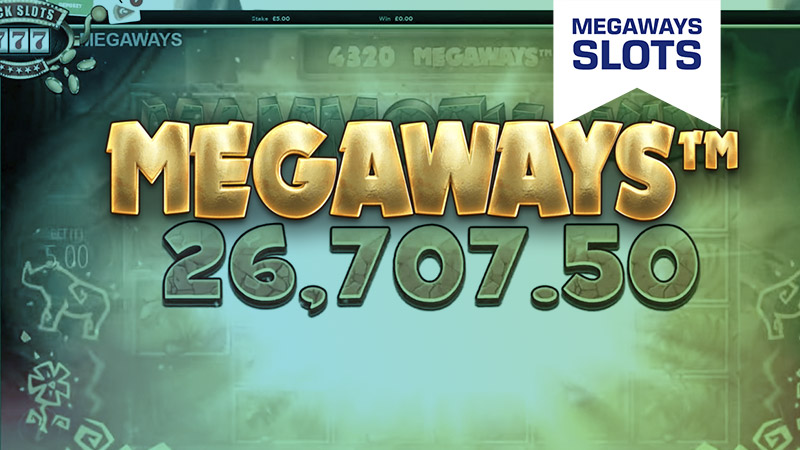 [Update] Megaways™ Slots: Bigger. Better. Faster. Stronger.
Once upon a time in the world of mobile phones, there were companies called Nokia, Motorola and Ericsson. Then came along Apple.
Once upon a time in the world of online slots, there were companies called NetEnt, and Microgaming. Then came along Big Time Gaming … with their Megaways™ slots!
The Megaways™ slots mechanic invented by Big Time Gaming has since it's inception changed the game. Nearly every casino software developer has had their time to shine, giving us great examples of innovation.
NetEnt, Yggdrasil Gaming, Microgaming and several others – to name a few – have already given us great games and new, fresh functions. Every now and then one of these pulls off an "Elon Musk", launching a great idea and putting it to the test.
Among many of the great and recent ideas, you'll find Megaways™ slots. It is a game mechanic that simply left the "old way" of online slots behind. No more "way wins" and fixed pay lines. No. How about up to 117.649 different ways of winning?
Big Time Gaming's Megaways™ is like the SpaceX of Elon Musk, giving players highly volatile games with the potential of stupendously sky-high wins.
This particular slot adds to the variety, ensuring that there's something for everyone.
What Megaways™ Slots Can You Play Today?
Big Time Gaming's not the only ones launching slots with the Megaways Mechanic; licensees also do so. Below you'll find the current titles from each game provider
Big Time Gaming slots with the Megaways Mechanic:
Blueprint Gaming slots with the Megaways Mechanic:
Irish Riches
Slots o Gold
Red Tiger slots with Megaways Mechanic
What Are Megaways™ Slots?
Megaways™ slots pay from left to right
The number of Megaways changes pr. Spin
The number of ways you can win can vary between less than 1.000 to hundreds to thousands of ways to win
Have a varied number of reels and symbols pr. Reel
Higher volatility slots
Heavy use of reel modifiers to enhance your experience and winnings
Heavy use of free spins, wilds, scatters and multipliers
Invented by Australian game provider Big Time Gaming
Licensed to other game providers such as Push Gaming, Blueprint Gaming, Red Tiger Gaming
How The Megaways™ Mechanic Works
With each spin being different in terms of how many Megaways you'll get, it can be confusing to play your first spins.
The amount of Megaways depends entirely on how many reels the slot has, and how many symbols there are pr. reel.
Example using Extra Chilli (A 117.649 Megaways slot):
7 x 7 x 7 x 7 x 7 x 7 = 117.649
We calculate the number of symbols on each reel with the next. If Reel 1 has 7 symbols, we multiply that with the number of symbols on the next reel and so forth. When breaking it down further you'll see that:
7×7 = 49 (reel 1 and 2)
49×7 = 343 (reel 2 and 3)
343×7 = 2.401 (reel 3 and 4)
2.401×7 = 16.807 (reel 4 and 5)
16.807×7 = 117.649 (reel 5 and 6)
For this example specifically, the above math would simply translate into a full screen of the same symbols (including wild symbols). Meaning, 42 of the same symbols (7 symbols x 6 reels) multiplied by 117.649 (and multiplied with your stake …)
Game Providers With a License to Launch Megaways™ slots
Megaways is trademarked, meaning that anyone else wanting in on the fun needs a license to develop new titles with this mechanic.
The following game providers have – or will have – a license to release Megaways Slots:
Blueprint Gaming
Merkur Gaming
Storm Gaming
Red Tiger Gaming
Kalamba
Fantasma
iSoftbet
Relax Gaming
Scientific Games
Share with friends on
Email