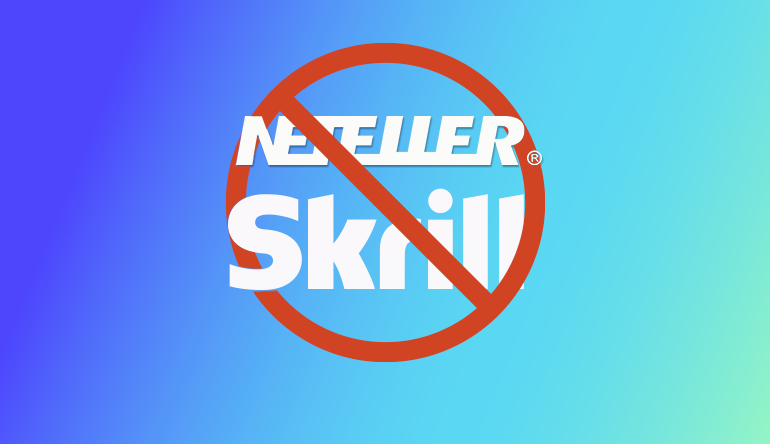 Why Some Payment Providers are Excluded from Welcome Bonuses
Neteller and Skrill are two of the most popular e-wallet payment methods available to use at online casinos. One fact that makes these e-wallets so desired is that we can deposit money into our casino accounts quickly and easily. In addition to this, Neteller and Skrill are also widely accepted world-wide as well as allowing multiple currencies, which essentially enhances our player's experience. To find out more about Neteller or Skrill, head over to CasinoGrounds Payment Methods information.
Skrill Casinos Neteller Casinos
Why can I not use Neteller or Skrill to claim a Welcome offer at many casinos?
There are two main important factors why certain online casinos do not allow us to claim Welcome Bonuses using Neteller or Skrill. The main reasons are due to Anti Money Laundering (AML), Fraudulent activity and Bonus abuse.
AML / Fraud
Using Neteller and Skrill as a payment method makes depositing a smooth and easy transaction for us players. However, for online casinos, it can cause complications and prove difficult to verify players identification and check players source of wealth (SOW).
Although Neteller and Skrill carry out ID, AML, Fraud and SOW checks themselves, for an online casino to conduct these, it will require more time and a lengthier procedure. One main reason for this is mainly down to the fact that they are not linked directly to a bank account.
As a result, it also makes it more difficult for operators to determine where our funds have come from making it easier for us players to Bonus Abuse.
Bonus Abuse
So you are probably wondering how using an e-wallet like Neteller or Skrill and encourage players to Bonus Abuse?
One main reason is that e-wallets allow you to open multiple accounts. As a result, this means we can open several syndicate player accounts at any online casino using each e-wallet account we have created. Each casino account created, comes attached with a generous Welcome Bonus for us to claim. Of course, this means players creating syndicate accounts will take the offer to play and then ditch the account. This is one form of Bonus Abuse.
Players who create syndicate accounts use e-wallets to transfer their funds between their different accounts. By sharing the funds between their different e-wallet accounts means they can Bonus Abuse and play multiple games at online casinos.
Conclusion
To wrap things up, if you're preferred payment method is Neteller or Skrill then do not stress! There are many casinos which will allow you to register an account and claim the Welcome offer using one of these e-wallets.
Neteller and Skrill do not have a say in which casinos will allow these e-wallets being used upon registration to claim the welcome offer. This decision is made solely by the operator. If you are unsure whether or not a casino allows you to use one of these e-wallets always check the bonus T&C before accepting. The T&C will usually state something similar to 'Deposits made via Skrill or Neteller are not eligible for the Welcome Bonus'. Remember, always play safe and sensibly and check those T&C!
Share with friends on
Email