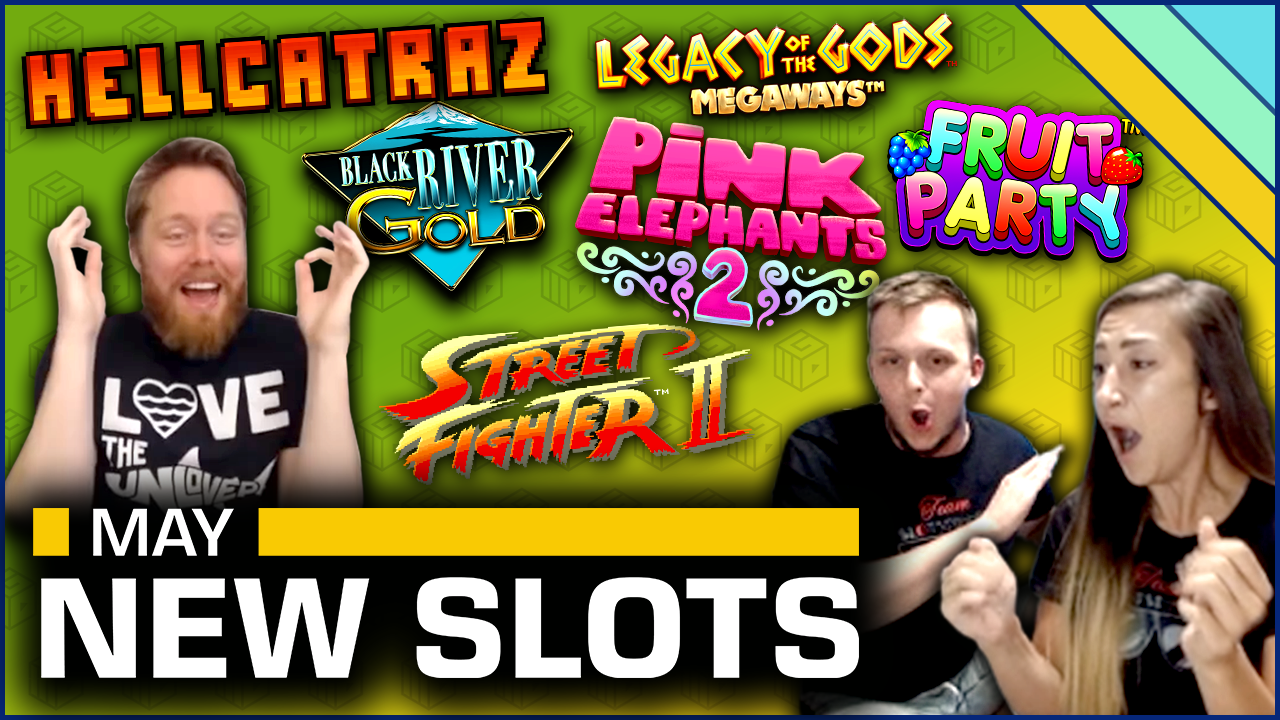 Top New Slots of May
Hans-Martin
10/06/2020
Games
Top New Slots May 2020
In this week's compilation article, we'll be taking a look back over our pick of the new slot releases from the month of May 2020. Among the big winning streamers this month are CasinoGrounds favourites, Slotspinner and Jamjarboy, as well as popular Twitch streamers Miikapekka and David Labowsky. In the mix is some classic arcade game style action from NetEnt with Street Fighter 2 and Relax Gaming with Hellcatraz. Play'n GO dust of their erstwhile adventurer hero Rich Wilde who has travelled to Greece for Shield of Athena. Blueprint offer up another solid Megaways slot in Legacy of the Gods, and we see Thunderkick's highly rated sequel, Pink Elephants 2 in action.
Slotspinner playing Street Fighter 2 World Warrior (NetEnt)
We join Slotspinner and Desity shortly before they defeat their first opponent in NetEnt's Street Fighter 2, American GI, Guile. Playing at €3 a game at CasinoWinner, the dynamic duo only picked up €3.30 from their first matchup, but it is the 'End Boss' rounds where the winnings start to go up with increasing win multipliers.
First up is the Mike Tyson lookalike 'Balrog'. Interesting aside; in Japan where the game originated, Balrog, 'a disgraced that works for M. Bison's Shadaloo Organisation', is actually called M. Bison (with the 'M' short for 'Mike). The developers changed the 'Mike' to 'M', fearing 'Mike Bison' might be a legal liability. They then rotated the names of three of the boss characters for the English localisation. The battle with Balrog is a lengthy one, with the 25 health points for each player eventually whittled down to just 1 each. Both players actually fell to zero health on the same spin. However, as Slotspinner's combo landed first he and Desity took the win. The pair racked up €193 during that battle, during which a x2 multiplier was added to each win. Next up, this time with a x3 multiplier, was Vega. In yet another extremely close battle which once again came down to each player with 1 health point, the CasinoGrounds streamers finally delivered the killer blow to the spinning, claw handed Vega, winning another €260 along the way. With a 5x multiplier, the next boss to get through was Sagat. This was yet another close match, and the wins really starte to rack up at this point, with team CasinoGrounds more than doubling their overall winnings with a €521 round. The guys finally got to play the end boss 'M. Bison', a ferocious looking Japanese General.
Although Slotspinner and Desity end up losing to M. Bison, with the x10 win multiplier in place they were able to add another €860 to their total winnings which came out at €1,836.90. This 612x win helped them to win the Street Fighter 2 tournament they were live streaming against NickSlots and LetsGiveItASpin. As I said in my pre-tournament article "_my vote is going to Slotspinner, the guy never loses – shhhhh!" _so if any of you took a punt on Slotspinner based on my expert advice, all donations will be gladly received!
VanHoof playing Fruit Party (Pragmatic Play)
Next up is a win posted by one of CasinoGrounds most prolific forum members, VanHoof, playing Pragmatic Play's May release, Fruit Party. Playing at €0.20 a spin, we join the action just as VanHoof enters the free spins round. In the free spins round, random win multipliers of 2x or 4x are randomly applied to symbols during play. When more than one multipliers land on the same spin and in the same winning combo then they are multiplied together to a maximum of 256x. Just a couple of spins in VanHoof lands a cluster of 12 oranges (the second highest paying fruit), 4 of which have 2x multipliers. This results in a €12 x 16 win of €192 – close to 1,000x. An even bigger multiplier of 128x comes from the next fruit avalanche, although unfortunately it was only for a minimum win of 5 low paying apples for €12.80. The round kind of petered out after that, although a win of €211.21 (1,056x) is nothing to be sniffed at.
Miikapekka playing Black River Gold (Elk Studios)
Popular Finnish streamer Miikapekka stars in our next clip, taken from a €1 game of Elk Studio's latest slot from their 'Gold' collection, Black River Gold. We see Miikapekka earn 15 free drops after landing 3 bonus symbols. The aim of the game is to land clusters of 5 or more matching symbols which not only gives a cash win, but each win increases the size of the win board by an extra row. Starting with a 6x4 grid with 4,096 ways to pay, Black River Gold can go up to an 8x4 grid with 252,156 ways to pay. This free drops game is almost a complete disaster, with the first win (just €0.30) not arriving until drop 9. The next win comes on drop 13, and another on drop 14. This means that by the final spin, the grid has a decent 117,649 ways to win. However, with winnings at this point of just €3.10, things are still looking pretty dire. All that changes on the final spin when Miikapekka lands a huge 4x4 Jack symbol, which subsequently turns into the Revolver feature. This feature absorbs all symbols around it and becomes wild when it is full. After absorbing symbols below and dropping down to the bottom of the grid the 4x4 Jack is joined by Jacks on every other reel for a huge single spin win of €576.80 for a total win of €58.70 (587x).
Jamjarboy playing Rich Wilde & the Field of Athena (Play'n GO)
Jamjarboy is playing for €5 a spin at Play'n GO's latest Rich Wilde adventure, Field of Athena when he triggers the free spins round. Not far into the round Jamjarboy lands 3 more scatters to add a further 10 spins to his free spins. The CasinoGrounds favourite is having a very average game until he hits that second batch of 10 free spins. Everything changes on spin 11 when he triggers the Medusa respins feature. During this feature, a respin is given with the Medusa wild (and any other winning symbols) being held in place. If more Medusa or winning symbols land, the respins continue. Also, Rich and Cat Wilde symbols landing during Medusa spins also turn into sticky wilds. With 2 Rich Wilde's and 2 Medusa symbols, this respin feature gets off to a good start. As winning symbols and Medusa wilds continue to land, Jamjarboy gets increasingly anxious. Anxiety turns to joy when the spins finally come to an end and the entire middle row of this 5x3 slot is filled with wilds, and the bottom row is filled with wilds and high paying symbols. With other winning symbols and combos, Jamjarboy manages (somehow) to take home a win of €6,572.50 from this single spin. His final free spins win of €6,837.50 is worth 1,367.5x his initial bet.
Boulder playing Legacy of the Gods Megaways (Blueprint Gaming)
Forum member Boulder makes his 3rd appearance in one of our 'New slots of the month' compilations, and this time he's playing one of Blueprint's most recent Megaways releases, Legacy of the Gods at 4KR (€0.38) a spin. After triggering free spins, Boulder chose the high variance option of 10 free spins with a 2x win multiplier which increases by 2x after each winning cascade. His first decent win of 160KR comes on spin 4 with 2 consecutive God wins. The next spin takes the win to a new level, with the first drop landing a ton of mystery symbols which convert to Queens for a win at the 8x level of 953KR. Spin 8 adds 172KR. Boulder's final win of 1,332KR equated to 333x his bet size.
Kalamwaites playing Pink Elephants 2 (Thunderkick)
Playing Thunderkick's sequel, Pink Elephants 2 at £0.20 a spin, forum member Kalamwaites scooped a big enough win to land himself a spot on this week's compilation. We join the action as Kalamwaites triggers 11 free spins. Much like the big win from VanHoof earlier in the video, this big win all boils down to one big free spin win. Throughout the free spins, each Pink Elephant which lands adds to a meter. When that meter fills, a free spin is awarded and the lowest mid-value character transforms into the next lowest value symbol. If enough Pink Elephants land through the course of the free spins, by the end all of the mid-value symbols will transform to the highest value Pink Elephants. While this doesn't happen, Kalamwaites lands enough Pink Elephants for all three of the mid-value symbols to be the same – the second highest paying goat symbol. With just 3 spins remaining, the 11 goat symbols and 3 wilds all combine across the 4,096 ways to pay 6x4 reel set for a huge £201.60 (1,008x) win. Kalamwaites final winning total of £208.58 equates to 1,043x his original bet.
David Labowsky playing Hellcatraz (Relax Gaming)
Our final win today comes courtesy of hugely popular streamer David Labowksy who is playing Relax Gaming's retro arcade game style slot, Hellcatraz for €2.50 a spin. In fact, he buys straight into the free spins by paying a huge 200x (€500) for 5 free spins, although from the looks of his balance, he had just come off a win of over €2,200. In any case, there may only be 5 spins, but David Labowsky only needs one to land a huge win. The mystery reveal symbol triggers on the first spin with a large number of mystery symbols on the board. The mystery symbols all transform into the highest paying symbol, the prison guard. These 11 new prison guards link up with the 10 prison guards already on the board which spread across every reel for a huge €5,400 win. The total free spins win ends up at €5,476.25 for a 2,191x win.
Share with friends on
Email