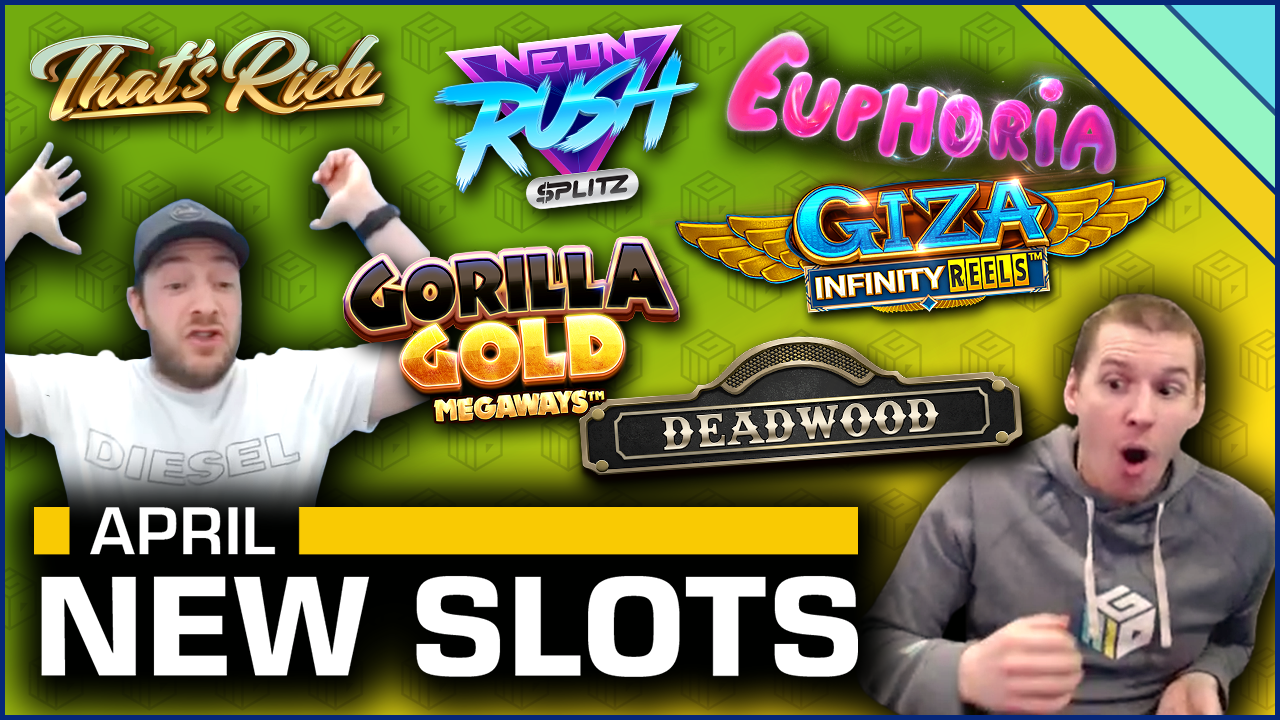 Once again, we were spoilt for choice with dozens of new slots debuting at our favourite online casinos. We've picked some of the biggest recorded wins and some of the most entertaining new slots to showcase in this weeks compilation video. There are plenty of your favourite streamers in action including a number of CasinoGrounds finest, including (amongst others) NickSlots and first up, JamJarBoy.
JamJarBoy playing Giza Infinity Reels (Reel Play)
April saw the release of Australian outfit Reel Play's second slot using their proprietary Infinity Reels mechanic, Giza Infinity Reels. In our first clip CasinoGrounds streamer JamJarBoy is at the controls playing Giza at €1 a spin at LeoVegas Casino. We join the action as JamJarBoy triggers 10 free spins. The free spins round in this game can pay big as the win multiplier increases with every new win landed and consecutive wins are plentiful. The amount the multiplier increases after each win also raises with consecutive winning spins.
JamJarBoy starts off well and quickly builds up a symbol win multiplier of 21x. However, after this promising start, all but one of his last 6 spins are dead, and the only winner is a small one. However, the CasinoGrounds favourite utilises the game's post-free spins gamble option to maximise his modest €92.60 win. Players have the option to gamble their winnings on a 50/50 wheel of fortune where winning pays 1.5x and losing pays 0.5x your free spins win. Win this and there are 4 more possible gambles up to a maximum win of 5x your free spins win. This is what JamJarBoy manages to do and he leaves the bonus round with a total win of €463 (463x).
Laurens playing Euphoria (iSoftBet)
Our next win features iSoftBet's space-gem April release, Euphoria. The name of the free spins game here is to collect win multipliers on every reel up to a maximum multiplier of 243x if you manage to land 5 adjacent symbols with the maximum 3x multiplier on each reel. We join the action, sent in my forum member Laurens, right at the end of what has clearly been a phenomenally successful free spins round played at Video Slots Casino.
Playing at just €0.30 a spin, Laurens has filled the 3x multiplier on every reel and has 2 spins left from the 13 free spins (8 regular free spins + 5 added for landing a multiplier on each reel). At this point Laurens has already earned €553.62 (1,845x). Only one of the 2 last spins is a winner but with rows of oranges paying at 243x landing, another €255.15 is added. Laurens total win for the round of €808.77 is equal to 2,696x the bet size.
NickSlots playing Deadwood (Nolimit City)
Next up is a big cash win for CasinoGrounds favourite Nickslots playing Nolimit City's latest highly volatile Wild West themed game, Deadwood. Deadwood uses a similar mechanic to Nolimit City's other popular gunslinger slot, last year's Tombstone, although this one has more symbols, more ways to win, and bigger wins up for grabs.
Playing high at £14 a spin, Nick triggers the bonus round where he has a choice of 2 free spins rounds. He chooses to take the more volatile Gunslinger Spins with sticky wilds. It's not looking good for Nick as 6 of the 9 spins go by without him landing a single win. However, he has got himself into a position for a big payday as the wilds which have landed throughout the round have increased the win multiplier to 9x. On the 7th spin, full reel wilds land on reels 2 and 4 of this 5 reel game, and they not only increase the win multiplier to 14x but also connect full paylines of Aces and multiple 4 of a kinds for the high paying pocket watches. The resulting win surprises NickSlots as it spins up and up to over £5,800. The second last spin sees a lone full reel wild land on reel 3 which ups the multiplier to 15x and also connects a full line of whiskey bottles for a win of £1,890. The final spin adds another £52 for a final haul of £7,758.10, worth 554x his bet.
gamble_gangsta playing Majestic Megaways (iSoftBet)
Majestic Megaways is iSoftBet's second appearance in this compilation, and we have another CasinoGrounds streamer, German slot player gamblegangsta playing it at LeoVegas at €0.60 a spin. Opting to forgo the bother of playing to trigger the free spins bonus naturally, gamblegangsta uses the buy-a-bonus option and pays 75x his stake (€45) to jump straight to the bonus round where he is awarded 12 free spins.
Majestic Megaways is a classic Megaways slot with 6 reels and 117,649 ways to win. During free spins, a 1x win multiplier is added for each winning combination, and it uses cascading symbols with reaction wins so that potentially many multipliers can be added from a single spin. However, it looks for all the world as though gamblegangsta's bonus round is going to end in abject failure. After 11 spins he has only had one win worth a paltry €0.18, and the win multiplier is only on 2x. His final spin, however, really delivers. It starts off looking like a token win with 3 buffalos adding just €0.30 but then reaction win after reaction win continue to fall. By the time the multiplier has reached 9x and gamblegangsta has almost got his investment back with over €41 in winnings, a 5-reel win with 16 Queens adds over €450 to the pot. Another few wins have the final multiplier up to 13x and his winnings up to €561 for a win worth 935x his stake.
Jarrtu84 playing That's Rich (Play'n GO)
Next up is popular Finnish streamer Jarrtu84 playing That's Rich by Play'n GO at Wildz Casino for €10 a spin. On what, according to Jarrtu84 is his very first spin he lands 3 stars to trigger 5 Win Spins. Win Spins are free spins which guarantee a win every time. During Win Spins any scatter which lands adds 2 more Win Spins, and every wild which lands increases the win multiplier by 1x.
Jarrtu84 ends up earning a total of 11 win spins and has the win multiplier up to 6x before his final spin. Up to this point, however, he has only won a modest €148. Another feature of Win Spins is that on occasion the final spin is capable of randomly awarding the maximum win multiplier of 20x. As you might have guessed that is what happens here, and the reels spin in 3 of the highest paying magazine symbols connected to a full reel wild. The resulting win of €3,060 boosts Jarrtu84's Win Spins haul up to €3,208 for a 321x win. Jarrtu84 ends with, "This bonus can be pretty f**king sick1" – and so it would seem…
Spajek playing Neon Rush SPLITZ (Yggdrasil)
Yggdrasil's second slot using their innovative SPLITZ mechanic, Neon Rush SPLITZ is up next, being played by UK based Polish CasinoGrounds streamer Spajek at £0.50 a spin. We join the action just as Spajek triggers 10 free spins. It only takes 2 spins for Spajek to hit a line of SPLITZ symbols which each deliver up to 5 wilds each. The resulting wild line brings in a win of £160 (320x). The remainder of the spins add another £30 or so, and the free spins total ends up at £190.25, a win of over 380x.
Fruity Slots playing Gorilla Gold Megaways (Blueprint Gaming)
We join Fruity Slots playing at Party Casino just before he triggers a bonus round on of one the four boards of Blueprint Gaming's Gorilla Gold Megaways playing at £2 a board. Not only does he trigger free spins, but he also manages to spin in 15 Super Spins. When playing Super Spins, a golden monkey symbol is added to the board. If you collect 5 golden monkeys the second board joins play, and another 5 Super Spins are added. Another 10 golden monkeys adds the third board, and 10 more unlock the fourth a final board. If that sounds confusing then trust me, watching it unfold is just as mind-boggling!
Fruity Slots continues to rack up the monkeys and the wins, and with every win his win multiplier is increasing. Having said prior to the beginning of this round that he had never before manage to unlock even the second board playing Super Spins, our hero manages to unlock all four. On the way to doing so he racks up a win multiplier of 43x which is being applied to every win on every board. By the time he comes to the end of his 30 spins the win multiplier is up to a massive 66x and he has turned his £2 per board investment into a win of £3,308.40 (1,654x).
Share with friends on
Email