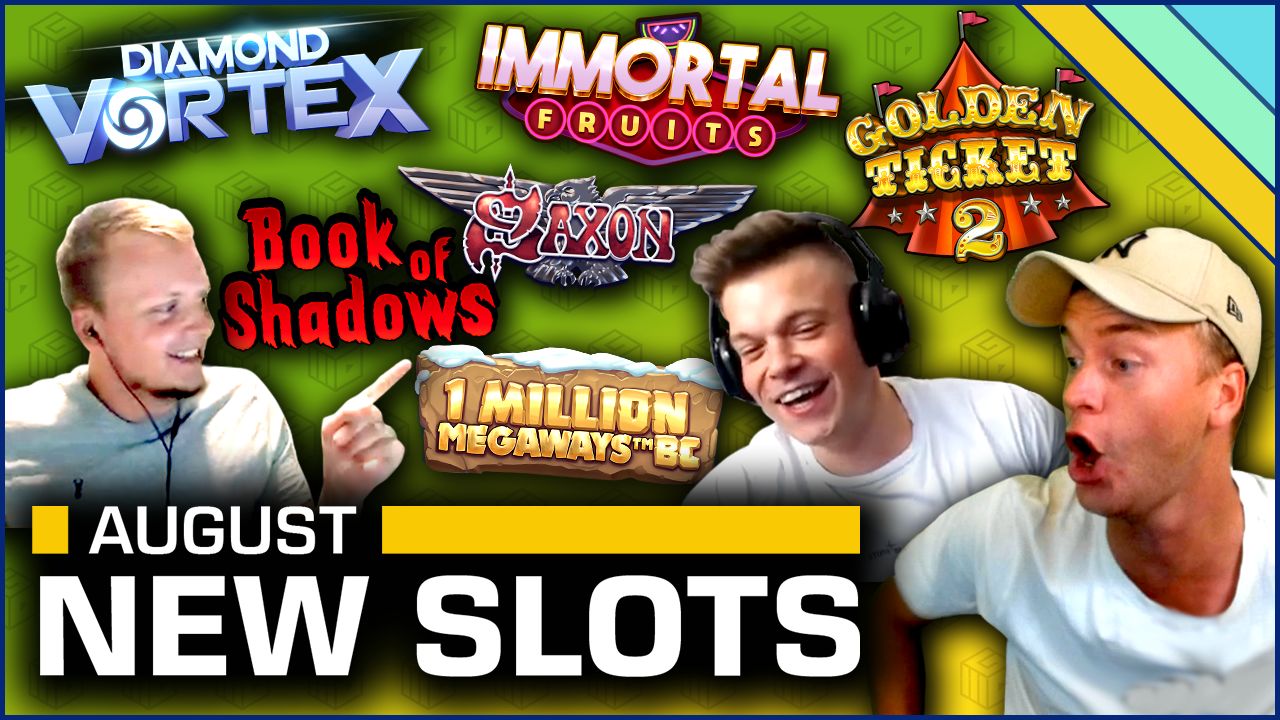 Top New Slots of August
Hans-Martin
09/09/2020
Games
Top New Slots of August
There's plenty of great action to see in this month's Top New Slots video, with new releases from Play'n GO, Iron Dog Studio, Yggradrasil, and Nolimit City. The compilation also features many of your favourite streamers, including CasinoGrounds favourites Daskelelele, Slotspinner, Jamjarboy, and LetsGiveItASpin.
Daskelelele playing 1 Million Megaways BC (Iron Dog Studio)
First up is Iron Dog Studio's latest Megaways slot, 1 Million Megaways BC. As the title suggests, this slot can produce up to (well, slightly more than) 1,000,000 ways to win and has a max win of some 45,000x.
In this clip, Phil from Daskelelele has bought straight into the bonus round at Mr Green casino, purchasing 12 free spins at the €1.60 bet level at a cost of €320. During free spins, the additional reel is added in the centre of the board making it a 7 reel slot. This extra reel also contains up to 9 symbols (thus whacking the Megaways over 1,000,000).
On his very first spin, Phil lands the full 9 symbols on the extra reel – something which not only means that the reel guarantees 9 symbols on every remaining spin, but all awards 5 extra free spins, and also means that any wilds landing on that reel remain sticky.
As with other Iron Dog Megaways games, when a reel lands the maximum number of symbols (7 for all reels except the centre) that number of symbols is guaranteed for the rest of the bonus round. Finally, starting on a 2x win multiplier, each subsequent win raises the multiplier by 1x.
The free spins potter along nicely, racking up a number of small/medium wins, as well as max-locking reels 2 and 3 on 7 symbols each. With 13 spins gone, Phil had won just over €200 and was on a win multiplier 13x. On his 14th spin, a €92 win took him close to €300, the multiplier raised to 14x, and the subsequent cascade brought in a covering of 12 high paying mammoths across all reels for a €2,161.60 win. Before he could celebrate too wildly, he was toasting yet another big win, as on the next spin, with the multiplier up to 17x, 13 high paying tiger symbols spread across the board for a €2,945.76 win.
When the spins finally came to an end, Daskelelele had banked €5,497.92 for a win worth 3,436x his bet size.
Deluxe Casino Bonus playing Saxon (Play'n GO)
Saxon is Play'n GO's latest branded rock band slot, following in the footsteps of Sabaton and Black Mamba. Played for €5 a spin in this clip by a member of the Deluxe Casino Bonus streaming team, we join the action at the start of a free spins round.
During free spins, a reel stacked with any one symbol adds a 1x win multiplier, and a stacked wild adds a 2x win multiplier, and any win multipliers earned are applied to all future wins. Despite having only won €2 halfway through the bonus round, a win multiplier of 9x was in place to take advantage of a smattering of 8 of the highest paying symbols spread across the board on spin number 6 for a €540 win.
The next couple of spins bring with them a ton of extra win multipliers as full reels of matching symbols rain down. On spin number 8, with the win multiplier pushed up to 18x, a board with 3 full rows of low paying club symbols (with a single club symbol on the other two reels), adds another €738 to the pot.
The clubs are back two spins later, and this time the win multiplier is up to 22x, and even with slightly fewer clubs, the win increased by another €1,067. The results in a final winning total of €2,347 for a 469x win.
Slotspinner playing Immortal Fruits (Nolimit City)
Spinning the reels at Wildz casino for €5 a spin, CasinoGrounds favourite, Slotspinner lands 3 scatters to enter the Bonus Wheel feature playing Nolimit City's retro fruity Immortal Fruits.
As a quick explanation of the feature, the wheel spins, landing on either win multipliers, a level jackpot, or an 'Up' symbol which progresses you to the next level. Land twice on the same win multiplier and the game is over.
Slotspinner immediately hits an 'Up' to move to level two, whereupon he lands on a number of win multipliers, pushing his win up to 63x before he lands on the level 2 jackpot of 250x. The bonus wheel round also ends if one of the level jackpots is hit, so he exits after a short but sweet 313x win worth £1,565.
Miikapekka playing Blinged (Play'n GO)
Next up is popular Finnish streamer, Miikapekka, playing Play'n GO's Blinged at €1 a spin. Again, we join proceedings at the start of a bonus round of 5 win spins. During free spins, any diamond scatter adds another winning spin, and any non-winning spin spins again until a win drops. Furthermore, any non-winning spin or subsequent respin adds 1x to the win multiplier for all future wins.
During the bonus round, Miikapekka is quite fortunate in that he lands a few scatters during non-winning spins, meaning not only does he get the respin, but he is also awarded more win spins. Eventually, the 5 initial win spins turn into 9 and the win multiplier ends up at 7. Eight of the win spins result in small or medium wins of between €0.30 and €22.50. The very last spin, however, brings in a full payline of the second highest paying symbol which pays 50x. With the 7x win multiplier this results in a €350 win. In total, Miikapekka's free spins netted him €350 for a €415 (415x) win.
SuperSmask playing Medusa: Fortune & Glory (Yggdrasil)
Playing Yggdrasil's Medusa: Fortune & Glory at €1 a spin, SuperSmask triggers the free spins, opting for the 'Glory Feature' (up to 20 free spins with up to 3 extra wilds). After the picking round, he ends up with 15 free spins and with Q and J as extra wilds.
Q and J are about as good as it gets as extra wilds as there are so many on the reels. This results in a win on almost every spin, with many of those wins including multiple full paylines across the 6x4 board. One win sticks out, with a green dragon win of €168 landing with 3 spins to go, although this is more a case of lots of medium and small wins all adding up. In total SuperSmask earned €385 for a 385x win.
Jamjarboy playing Diamond Vortex (Play'n GO)
CasinoGrounds streamer Jamjarboy makes an appearance next, spinning the reels on Play'n GO's highly volatile Diamon Vortex for €5 a spin.
Jamjarboy's big win comes from activating the game's Transform feature with a 5x win multiplier. It would take all day to explain all the many intricacies of this multi-layered hexagonal, cascading, rotating, zoned game, so for reference check out our slot review here!
For the sake of ease let's just say that certain conditions have been met so that every symbol in every zone changes to the same symbol, which along with the 5x win multiplier sticky at the centre of the hexagonal board leads to a €1,250 win. In total, Jamjarboy's run of wins netted him €1,290 for a 258x win.
LetsGiveItASpin playing Golden Ticket 2 (Play'n GO)
Playing at €10 a spin, CasinoGrounds Overlord, LetsGiveItASpin finds himself a tidy win on Play'n GO's recent slot sequel, Golden Ticket 2.
In this game, winning combos disappear from the screen and spaces are filled with any symbols which might be above them. Unlike many cascade games, there are no new symbols cascading to fill empty spaces, so it is possible to clear the screen of all symbols if you end up with a hot-run of reaction wins. That is exactly what happens here, and in Golden Ticket 2, clearing the board awards a 500x bonus win. Not only that, but along the LGIAS triggers the free spins round (which is activated once the word BONUS has been revealed from behind a row of symbols once the symbols have been removed from the board). LGIAS adds a few hundred more euros from the free spins round, ending it with a total win of €5,526.50 for a 553x win.
Janalleman playing Book of Shadows (Nolimit City)
Our final slot from August's releases is Nolimit City's take on a Book of Ra clone, Book of Shadows, played here for €0.10 a spin by forum member Janalleman.
Although Book of Shadows takes an interesting departure from the standard Book slot, one element which remains the same is that during free spins one symbol is randomly chosen as an expanding symbol which will expand to cover the entire reel in the event of a winning combo. The magic happens here halfway through a free spins round when the randomly chosen symbol (the high paying Wiccan Witch) lands on every reel, thus expanding to cover the entire board. This single spin earns Janalleman €1,000 (10,000x). By the end of the free spins round Janalleman's total win came to €1,027.19, a huge 10,272x the original bet.
Share with friends on
Email