Category: Games
New Online Slots & Casino Games Announcements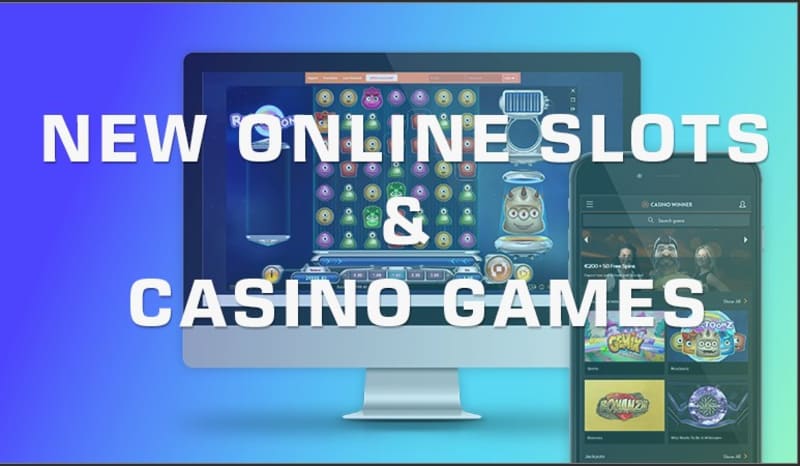 Looking for new online slots? We at CasinoGrounds know which game provider is going to release what game, when. This is where you'll hear about it first (most of the time).
It doesn't matter if you're new to gambling or you've been gambling for years, I'm pretty sure everyone is familiar with the old traditional classic slots. When I say old school classic slots, I'm referring to the fruit machines you most commonly find in your local pub.
Slot games come in all shapes and styles, whether it is a classic slot, video slot, or progressive slot game. You can also find slots with a range of reels, paylines and features.
For the vast majority of new gamblers, the first games you will test and try out will most likely be slots. That is because they are the most accessible games to play which require minimal (if no) skills.
So what makes slots so great? Well, with the gaming industry proliferating, providers are continuing to innovate new game ideas to keep us players happy and entertained. Frequently offered as free sign up bonuses, most slots if not all new casino slot games offer free play. This means you can try them out without even depositing real money!
Deciding which slot or new casino game to play may feel daunting even for the most elite players. But that is where slots are a fantastic game choice. Different gaming providers specialise in designing unique themed games which means if you know nothing about slots, you can find one which matches your interest. For example; There are slots based on fairytale stories, movies, animations, and even TV programs such as La Casa De Papel (Money Heist) by Skywind Group.
New Slot Machines Being Released on Online Casinos Monthly
Game providers are continuously creating and releasing new online slots and games to casinos, so let's take a look at why.
Firstly, why are game providers releasing so many new games?
There are multiple reasons. For starters, new games are given prominent real estate on a casino first page. So a steady flow of new releases is guaranteeing visibility on the first page for the provider.
Another reason is that the games that are released are targeted towards specific demographics or markets. So if a provider releases four games in one month one is targeted towards millennials, one is targeted towards the Scandi markets, one is targeted towards females, and one is the main release which isn't targeted towards a specific demographic.
Secondly, which game providers are most active at releasing new games?
The frequency of new games being released (mainly slots) is currently around 2-3 games a month. However, in 2020 that is looking to be increased to 3-4 games a month, so keep an eye out for any new free slot machines.
Next, let take at who the most active game providers are. Can you guess?
The biggest suppliers who are the most productive and active in terms of releasing new content, include NetEnt, Play'n GO, Red Tiger and Blueprint. Did you guess right?
Lastly, let's see which casinos add the newest games to their casino.
To start this is not an easy question to answer. The amount of games added to a casino mainly comes down to which game providers support the casinos. Which means if a casino is small with limited games offered by a handful of providers, then the chances are they will not have as many new games added to the casino like a well-established casino like Leovegas.
Secondly, it also determines what the casino's desires are. Some casinos may pick quantity or quality, whereas other casinos will choose quality games over number.
As an example, let's take a look at LeoVegas. Leovegas looks at quality games over quantity, which is why they have a great selection of games. That is why Leovegas strives to only supply games they believe are good and will fit with our, player's needs.
On the other hand, if we look at the facts overall in the industry, Videoslots are the ones releasing the most games. This does not mean they do not care about quality, however, they do have the most significant quantity. Videoslots are closing up on 4000 games live on their site.
A surge in Seasonal-themed Games During Holidays
If we aren't bombarded enough by all the seasonal holiday commercial tack, you will be thrilled to know that even the gaming providers like to fill our casinos with seasonal holiday games. For those of you who love Halloween or Christmas, you will be delighted to know there are some fun and unique slots out there waiting to be played.
If you are more of a Halloween fan or prefer a more frightening slot to play, why not check out our Top Halloween Slots. Here you will find great games available 24 hours a day from top providers, including Pumpkin Smash by Yggdrasil.
If Christmas is the season for you, then listen up! By going to our Top Xmas slots page, you will find a list of all the best (and not so great) Christmas slots. These casino games are available all year round for you to enjoy so even if its summer, Santa is just a click away! Fat Santa by Pushgaming is one slot you should try out if you haven't already.
A Constant Flow of New Casino Games Force Innovation
With a constant flow of new innovated games, let's see what the gaming providers have come up with to WOW us players.
Big Time Gaming's Megaways-mechanic
BTG believe that Megaways™ is the true evolution of slot machines. Megaways slots are games where the reels can shift in shape on any spin, changing the number of rows per reel, and expanding your ways to win. The enables you the chance to win up to 117,649 with winning combos.
Some of the most popular and Megaways slots include Bonanza, Medusa and Primal.
In-game tournaments by Quickspin
In-game tournaments are mini-game displayed on top of each Quickspin slot game, with the extra level of gameplay fuelled by the outcome of spins from the slot game below.
The aim is to guide an in-play character through a maze to a final prize, allowing participants to unlock prizes and rewards as the path through the maze is generated. To try out one of these fun slots by Quickspin consider playing Goldilocks or Dwarfs Gone Wild.
NetEnt Max-series
NetEnt is expanding its slot offering with the launch of the MAX product line. These slots are a highly volatile version of the original slot game. The aim is to cater for all players needs. NetEnt's first MAX double release, BerryBurst and BerryBurst MAX on August 23rd.
Wrapping up
To wrap things up slots are pretty fantastic creations. If you have never tried them, I suggest you give them a go if you tried them and hated them, then why not give a different one a test. With so many different variations and styles of slot games to play including many new free slot machines, you can participate in the fun without even making a deposit!
If your a slot enthusiast and can't get enough of slots then make sure to stay tuned and bookmark our New slots page so you can be the first to experience any new slots hitting the casinos!