The monstrosity that is the Triton Million event, started off with a bang on 1st August 2019 at 1:30 PM London time. Day 2 has now concluded and Day 3 will end with crowning the Triton Million Champion. The event started out slow, with the pros and the businessmen getting a feel for each other. Day 1 ended with a few twists and turns, but some massive bluffs and hero calls which we will look into below. Day 2 has concluded with the Final Table, who will go into Day 3 to play for the Championship. Day 2, was a rollercoaster indeed. The viewers did have some very good surprises but overall, the event seems to be a massive success. So what happened in Day 1 and 2? If you were one of the few people who didn't have the time to watch the event live, or were just not that interested, we have a great in-depth summary lined up for you poker fanatics out there, and the occasional "need to know" players too.
Day 1
Ten levels of 60 mins each were played on Thursday. At the end of Day 1, 18 players had been felted and the field going into Day 2 of 36, was led by none other than Hedge Fund Manager and High Stakes Regular, Bill Perkins. Rick Salomon was the first to bust followed closely by, a massive surprise to fans across the globe, Tom Dwan. Some other prominent players that busted Day 1 were David Peters, Fedor Holz, Triton Co-Founder Paul Phua, Sam Trickett, Richard Yong and Michael Soyza.
Let's talk about the hand that busted Tom Dwan. Dwan opens at UTG+1 with AJ of spades which was called by Kuznetsov with AQ off in the BB. Flop comes 6Q3 2 spades. After Dwan's check on the flop, Kuznetsov bets and gets check-raised by Dwan, who had the nut flush draw vs Kuznetsov's top pair top kicker. In response to Dwan's check-raise, Kuznetsov shoves and Dwan snap calls with 1.5x pot behind. Turn 3 and River 10, sees Dwan bust 53rd. One of the craziest bluffs in this tournament so far, let's go into another hand between Trickett, Kenney, and Chidwick. The Community cards are: 743 of clubs, j and 7 of spades. Trickett with AJ, decides to bet small to extract value with his top pair top kicker. Kenney in the BB position, holding 86 off raises it up to almost 7x with nothing. Chidwick, who was slow playing his Flopped J high flush, decides to flat. Trickett thinks for 5 seconds and decides to semi-bluff by shoving it in there. Chidwick decides to fold the hand and Trickett ropes that one in with an insane bluff on the river. A great surprise for viewers, was Tom Dwan joining the Commentators Desk to discuss his bust out and answer some of the viewer's questions. Day 1 ended with 18 eliminations.
Day 2
The end of day 2, saw about 70% of the relatively tougher players eliminated in cold blood. The first bust of the day was Timofey Kuznetsov followed by the only female player in this tournament, businesswoman and recreational player, Sosia Jiang. Some other well-known names that left the tournament were Andrew Robl, Jason Koon, Rob Yung, Tan Xuan, Sam Greenwood, Tony G, Cary Katz, Mikita Badziakouski and Justin Bonomo. The player that is one to look at surprisingly has been high stakes cash game regular, Vivek Rajkumar from India.
The dinner break sees Vivek lead the pack with 8,720,000 in chips equivalent to about 110 big blinds. Let's talk about a semi-bluff gone wrong. Justin Bonomo raises from the hijack with 78 of hearts and Alfred calls on the button with pocket tens. Mikita Badziakouski sees an opportunity and moves all-in for 2,035,000 with Q10 of diamonds from the small blind. Bonomo folded but Alfred, calls. Pocket tens were good and with that, we said goodbye to Mikita. Another noticeable hand went through between Justin Bonomo and Igor Kurganov. With some blind on blind collision, we saw Bonomo all in with pocket 8s vs Igor's AQ off. Igor hits an Ace on the flop, sending Bonomo home in 17th place. Just after dinner, Adams moves all-in with Pocket 6s in the small blind vs Putra, who had raised with Pocket Tens on the Button. The turn sees the only remaining 6 of diamonds in the deck! Adams Trip 6s gets through and he doubles up through Putra for 3.8million.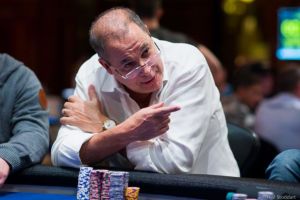 The player that stole the stage on Day 2, was Alfred DeCarolis. With some insane bluffs and getting very very lucky, Alfred seemed to be the most active player in Day 2. Tom Dwan decides to join the Casters again on Day 2 but this time accompanied by Paul Phua. All the viewers were surprised and very happy to hear their pro's voices and them responding to some of the viewers. Day 2 saw the likes of Putra (15), Petrangelo(14), Vogelsang (13) and Igor Kurganov, who bubbled the Million Pounds Tournament. Winfred You placed 11th for 1,100,000 Pounds, Chin We Lim in 10th for 1,100,000 Pounds and Chan Wai Long in 9th for 1,200,000. Day 3, will end with crowning the champion. Your Final Table Champs are :
Vivek Rajkumar with 18,000,000 Chips (150BBs)
Stephen Chidwick with 9,790,000 Chips (82BBs)
Timothy Adams with 5,735,000 Chips (48BBs)
Bryn Kenney with 5,540,000 Chips (46BBs)
Alfred Decaloris with 5,455,000 Chips (45BBs)
Aaron Zang with 5,060,000 Chips (42BBs)
Dan Smith with 2,350,000 Chips (20BBs)
Bill Perkins with 2,000,000 Chips (17BBs)
The remaining payouts are :
£19,000,000 for 1st.
£11,670,000 for 2nd.
£7,200,000 for 3rd.
£4,410,000 for 4th.
£3,000,000 for 5th.
£2,200,000 for 6th.
£1,720,000 for 7th.
£1,400,000 for 8th.