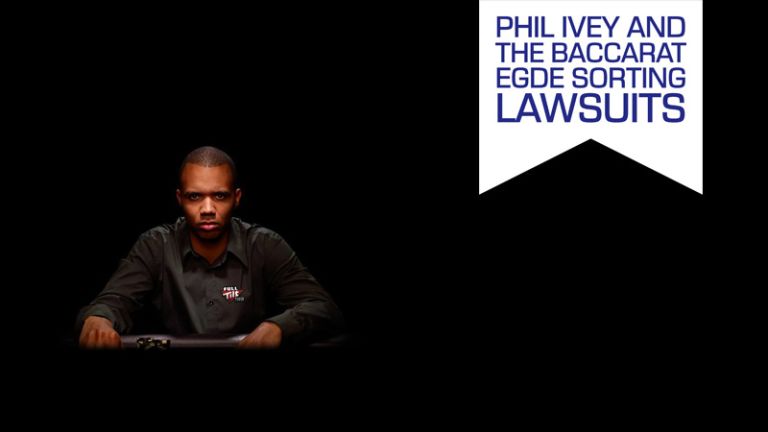 Phil Ivey, Baccarat & the Infamous $20m Lawsuits
In recent years the popularity of the centuries-old casino card game, Baccarat and its variants (Punto Banco, Chemin de fer, Mini-Baccarat, Midi Baccarat, Baccarat Banque) has risen exponentially, both live and online.
30 years ago Baccarat tables occupied less than 2.5% of table space on the Las Vegas Strip, the lowest of any other casino game – by 2017 that figure had risen by over 500%. Perhaps even more surprising is that the revenue brought in from Baccarat in Las Vegas exceeds that of any other table game, and by quite some margin. In Macau, the world's biggest gambling Mecca, the figures are even more staggering wherein 2018 Baccarat accounted for 89% of the region's $37.5bn casino revenue.
Despite its huge popularity within the gambling fraternity Baccarat still remains a relative mystery to the general public, at least compared with the likes of Roulette, Blackjack, or Craps.
However, there has been one very high profile news story involving Baccarat, a story which is still making headlines a full seven years after the initial incident(s) took place. The story in question concerns world-famous Poker player Phil Ivey, two world-renowned casinos, and over $20,000,000 in high profile court cases.
The CrockFords vs Ivey Case
The first court case was brought by Ivey against Crockfords of London after they refused to pay him £7.7m after accusing the Poker Hall of Famer of cheating. Ivey had amassed this considerable fortune playing Baccarat variant Punto Banco over two days in August 2012.
Ivey had deposited £1m with the casino and requested a private table where he bet up to £150,000 per hand. Over the next two days, Ivey won millions alongside his female 'accomplice', professional gambler Cheung Yin Sun.
When he went to cash out, Ivey was told the winnings were being withheld due to his suspicious play, and he was only returned his £1m initial deposit.
Surveillance had shown that Ivey had more than likely used a technique known as 'edge-sorting' to stack the deck in his favour. In simple terms, Ivey and Sun were able to identify cards which had been manufactured with very, very minor imperfections on the patterns on the backs of the cards. The specific imperfection identified by Ivey and Sun results in one edge of the card bearing a minutely smaller pattern print than the other side – imperfections only visible to the keenest eyeballs. If you can spot them, however, it is possible to manipulate the deck so that you can tell a card's value before it is dealt.
After identifying such a deck of cards Ivey requested they be used, then politely asked the dealer to turn all the 7's, 8's, and 9's (the most valuable cards in baccarat/punto banco) 180 degrees so that they could be identified easily when they came out of the shoe.
It is estimated that edge sorting can give the player an edge of around 6% as opposed to the usual house advantage of just over 1%.
When the case came to court in London in 2014, the ruling went against Ivey who immediately sought a ruling from the Court of Appeals. When this failed the poker star was able to get the case taken to the country's Supreme Court. Yet again Ivey ended up on the wrong side of the court's ruling.
Then Borgata Happened
After the Crockfords story broke the Borgata in Atlantic City were quick to jump on the bandwagon. They sued Ivey for $10.1m; $9.6m Ivey and Sun won at Baccarat between April and October 2012 plus an additional $500,000 he won at the craps tables with his Baccarat winnings. Once again the decision went against Ivey who was ordered to pay back the money he had won from the casino.
While the courts eventually ruled against Ivey, he was not without considerable support. The majority of the gambling community sided with Ivey, as did many legal commentators and indeed some of the judges who ruled on the case – and you can see why.
The simple fact is that Ivey didn't bring in a rigged deck and he didn't mark or damage any cards – in fact at no point did he even touch the cards being used. The casino provided the cards, the private room and the dealer. They were more than happy to comply to Ivey's requests to turn the cards and to keep the same deck, and also to allow Ivey to play multiple sessions over two days where he could have easily lost millions, despite playing with an edge.
World renowned poker player Daniel "KidPoker" Negreanu made his thoughts on the court verdicts perfectly clear when he told PokerListings.com;
"I think it's ludicrous, I think it's absurd, completely unfair, and absolutely wrong.
Casinos, by nature, are designed to take advantage of people by manipulating and deceiving them into thinking they can win. A player gets the best of them, in the sense that he finds flaws in what they're offering, and they should go, 'Oops, we screwed up.' They should pay it like honourable people and then move on and address their issues."
Even the Judge who ruled against Ivey in the first court case in London said that "Mr Ivey was truthful when he said that he did not consider what he did to be cheating." However, despite lengthy debate as to what actually constitutes cheating, ultimately the casinos in both cases won out.
The final ruling from the UK's Supreme Court was based on the conclusion that;
_ "If he had surreptitiously gained access to the shoe and rearranged the cards physically himself, no one would begin to doubt that he was cheating. He accomplished exactly the same result through the unwitting but directed actions of the croupier, tricking her into thinking that what she did was irrelevant. That, in a game which depends on random delivery of unknown cards, is inevitably cheating. That it was clever and skilful and must have involved remarkably sharp eyes, cannot alter the truth."_
Clearly unhappy with the verdict, Ivey said in a statement;
"I am obviously disappointed with this judge's decision. As I said in court, it is not my nature to cheat and I would never do anything to risk my reputation
"I am pleased that the judge acknowledged in court that I was a truthful witness.
"I believe that what we did was a legitimate strategy and we did nothing more than exploit Crockfords' failures to take proper steps to protect themselves against a player of my ability."
Following the disappointment in London Ivey had more bad news to swallow. In late 2017 after several years of legal manoeuvring, a Federal court in New Jersey ruled that the 10-time WSOP bracelet winner must pay back the $10m he won from the Borgata some 5 years previously.
However, just last month it was revealed that to date Ivey has yet to pay back a single penny. When the court gave permission for Borgata to collect their cash from Ivey's estate in New Jersey all they found was an empty bank account in his name. It has been alleged that Ivey made sure to clear out his New Jersey assets to an offshore bank before the Borgata could get to them.
The hunt for Ivey's cash has now moved across state borders after a Federal Judge ruled at the end of January this year that the Borgata can now legally come after Ivey's Nevada assets. Ivey's net worth is unknown but it is widely rumoured to be in excess of $100m, and it is likely that at least some of that wealth will be found in Nevada.
It seems that this on-going saga will continue to trundle on for some time to come. Over the past few years, the story has made and continues to make headline news around the world. It has even been the subject on an episode of the CBS' produced show, "60 Minutes".
All the while Phil Ivey continues to earn millions of dollars a year plying his "day job" as super high stakes poker player overseas playing alongside the world's biggest high rollers in Macau and Singapore. And despite his legal troubles, Ivey can still be found playing Baccarat and betting eye-watering amounts of money when he's not cleaning up the poker tables.