What's new? Oh, well … How about the fact that Diamond Casino & Resort opened their doors to the public on July 23rd, 2019?
Located in Los Santos in Southern San Andreas, the opening of the virtual casino in GTA Online happens nearly 6 years after the game hit the market.
Did you know? … The Casino has been in the game since the launch. Yup, that's right. Located in the same location as before, with an "opening soon"-sign plastered on the building. Rockstar is notorious when it comes to taking their sweet a** time, and this time around players saw 5+ years worth of waiting around come to an end on June 20th, 2019 – as Rockstar announced the coming Casino-update to their renowned game.
If you like gambling, and you like GTA Online, you'll absolutely love the Diamond Casino & Resort where you can gamble on roulette, blackjack, 3-card poker and slot machines. Inside track horse race betting and lucky wheels are also available.
The opening of the casino sees new missions and content added to the game, as well as penthouses and of course; a Casino VIP Program dubbed the "Diamond Program".
#RIP! … Twitter and Reddit Go Bonkers: Everyone Ripping their Bananas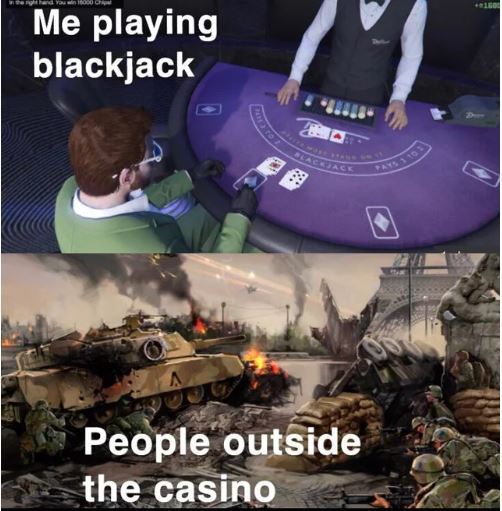 For those not familiar with the CasinoGrounds / Casino Streamer-jargon:
RIP/Ripping = busting your bankroll.
Bananas = Money.
One week after the madness ensued in Los Santos, there's been a surge in Tweets from players losing their bankroll at the Diamond Casino & Resort. Reddit is partaking in the "celebration" as well. Check out the Reddit chock full of hilarious memes here.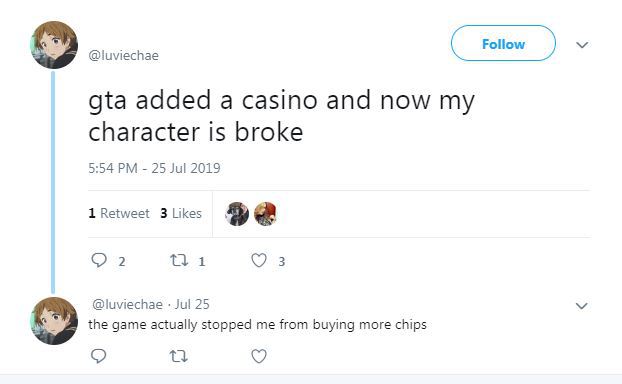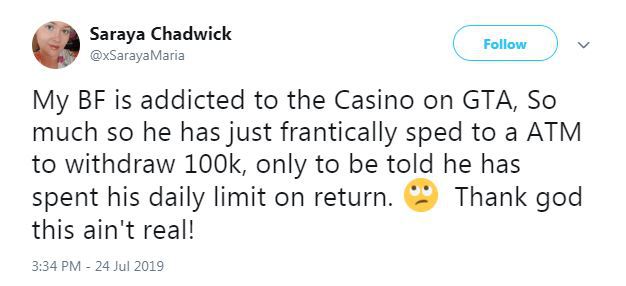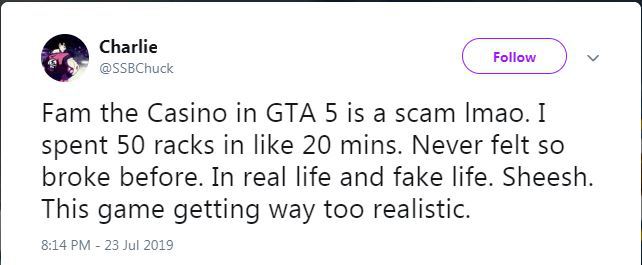 Playing the Virtual GTA 5 Casino With Real Money… Well, almost
GTA Online was added to GTA V in 2013, and ever since then, players have been able to purchase GTA-bucks for real money by getting their hands on "Shark Cards".
looking for a great real money casino? check our recommended casinos here!
The Lulz Are Priceless – For Everything Else, There's … Shark Cards?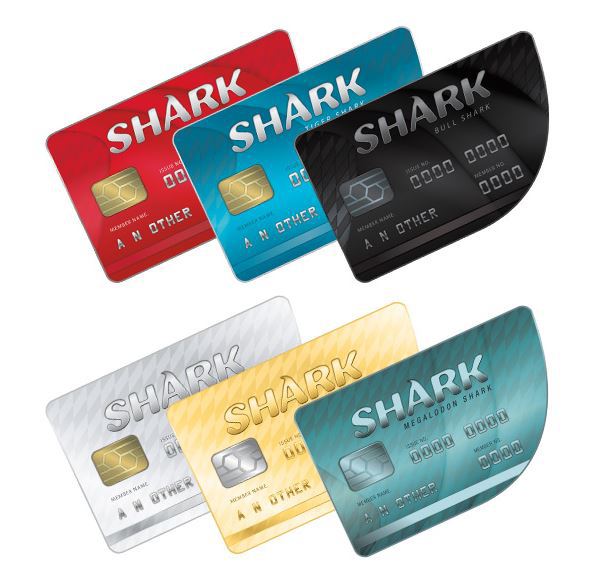 Named after different sharks, these cards can be purchased for real money to boost your in-game wallet with GTA bucks. The cards are named after different sharks and have different values attached to them.
Red Shark: Worth GTA$100.000
Tiger Shark: Worth GTA$200.000
Bull Shark: Worth GTA$500.000
Great White Shark: Worth GTA$1.250.000
Whale Shark: Worth GTA$3.500.000
Megalodon Shark: Worth GTA$8.000.000
There are even radio commercials in GTA Online for these "Credit Cards", and here's a quote from one of them:
"In the sea, there are big fish and there are little fish. The same is true on land. But which are you? Isn't it time to define yourself? At Shark, we have different Shark credit cards based on your level of insecurity. Let your credit card colour define you. Go on a shopping spree with the Red Shark card! The Great White Shark is a beast of a card! Everyone in the restaurant will see it and know you are the ultimate predator. Tiger Shark is for the flamboyant spender. The Bull Shark – for the violent, aggressive predator who hunts in all kinds of environments. Or there's the charitable Basking Shark, the card for the slow-moving liberal with no teeth. Shark – for the apex predator."
An 18+ Game, The GTA 5 Online Casino, Shark Cards and Microtransactions = of Regulatory Interest
While it's common for games nowadays to include microtransactions, GTA Online is being watched with hawkeyes by regulatory authorities due to the connection between real money and gambling. This holds especially true due as it's a game rated for players 18 years or older that is known to have lots of minors playing it too.
With the introduction of the new Diamond Casino & Resort in GTA Online, players can now exchange their in-game currency (GTA$/GTA-bucks) into casino chips.
That is plenty of reason enough to closely monitor the situation from any regulatory standpoint as it's in the grey area of especially considering reports of players reporting they can't play in the casino when playing from countries where gambling is illegal.
There's a big "but" though, that might just save the day while keeping regulatory authorities happy. There's a "small" – but very important – distinction in the fact that gambling winnings from the game can not be converted to real-world money with ease.
It remains to see how regulators respond to the GTA 5 Casino, as there's a black market involving money trading hands for in-game items. Two perfect examples of this are being able to trade skins in the First Person Shooter Game CS:GO, or Fifa's cards.
It's Still Gambling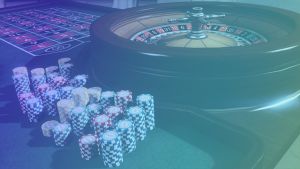 The fact that microtransactions are involved and that the in-game casino replicates both the function and feel (even psychology) of its real-world counterparts isn't just a suggestion that it is gambling. It's a fact.
Several countries have for instance banned "loot boxes". One example is the Belgian Gaming Commission who deemed Loot Boxes illegal as it falls under the gambling laws of Belgium. This saw the game developer titan EA Games pull loot boxes and the option to purchase "Fifa Points", while Blizzard and Valve quickly followed suit.
US Senators are also calling for a ban on loot boxes" and similar in-game options that offer random prizes in the exchange for money; skins for weapons in CS:GO, FIFA points and "card packs" in FIFA and much more…
The UKGC's Stance on GTA's Diamond Casino
The UK Gambling Commission does not bother with content that is bought in-game, which includes loot boxes, the Shark Cards in GTA Online, Fifa Packs and more. The reason being that there is "no way to monetize the winnings from a game".
It was in 2016 the regulator first identified loot boxes as a "potential risk to children", scrutinizing the practice to see if it fell under the UK Gambling Law.
*Quote: A key factor in deciding if that line has been crossed is whether in-game items acquired 'via a game of chance' can be considered money or money's worth. In practical terms, this means that where in-game items obtained via loot boxes are confined for use within the game and cannot be cashed out it is unlikely to be caught as a licensable gambling activity. In those cases, our legal powers would not allow us to step in.
Source: https://www.gamblingcommission.gov.uk/news-action-and-statistics/News/loot-boxes-within-video-games
In other words, GTA 5 is unlikely going to catch the attention of the UKGC as it's already stated it's not overseeing the practice of buying in-game content offering prizes due to the non-monetary value.
It's also going to be a lot harder for people to try to monetize the chips won in GTA's Diamond Casino & Resort as all progress in the game is tied to the individual player accounts, unlike items that can be traded such as skins in CS:GO, and player packs in FIFA.
CasinoGrounds Stance on Gambling Inside Games Directed Towards Minors
We're against gambling located inside games that are directed towards minors. The fact of the matter, however, is that this is not the case of GTA 5, as it's a game rated for players 18 years or older, and has always been due to the violence, references to drugs, and sex.
It's a known fact that minors play the GTA-series though, and that puts the whole thing in an awkward spot as there is no user verification at play for people registering their GTA-games to combat underage play. This responsibility's put at the hands of parents worldwide.
The UKGC might not see this as a problem in this case, but all parents should (and most do) care about whether or not any game or activity can represent an actual – or potential – risk to one's child(ren).
With regards to our standing on GTA 5 and minors as well as other existing – as well as future – games offering to gamble in conjunction with microtransactions; we're worried.
We worry because of the line between pure gaming and gambling is constantly blurred. Not to mention the increasingly popular Esports – where the professional player (a lot of kids) are earning millions by competitive play.
Alas, we simply have to trust the respective countries Gambling Commissions and regulatory bodies to do their best in ensuring a safe and responsible playing experience for regulated games and strive to protect minors from unnecessary exposure to gambling in general.
What do you think? Share your thoughts in our forum.