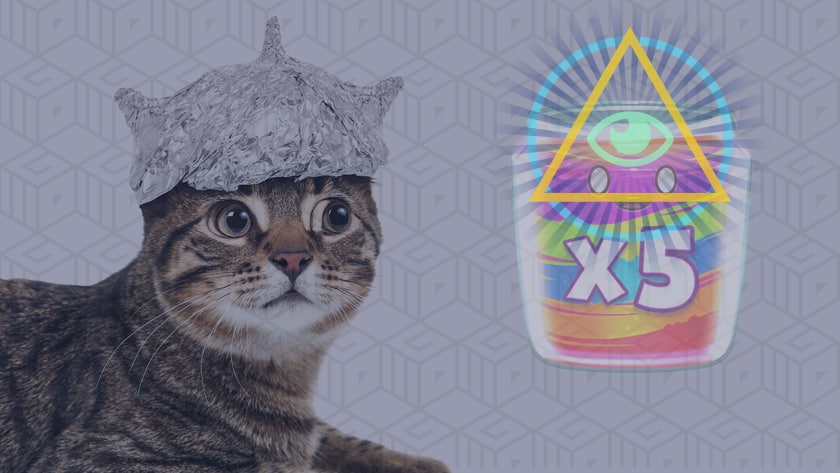 Two Streamers – One Jammin Jar – Updated
A couple of days ago, a video featuring two streamers playing the slot Jammin Jars from Push Gaming surfaced. The thing that caught the interest of the CasinoGrounds community is that video clips are from two different streaming channels, but … they both trigger the exact same bonus trigger. The only difference? Slightly different payouts due to different wagering amounts during play.
UPDATE: Another video has just popped up!
This time, we can see two other streamers, Spintwixx and Miikapekka hitting the same bonus round sequence.
The video is submitted by the same Youtuber, "Degsy Degworth"
The game we are talking about is the new "Jammin Jars" from Push Gaming and in the video, we see the streamers from CasinoDaddy and Shirox.
What are the odds for two streamers getting the same feature trigger really?
To say 'impossible' would be a lie, but the chances for this to happen must be one of the closest things to it we've seen in the video slot world for a very long time.
The odds of this particular outcome to occur is 1 in 1.3m rounds, according to reps from Push Gaming, so the chances of two streamers to get the same hit in the same week are incredibly slim. .*
So, what happened?
What we can see is the exact same reels on both streamers videos, with the exact same multipliers on the jars and win multipliers.
Ok, so now we know it's close to impossible for something like this to happen.
We reached out to Push Gaming, and got a response in our forum.
The official comment from Push Gaming states:
"…The game does work by randomly picking a win/loss from an extensive pool of results, as picked up and explained by some of the members here. The wins are represented through cascading symbols, the random giant fruits feature and multiplying wilds, rather than traditional spinning reels. This makes the win sequences very long and therefore makes the game extremely complex mathematically"
Further, we could read about how this method is only applied to their cluster paying slots, and not on normal reel-based games.
"The nature and complexity of creating a well-balanced model for this game, whilst making it enjoyable for players using a typical video slot method is extremely difficult (we would argue impossible). We do not use this method in our reel based video slots."
And for the odds of this happening? One in about 1.3 million! Yes, that's 1:1300000
"As the video shows two of exactly the same result, which is incredibly unlikely to happen (1 in circa 1.3 million), we understand the suspicions, but as was suggested by some members in this thread we have not and cannot give anyone a result to play through."
Read their full comment about the incident in the related forum thread
About Jammin Jars
Jammin Jars are the latest game in Push Gaming's video slot arsenal. In the game, we find some funky, wild multiplier granting jars indeed. For every new spin, the multiplier goes up. The multiplier sticks around until the jar decides to jump off the reels. We recently wrapped up our own Jammin Jars launch jam here at Casinogrounds, where you were invited to take screenshots of your biggest multiplier, in addition to counting candies in a jar.
Jammin Jars has been tried and tested by our streamers and community. And the nominal feedback is "promising" with the huge potential that we all love. In addition, the mechanics leave room for smaller hits during the base game due to the multiplying jars. They seldom land combination winnings, but still grants prizes good enough to keep your balance intact for a decent amount of spins.
RNG, Random Number Generator.
There's been a lot of talk about RNG in our forum these days due to the incident with the Jammin Jars tables looking the same. First, let us take a look at how the RNG is applied in different slots, and why this affects the how reels are displayed. Jammin jars apply a Results-Based RNG, which means results are determined first, which then determines what "reel-set" to display.
RNG and Video Slots
First of all, what is RNG?
In short, a dedicated computer chip, constantly generating a random sequence of numbers. This is based on a predetermined formula (or algorithm if you like). Hundreds of thousands of these strings are generated every second, and the instant you as a player hit "Play" a number sequence is selected.
Several methods.
For landbased casinos, every slot machine has one, which never turns off. – This chip only generates numbers, and are not aware who or how long anyone has been playing on that said slot.
Most online video slots apply an RNG on the REEL SETS when you hit "play": Whatever the reels land on, will be the prize you've won.
Another method is when RNG is applied to the end result when you hit the "spin" button. – This method will randomize the RESULTS first, and then display a set of reels which display said result. For every result, there are several different "sets" to be displayed.
The latter is the method used in Jammin Jars, as confirmed by Push Gaming themselves:
"As the results are selected from a pool of results, what happened on the two streams was highly unlikely as there is a huge amount of possible results for each winning category across the base and bonus rounds, in this case, 1,600x in the base game. The game is certified by a third party (eCOGRA) and runs on a 96.83% RTP."*
Stay tuned as we are working on an in-depth guide on RNG, Probability and Odds! We will update this article with a link as soon as it's out!
Share with friends on
Email