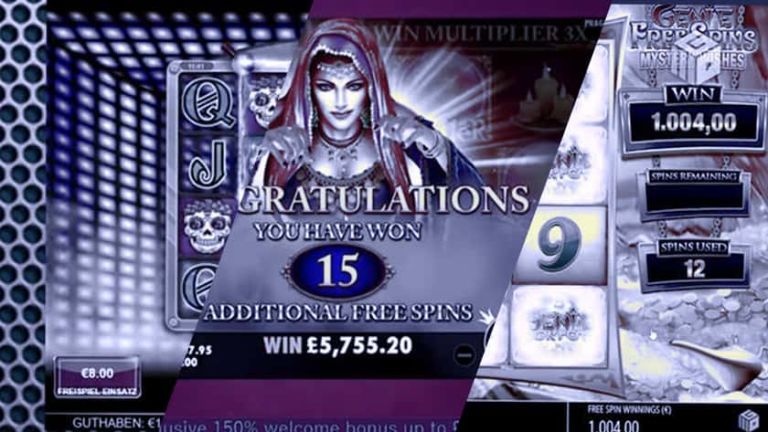 October passed quickly, and Christmas is coming soon. We're looking back at the last month and have a new Big Win compilation in store for you! Our streamers and dear community players got these insane wins during October. 
This month, BTG is prominent, with wins in both Danger! High Voltage, but also in the Blueprint title Genie Jackpots Megaways. You'll find some real classics, like Knight's Life.
Knight's Life – Slotspinner
First, we have our own Slotspinner with one of his main games, Knight's Life playing at Dunder Casino. We have seen many youtube clips featuring this Slotpinner and Knight's Life. This slot has huge potential in the bonus game as you get an extra wild on every spin added to the reels.
He complains at the beginning of the video that he wants to know how winning feels since he went to Las Vegas with LetsGiveItASpin earlier this year. Initially, the bonus looks horrible, and when he has 2 spins left, the winning amount is only €90 with €5 bet. Second last spin, he hits two times 3 of a kind with the lower premium. If he would get a wild symbol on reel 4 middle, it would be a €1k hit, but now it only paid €90 with total winnings of €180 before the last spin. On the last spin, he finally hits. Four wilds in a row, BOOM and 1500x. That is €7500.
Madame Destiny – JimboCasino
A known name in CasinoGrounds – JimboCasino – went insane with the free games in Madame Destiny. This game reminds you about Lucky Lady's charm, and the payouts are pretty impressive in the bonus feature. If you hit the re-triggers in the beginning, it will pay a lot in total.
During the video, he calls for five scatters. -Did he jinx it? Nope, he did not. Five scatters, 1500x and the re-trigger fiesta begins. The total amount of the free spins was 180, in other words, he got 12 re-triggers. Bonus paid with £3 bet £6174.60 which is 2058x.
Danger High Voltage – Allanon
Gates of hell or High Voltage? We usually end up seen big win videos or screenshots from Gates of Hell, but this time, we have a huge High Voltage win. This might be one of the biggest hits we have ever seen in High Voltage Feature since as we tend to see pays more in the 50x-100x area. We look through 8 almost dead spins, until on 9th spin, dream spin lands. First reel skull, second reel double skull, third reel skull, fourth reel x22 multiplier, then double skull on second last and skull in the sixth reel. This paid with €8 bet €17,600,00. After this, there were few smaller hits, and in total bonus paid €18,155,20 which is 2269x.
Genie Jackpot Megaways – Winner
In this clip, we have some SUOMI PERKELE content. Unlimited multiplier feature can pay, this is proof of it. Every spin increases the multiplier by one, and in this clip, we see the multiplier going up to 50x. With a €5 bet, its huge multiplier. Real jackpot happened on the 37th spin, with the 37x multiplier. Genie jackpot symbols from the first reel, to the fifth reel six times, paid over 2000x! In total the bonus paid €15.710,00 which is 3142x the bet.
Genie Jackpot Megaways – Studentgambling
Same game as before, but different bonus feature. This Genie Jackpot Megaways from blueprint was a great release, we have seen a lot of big wins. Bonus buy feature was a good thing, and the fact you find four and not just one feature to buy is great!
This time, the jackpot was won in Mystery Wishes feature. 200 ways mystery symbols to the end. The bet was 20 cents, and the mystery symbol was – of course – the Genie Jackpot symbol. This paid 5000x the bet, so in total the win of the spin was €1000.
Jammin Jars – Adrian
We are speechless. This is a record win for sure from Jammin Jars. This new Push Gaming release has built a somewhat interesting reputation and has shown it has some pretty sick potential (time and again, even sometimes the same :D). There are videos all around YouTube about Jammin Jars big wins, but this must have its own big win category for sure. With a €4 bet, the payouts can be insane. In the beginning, Jars are getting a higher multiplier, but not just connecting yet.
On the 3rd spin, it all happens. Three jars connect with two strawberries. Multipliers 9, 5 and 7 pays already €1260 with those two strawberries. But that is just a beginning. Later, on the same spin, all the three Jars connects again next to each other, and the rest is history. After three spins, the winnings are already in total €16.462.60. Yep. On the next spin, fourth jar lands, and the jars are still close to each other. In total, bonus paid €33.763.40 which is 8441x. You have to see this one, so check all the wins from the video above.