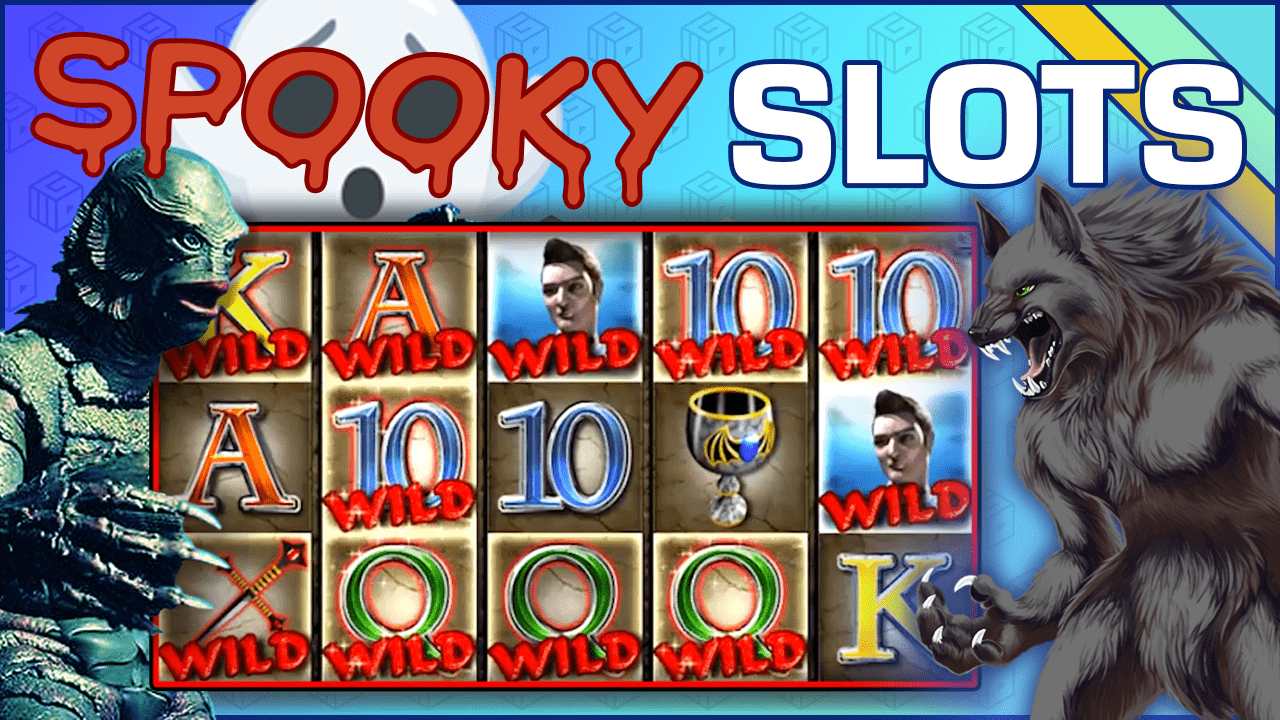 Streamers Halloween Video Slot Highlights
As you might have noticed we've been celebrating Halloween for a week with plenty of articles and reviews celebrating the best of spooky slots. In addition we've been hosting a few really fun competitions in our forums, handing out bonuses on LeoVegas daily. Now it's time to treat you to some of the best casino streamers Halloween highlights as we've tirelessly scoured the archives to put together this compilation video of scary slots played by a cast of stellar streamers.
Check out the video below…
First up we have Slotsplayer streaming one of the world's most consistently popular slots since 2011, Microgaming's Immortal Romance, for our money the best of the teen horror slots built to cash in on the popularity of the likes of Twilight/Angel etc.
Playing for just £1.80 a spin, Slotsplayer earns 10 free spins with a 5x multiplyer and on his 7th spin hits 4 Immortal Romance wilds on the centre line which helps him to multiple five of a kind wins with Amber, one of the highest value symbols to bank a free spin worth over £2,600. Just for good measure he wins another £420 on his last free spin to bank £3,112.80 from just a £1.80 bet. Be advised that Slotsplayer uses some rather X-rated language when he sees his big win come in, so be sure to mute if you're easily offended!
Despite playing for low stakes on Blueprint Gaming's Count Duckula, a fun slot based on the late 1980's UK cartoon featuring the eponymous vegetarian vampire duck, Canadian streamer REWM67 manages to rack up a win of over $400 from his 10 free spins. The streamer wins big after landing an insane 10 wilds on a board with only 15 symbols, enabling him to take away a huge ROI win.
In our third clip, Supersmask hits paydirt on a 10 SEK spin of Merkur's Night of the Werewolf when he lands three Werewolf symbols which act as both the wild and the scatter and earns 10 free spins. This high volatility slot requests the player to pick one of the game symbols to act as a 'special symbol' during the free spins – and when this symbol lands on a reel it expands to fill the reel which can lead to some decent wins if you land your chosen symbol on 3, 4, or reels. Supersmask picked the K.
Not only does Supersmask hit plenty of K's during his spins but he also manages to retrigger free spins TWICE after landing 3 more werewolf symbols on another two occasions during his bonus round, resulting in a total bonus round win of over 4,100 SEK.
House of Doom – SmackDown Casino
In the next clip SmackDown Casino, a popular Casino Grounds streamer gets his wish in a round of free spins whilst playing on one of Play 'n Go's most recent releases, House of Doom.
Playing at €2 a spin the always enthusiastic SmackDown Casino prays for a 100x win and his prayers are answered as he ends up with a 120x win after numerous retriggers end up increasing his initial 10 free spins to a total of 31. Most of SmackDown's profit comes from a single spin where he earns €187 when two adjacent reels become expanded wilds and marry up with one of the highest value symbols in multiple directions.
Dark Vortex is a brand new slot by Yggdrasil and its honestly one of the best all round slots I've reviewed this year, so be sure to check it out. In this clip Finnish streamer MiikaPekka makes a small fortune during a free spin round with stacked wilds. With just 2 free spins of his 10 remaining MiikaPekka lands two reels of stacked wilds which enable him to make several 5 of a kind combo's on this 5 x 5 board to make a near €4,000 win. In total he wins over €4,200 from a single €5 spin.
Two Halloweens ago Microgaming introduced their Zombie apocalypse favorite, Lost Vegas, and in our next clip we see another popular Finnish streamer, JarttuSlot hoping to win big after hitting the Zombie free spin bonus. The win comes just in time for Jarttu who has been playing at almost €20 a spin and his relief is obvious as he declares, "Finally, we got the F**kin' bonus!"
Despite a shaky start to the spins, two big 5 of a kind wins towards the end of his bonus round net JarrtuSlot a none-too-shabby €2,600!
Creature From the Black Lagoon – Slotspinner
Another Casino Grounds favourite, Slotspinner, tries his luck at the Net Ent classic based on the 1954 movie of the same name as he tackles Creature From the Black Lagoon. Playing at just €2.80 a spin Slotspinner is able to make a four figure win after getting into the lucrative free spin round.
During the free spin round the wilds become sticky and spreading the further you get into the round as you land more hits on the Creature (every time a target symbol lands, you get to harpoon the Creature and decrease his life energy). On his final spin Slotspinner manages to hit the Creature enough times to kill him, thus earning himself another 10 free spins – something the streamer announces he'd never managed to do before. After numerous 5 of a kind wins courtesy of the spreading wilds Slotspinner ends up with a €1,368 win
Vampires – K_BLACKWOOD
Our compilation ends with another big bonus round win from a Merkur slot. This time it's K_BLACKWOOD who finds herself in the free spin round on the highly volatile Vampires. Not the most interesting of games 99% of the time, Vampires does however get very interesting in the bonus round as multiplying wilds come thick and fast leading to some huge wins. Playing at just €1 a spin K_BLACKWOOD manages to come away from the 15 free spins with a 1157x win.
Share with friends on
Email