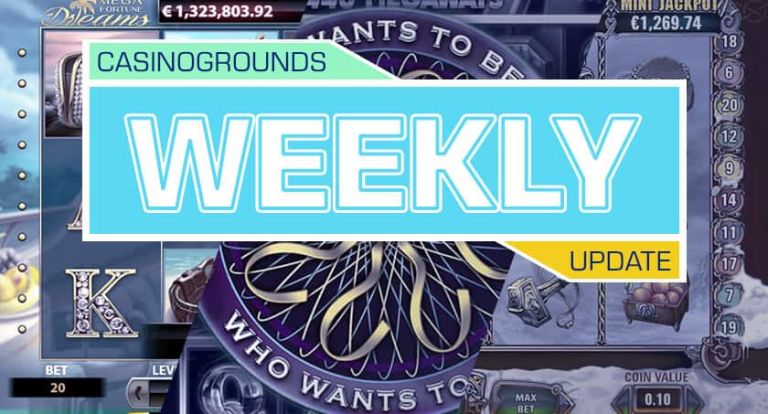 At last! A winner in our Millionaire promotion – CG weekly 48
Last week of November is upon us, and we are getting closer to December and Christmas. We would like to remind you, that most of the Casinos have Christmas calendars during December. Remember to participate and get your own bonuses during next month! Last week Mega Moolah Isis jackpot was not won, so today we have another jackpot game for you to chase. Hopefully, we get our touch back with the Jackpot game suggestions.
Who Wants To Be A Millionaire is out soon on other casinos
On this week Wednesday 28th Who Wants To Be Millionaire is rolling out to other casinos, and LeoVegas' exclusive ends. Who Wants To Be Millionaire was a very hyped game for a long time before it was even released. This was noticed on LeoVegas and the game had a record-breaking launch on Leo Vegas with more active players during the first week of launch than any previous game launch in history. You still have two days to try out this game on LeoVegas until it's out on other casinos.
First record of 50 free rounds on Who Wants To Be Millionaire
Yesterday, ''Max Bet Casino Slots'' uploaded YouTube video with 50 free games. This is the first time (at least what we know) when someone gets up to 50 free spins. Unfortunately, the bonus only paid 363x as with 50 free games you could expect much more. He still got more winnings on the LGIAS forum thread as €3000 will be forwarded to him for getting the 50 free games. Check out his video clip in our forum!
Also, Final Answer FAIL 'win' with the value of €250  will be paid out to our forum user ''Najz'' as soon as he sends us his contact details (hint-hint). He got ridiculous 91% chance on 'B', which he chooses and the correct one was 'C.' Congratulations to ''Max Bet Casino Slots'' and ''Najz''!
Jackpot this week: Mega Moolah jackpot almost €10,000,000

Last week we recommended to try Mega Moolah Isis to hunt for a jackpot. No one won it yet, so if you want, keep hunting! This week we have another game that was brought to our attention: Mega Fortune. Mega Fortune jackpot got just over €3,000,000 and we have a feeling that you could be the winner! Try out Mega Moolah Isis  and Mega Fortune at FrankFred Casino