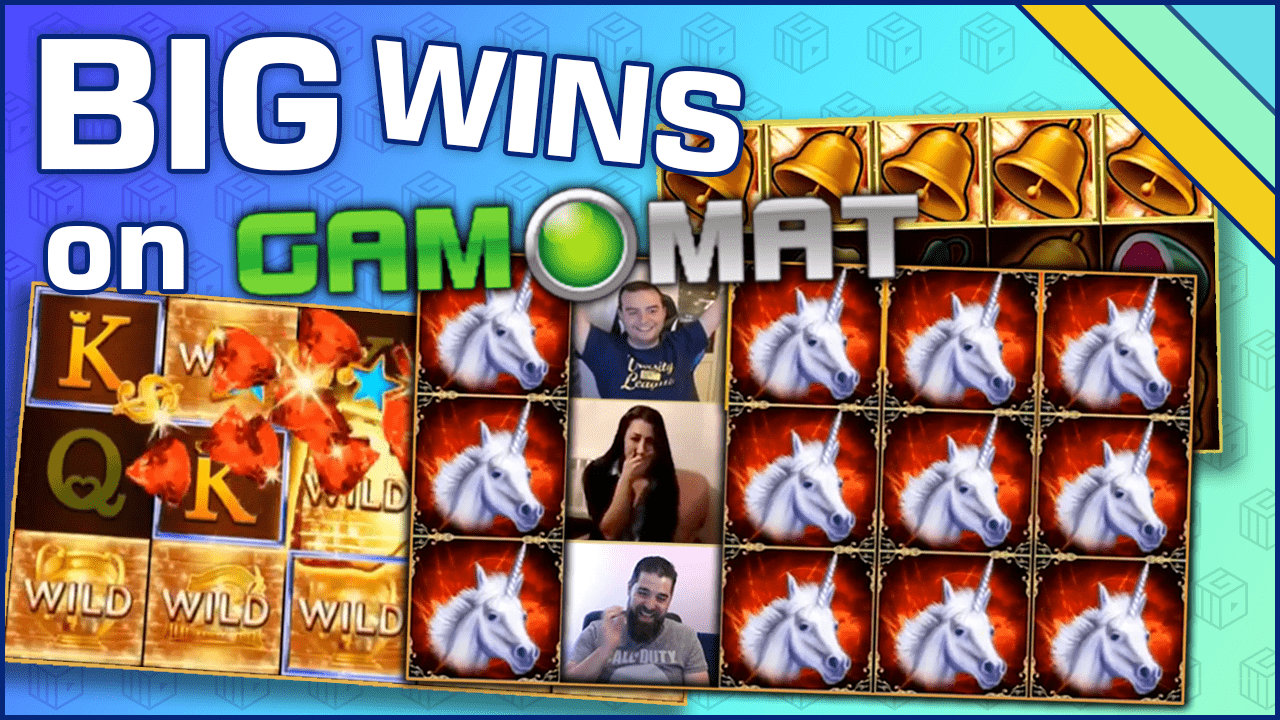 Gamomat might not be the number one game provider, nor the most famous and might be a bit unknown. Even with huge potential, you might have missed their games. That said, our streamers have not missed the potential of this game provider.
We have six different examples how gamomat slots can pay from six different streamers. We hope, that you find your favourite gamomat video slot from this compilation, and give it a try. Remember, that there are more gamomat slots, which you can find from LeoVegas.
Casino Reggie – Magic Stone
Reggie gets the base game wild feature, which turns symbols to wilds. This time, three different symbols are turning to wilds plus the feature trigger wild. These wild symbols turn into a wild line – out of nowhere! This pays in total 304x as there were some smaller wins as well. Big potential in this one!
Slotspinner – Fruit Mania
Slotspinner is highrolling on his trademark slot Fruit Mania. We have seen him many times to make a deposit and make 2-5 big bet spins. As soon as the clip starts, he got €200 left and he is doing €25 spins. Slotspinner switches to €50 bet and hoping for a win, as he has 3 chances with €150 balance. On the first spin he hits the jackpot with the Bell symbol, which is the second-best symbol. Five of a kind with €50 bet pays €25000, which is 500x win. Gamomats for highrolling? Slotspinner approves.
Jarttu84 – Roman Legion
Jarttu is multitasking with poker and slots while he hits Roman Legion bonus game. In this feature, all the landing wilds are sticky. He slowly starts to get wilds, but already after 5 spins, he has 7 wilds. This game has 5 paylines, and one of these lines has 4 wilds, which means that there will be five of a kind every spin. First, five of a kind pays straightly 150x with a €10 bet. While poker is not going well, he gets another 150x line. In total the bonus pays 412x!
David Labowsky – Crystal Ball
As the title is saying, Labowsky is looking for re-trigger in Crystal Ball. Bonus starts and the gets the Unicorn as the special symbol. After this, Golden Nights jackpot game makes a tease, but won't start after all. He gets multiple teases with the retrigger, but never hits it. The bonus also looks bad, as he gets only a few times 2 unicorns. On the sixth spin, David GETS PAID! Four Unicorns with a €6 bet pays 338x. After this, there are no more any big wins, but the total payout was 381x.
Tschabalalala – Land of Heroes
Tschabalalala gets 7 free games with 4 special symbols, which are turned wilds. This Gamomat has insane potential, and you should see wilds here and there. Five of the Kinds are coming almost every spin, as the big win is showing all the time. After these seven spins, bonus paid with €1 bet 421,50x.
Spintwix – Fort Brave
Fort Brave surprises Spintwix with a huge win in a bonus game. First nine spins, he only gets smaller hits. Spintwix is reading chat where someone says 'I feel 1400x coming'. Then is time for the last spin. One wild on reel 2, one wild on reel 4 and four times five of a kind with the best symbol. Wild symbols will multiply the win by 4x, so with €8 bet, this spin pays 1640x. In total the bonus paid €13,348,80 which is 1668x win.
Share with friends on
Email