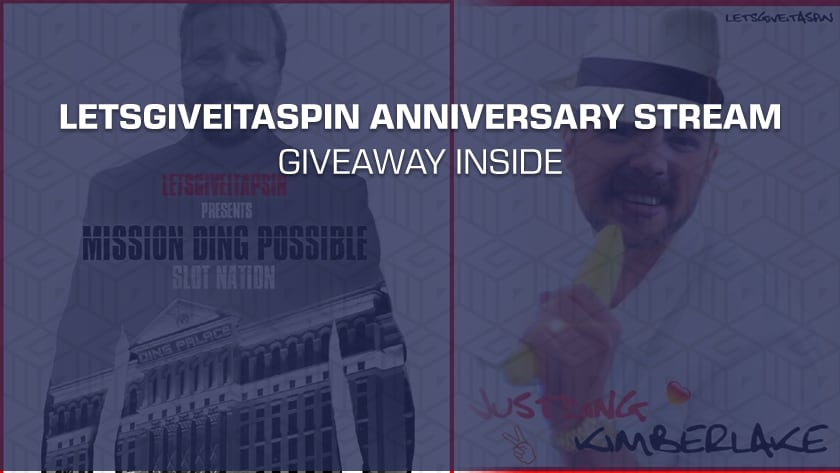 Ding ding ding! LetGiveItASpin 3 Year Anniversary Stream
LetGiveItASpin, our main man has something of an anniversary today! Three years as an online casino streamer. My! How time flies. We've seen some proper dings, and a few pretty epic RIPs as well.
Vlogs, streams, interviews and starring in live casino tables is just a small portion of what LetsGiveItASpin has been up to in these years.
So now the time has come to celebrate! Join our celebration live on Kim's Twitch tonight!
GIVEAWAY and Anniversary Stream tonight
The party is already on! Kim will do a longer-than-usual stream filled with fun and games for you to enjoy.
He will be handing out extra spins and bonus funds left and right, at both LeoVegas and FrankFred for all CasinoGrounds and LetsGiveItASpin players, (old ones and new!)
If you are registered to either FrankFred or LeoVegas through CasinoGrounds or LetsGiveItAspin, you're in for a treat tonight indeed (should already be available on your account)
Not Registered yet?
If you are not registered at any of the casinos yet, we got you covered as well of course. – Go to our forum thread, and read about everything you can win tonight and the upcoming few days!
"Well Great! What are you giving me on LetsGiveItASpin's Anniversary?"
For that, you need to check out our forum thread and read the full terms and conditions for his promotion.
Check out our forum thread on the subject for all info! (We have a raffle for anyone who participates, so get in!)
On behalf of the whole CasinoGrounds crew, a HUGE CONGRATS on your anniversary Kim, it's a pleasure to work with a fine sir like yourself. (Also your local kebab knowledge is pretty epic)
Share with friends on
Email