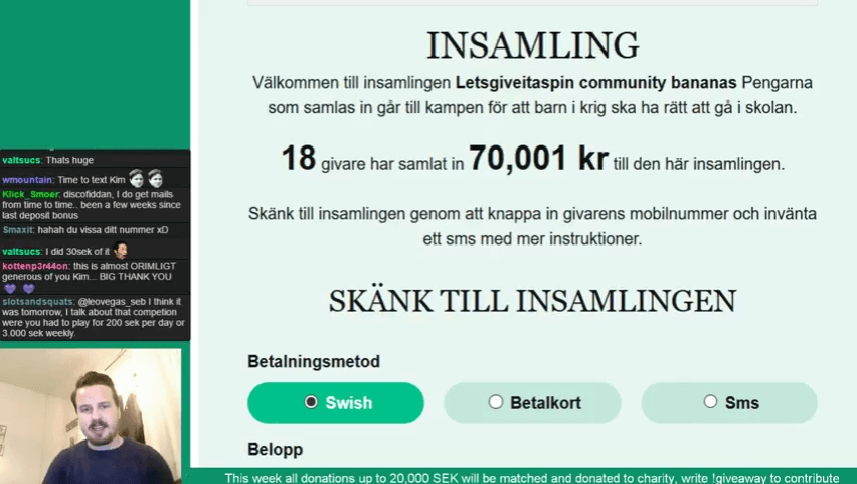 LesGiveItASpin – Charity Event Was a Success!
Most LetsGiveItASpin fans and Casino Grounds readers must already know about LetsGiveItASpin's Charity Drive. The event took place from 8th – 16th of December 2016, and it spanned throughout all LetsGiveItASpin streams between those two dates.
---
The Charity
For the whole duration of the previous week Kim dedicated a large part of his air time towards a charity cause. The goal was to raise funds for "Musikhjälpen", which is a large annual charity event in Sweden. Kim, asked his viewers to contribute via donations. And the best part was that every donation made, up to SEK 20000, was matched by Kim himself with the assistance of LeoVegas. In addition Kim encouraged his viewers to also donate on their own.
---
The Aim
An amazing idea which aimed to tap into everyone's festivity spirit and provide help for those who need it the most.
More specifically all money raised over the course of the week will go towards charities and efforts that serve to give war children the education they need.
---
Results
The endeavor was a huge success with a total of SEK 70000 raised. This included the donations made by the viewers, all matched by Kim.
Moreover, the entire amount Kim won during his Super Monopoly Money session last Monday.
At the end a total of 65 viewers had made donations, many of them more than once.
---
Take Part!
Even though the last LetsGiveItASpin charity stream was on 16.12.2016, you can still make a donation until the 18th of December.
If you want to donate also, you check the donations and donate here:
http://bossan.musikhjalpen.se/insamling/letsgiveitaspin-community-bananas
---
Acknowledgements
A big thank you to all those amazing people who have joined LetsGiveItASpin on this altruistic endeavor.
As a show of gratitude- we are posting the names of every contributor.
The viewers who have donated so far are:
Emptyen

Tuxxah

Skylined87

Oelahadoe

Swedishmaq

TehRazz

Chris

LicensToSpin

K_blackwood

CallmeHack

Drewkthx

Carebear185

Frozenspin

Hobo

Nosound113

LebowskiSWE

Camilla1985

Papputar

Henkeman11

Atleten1

EastLake110

Veryhappycrocodile

Extol88

Harryjohan

Amorabar

Homer_Spinson

Dead_Or_Alive_Tv

Dmcjordan

Bolizenya

Valtsucs

Xthebeast1337x

Marionette1

Raverbaby

Nedraa1337

Charlesinator

DRAINYOU80

RamboBeaver007

Shock2902

ted3858

elithjelm

sdsb0x7bb

anonyymi

braage9

elfstr0m

DazThomas86

frankster2000

ExternalHateBox

Linkolank

Gnukke10

RamboBeaver007

Jappjimmyp

mr_trulli

anonyymi

redtugaPT

reachforglory

Mistermanga

marley6975

AdsGunning

alexafterwork

Kuningas_11

Rocknrollaaaaaa

Lolipophstad

Heideroos

InFlamed81

Herranelson
Make sure to stop by our Community News section for more articles, events, competitions and raffles.
Share with friends on
Email